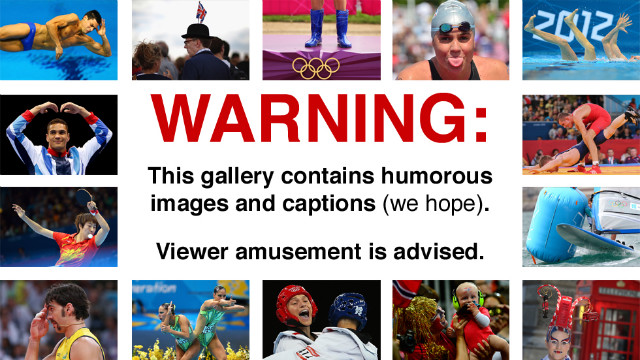 Kazakhstan's Daulet Shabanbay and Russia's Bilyal Makhov get their leading and dipping roles confused.
Anthony Ogogo of Great Britain poses for a music box.
Glam-rock fans start very young.
Netherlands fans also took part in the local furry convention.
All athletes were instructed to bring a pair of wellies.
Spain's Rudy Fernandez is thrown off by the sudden lurch of the arena.
At the end of the race, the winner was forced to take part in a discussion about excise taxes.
Brazil's Gilberto Godoy Filho, misunderstanding the custom of the Games, swallows his medal instead of biting down on it.
Members of the Hungarian delegation were masters at enthusiastic applause.
A fan prepares for the Herb Alpert & Tijuana Brass reunion.
Brazilian soccer player Romulo adjusts a teammate's head with some on-field chiropractic.
"Serenity now. Serenity now."
After two weeks of Olympic competition, the hallucinations start kicking in. Lindsey Berg thinks she's looking at Justin Bieber.
The prime minister of Serbia, Ivica Dacic, has the Olympic rings inserted in his head every other day between 2 and 3:30 p.m. "It only hurts when I chew," he says of the elaborate surgical procedure.
Leandro Damiao of Brazil waits for his mother to let him out of timeout.
Australia's Kieran Govers celebrates his ability to eat a lemon and lime at the same time.
Azerbaijan's Sharif Sharifov is revealed to be nothing but an oversized marionette.
Some Olympic routines were literally eyeball-popping.
"I'm supposed to kiss him? That wasn't in the script!"
Freestyle wrestling includes butt-kicking, head-banging and -- shown here -- boot-licking.
Japan's Kenichi Yumoto, left, can't believe how smooth Cuba's Yowlys Bonne Rodriguez's legs are.
Belarus' Liubou Charkashyna adds an extra level of difficulty by performing her hoop routine without a head.
He got the outfit from Elvis.
Is this how "The Human Centipede" got started?
After the match, Kate, Duchess of Cambridge, will teach her countrymen how to smile.
Brazil's Esquiva Falcao Florentino practices his skills as a movie director.
Britain's field hockey team tends to a wounded bird before their match.
The view is better from the red ring.
"Well, THIS is awkward."
Japan's synchronized swimming team comes up for air -- as a group -- after staying underwater for a record 4 minutes, 22 seconds.
As a penalty, New Zealand's Vaughn Scott had his mouthpiece attached to his upper lip with Krazy Glue.
A little foot powder would have helped.
The vacuum cleaner salesman came out next.
Upon taking off the "mask," Ethopia's Meseret Defar revealed herself to be reclusive author Thomas Pynchon.
"After you, Alphonse." "No, after you, Gaston." "No, it's a greater honor for me." "No, I insist, it's a greater honor for me."
The Netherlands' Sophie Polkamp, top, is angling for a tryout in the NHL.
The Shadow knows.
When James Brown sings, everybody gets down.
Tell us what you really think about your bronze medal, Martina Grimaldi.
Despite their superior abilities, the swans were unable to get in sync and finished sixth.
Unfortunately for Egypt's Yasmine Mohmed Rostom, they'd already drained the pool for synchronized swimming.
Even Olympic athletes aren't immune to the old "hot foot" practical joke.
New Zealand's Logan Campbell struggles with a mannequin during a taekwondo match.
Every hour on the hour, things get particularly ugly.
Ronald the Lonely Phone Box (rear) has fallen in love.
French center Ronny Turiaf is caught unawares when an official springs a pop quiz on him.
"Knock yourself out," Andrey Kirilenko's coach said.
"Copping a feel" is not a sanctioned wrestling move. Not in the Olympics, anyway.
The referee was named the victor after threatening to beat up both boxers.
"I'm so sorry about your boyfriend, but we have to finish the match."
Lithuanian coach Kestutis Kemzura can't believe how much the Spice Girls have aged.
Russia's Lubov Volosova (top) broke the hold by sneezing.
Alas, no taxi ever arrived, and he was stranded on the water for three more hours.
Even at the Olympics, athletes still play Telephone.
Mathieu Goubel of France is unsure how to get below decks.
Great Britain's Nick Dempsey prepares to fly.
Great Britain's Laura Trott is still miffed about the "Kick Me!" sign.
Cyclists prepare for the traditional "Big Brother-Little Brother" cycle race.
Russia's Ekaterina Gamova tries out the Talking Floor at an Olympic event.
To emphasize the point, all requests for soap were denied.
At a Singapore Olympics, he would be arrested.
Rollerball first became an Olympic sport in 2036.
An Olympic official comforts the table-tennis table after it absorbs another butt-kicking.
The English synchronized swimming team was awarded extra points for additional limbs.
Famed Brazilian TV personality "A Bola de Pelo" -- "The Hairball" -- cheers for his favorite team at the women's volleyball quarterfinal.
Peter Nagy of Hungary misunderstands sport, attempts to roll barbell.
Fans enjoy outfits purchased from Sonny's Souvenir Hut of El Paso, Texas.
British gangsters (not shown) rob the Chinese table tennis team at gunpoint.
The Heimlich Maneuver fails as a wrestling move.
Javier Illana Garcia of Spain dreams of the Kardashians.
Damian Janikowski, in blue, of Poland can't believe that Cuban wrestler Pablo Enrique Shorey Hernandez is trying THAT.
Training wheels removed, Australia's Annette Edmondson rides a bike for the first time.
Oooh! Sophie the Grumpy Umbrella, the popular children's character, is in a sour mood again!
What "Baywatch: London" lacks in swimsuit-clad babes it makes up for in exciting, life-saving action.
A synchronized swimmer performs her routine in 4 inches of water.
Britons Gone Wild.
Olympic basketball involves a lot more sitting and contemplation than its NBA counterpart.
"I'm flying! I'm flying!"
Australian forward Matt Nielsen can't control his Flubber-soled shoes.
Members of Japan's table tennis team put on their hilarious "Driver's Ed" sketch during a match.
Chinese coaches top Japan's hilarious "Driver's Ed" sketch with the addition of "Obnoxious New York Yankees fan."
During a GI exam, surgeons found six more balls in her stomach.
How synchronized swimmers call for a cab.
Matt Dellavedova of Australia can't quite perfect his Michael Jordan impersonation.
Swiss synchronized swimmers Pamela Fischer and Anja Nyffeler based their routine on the "Bang Bang (My Baby Shot Me Down)" sketch from a 1972 episode of "The Sonny & Cher Comedy Hour."
Jock itch remains an Olympic scourge.
For a very special Olympic edition, the American robots of "Mystery Science Theater 3000" are adapted for Spanish tastes.
Poland's Zofia Noceti-Klepacka is attacked by a furious punching bag during a sailing competition.
Coming soon to WWF: The Helicopter Blade.
U.S. basketballer Diana Taurasi decks an unsuspecting referee after a call goes against her.
Marcos Freitas of Portugal attempts to get away with the ol' "glue on the paddle" trick.
Certain gold medals were infused with scents this year, allowing them to be used as dryer sheets after the Games.
Visitors from the planet "Saskatchewan" enjoy the Games.
Cartoon-style roundhouse punches were in vogue at this year's Games. Below-the-belt slugging, however, remains against the rules.
More competition for the Olympics edition of "So You Think You Can Dance."
A teammate urges Jorgen Persson, left, of Sweden to focus during a table tennis match.
Brazil's Emanuel Rego, left, and Alison Cerutti discuss dinner reservations.
Little-known fact: U.S. basketballer Kevin Love's favorite movie is "Cast Away."
The two Swedes, in yellow, were later called to the principal's office.
Australia's Harrison Peacock listens to his coach during a volleyball match.
Japanese scientists used the Olympics as an opportunity to announce they had succeeded in cloning the British royal family.
Struggling to find a mate, a man goes to extremes during the Games.
A spectator leads to the discovery of a testosterone-doping ring.
Brazil's Neymar has yet to let go of his childhood neuroses.
Bruce Jenner is so 1976.
"Wait a minute! There's no cereal in here!"
She left her Pokemon weight belt in her other bag.
"I love you, man."
Spud Webb sneaks into Olympics, wins slam-dunk contest again.
Pong - now in color.
Switzerland's Seba Chevallier, about to be attacked by killer sand globs, can only hope for mercy.
Seventeen miniature clowns narrowly escaped death by wrecking ball just before this picture was taken.
Officials are wondering why running times are faster this Olympics.
Zeus' mailbox.
Christo is wrapping every Olympic spectator for his newest art installation.
Russia's Alexander Butko tries out for "The Three Stooges 2."
"If Obama comes over here, do NOT tell him about our secret deal."
South Africa's Roland Schoeman rescues his bath toy from the bottom of the pool.
Gold medalist Etienne Stott gets lost in his flag, leading to more British embarrassment.
Believing that boxing is for wimps, Cuban and Chinese fighters get into a good old-fashioned brawl.
Germany's Dimitrij Ovtcharov addresses the ball during the bronze-medal table tennis match. The ball did not respond, remembering better days with former Detroit Tigers pitcher Mark Fidrych.
Royals do the Wave, learn that the pointlessly ubiquitous fan-participation exercise inspires exactly nobody.
British Prime Minister David Cameron and Russian President Vladimir Putin announce that the UK is trading Wales to Russia in exchange for 300 cans of borscht and a used copy of "The Brothers Karamazov."
Every day, a lucky commoner gets five minutes to serve as Britain's monarch. Here, cyclist Christopher Froome announces that he is putting his rivals to death.
"Dancing with the Olympic Stars" tryouts get awkward when organizers run out of men.
You must be this tall to draw a foul.
Sorry, this caption has been censored.
Kellogg's is offering these miniature bicycles to consumers who send in four box tops from large-sized boxes of Froot Loops by the close of the Games. (Cyclists not included.)
U.S. swimmer Tyler Clary awaits assistance to reassemble his limbs.
To appease Zeus, cheerleaders prepare to sacrifice one of their own.
"Lower ... lower ... ahhhhh, right there."
"Kim Jong Un got MARRIED?"
Japan's Kosuke Kitajima hawks a loogie a record 5.36 meters.
A fan shows off the latest in Parisian fashion.
Ukraine's Dmitriy Karuchenko, left, reacts to losing the finals of Pin the Tail on the Donkey.
An American holds the U.S. spot in the world's largest game of Twister.
Vinnie from the Bronx hopes to win the Olympic combing championship.
London's statues compete to see how many different spectators they can summit.
Canadians celebrate after winning the 1924 open swim.
A groupie refuses to let go of rower Marcel Hacker's scull.
Blofeld has no sympathy for Vassiliki Vougiouka's loss, as he ponders world domination for the 4,691st time.
Having just won the Olympic beer-drinking medal, participants await the arrival of the Swedish bikini team.
Ignoring the message to keep his mouth shut, a wrestler pays the price.
As usual, nobody -- not even photographers -- pays attention to the competition at beach volleyball.
As part of his nefarious plan, Ronald the lonely phone box traps American athlete Lindsay Whalen so as to prevent the Yanks from winning more medals.
Headless, legless gymnast impresses crowd.
Tryouts for "So You Think You Can Dance" continue.
Diving practice is interrupted by the Rapture.
Despite the hopes of Japanese fans, bowling still hasn't been approved as an Olympic sport.
Pranksters have plastered London with "short cut" signs, leading unsuspecting spectators to France.
"You may already be a winner of a brand new palace!"
Despite his prime spot, Prime Minister David Cameron refuses to watch the show jumping competition.
James Bond was here.
Remembering they're British, divers Tom Daley, right, and Peter Warfield are overcome with embarrassment.
Whatever you do, don't ask them if they have Prince Albert in a can.
The cars of the '70s Ride offer a relaxing and colorful way to enjoy London.
"Cigarette?"
On the next bench, Abraham Lincoln wears a tin of Heinz Baked Beans.
British canoeist Lizzie Neave suddenly realizes she left her boat back at the hotel.
A friendly triffid welcomes visitors to London Bridge station.
Spain's Jose Ballbe struggles to plant himself during a field hockey match.
Judges initially penalized Veronica Cepede Royg of Paraguay for using magic powers during her match, but relented when she turned one into a newt. (He got better.)
Tastes like chicken.
China's Wang Hao impresses during the inaugural Patch Adams Invitational.
Always orderly, British fans await their turn to jump into the Thames.
A spectator sends out radio signals to observers in the semaphore system, announcing the time of the invasion.
Brazil's Rafaela Silva reacts after realizing she put her BRA on backwards.
As Aron Szilagyi of Hungary celebrates, opponent Nikolay Kovalev prepares to slice him in half.
Tennis fans celebrate their favorite sport with a giveaway of Super Tennis Balls. Things didn't go over as well at the shot put field.
Japan's Sayaka Sato reads the directions on the shuttlecock before a serve.
Ignoring both protocol and good sense, British soldiers perform the wave. They are currently imprisoned in the Tower of London and will be beheaded at dawn.
Australia's Brendan Casey regrets taking sailing lessons from Capt. Quint.
Edinson Cavani of Uruguay attempts to set a world sit-up record. A teammate counts off beside hm.
In an ominous sign, Mary Poppins makes her way back to the Olympic Stadium to collect her fee.
Though America banned the practice in the '80s, Britons still enjoy wearing dry cleaner bags.
Olympians perform a scene from the sequel to "The Human Centipede" -- "The Human Spider."
With the communication network overloaded, Britons have turned to the old-fashioned "message in a bottle" method.
Ronald, a lonely phone box, remembers when children didn't look at him in confusion.
The Olympic surfing competition gets off to a very slow start.
On the way to Woodstock.
In what's become an Olympic tradition, members of the Bermudan delegation once again forget their trousers.
Nike's new Air Camilla line has received mixed reviews.
Italy's Matteo Angioletti realizes he left the oven on at home.
Judo officials prepare to bring out the lion.
Alexandr Vinokurov of Kazakhstan celebrates in classic Russian existentialist fashion after winning gold.
Queen Elizabeth II is not impressed by Sebastian Coe's fish story. As is widely known, the Queen hauled in a 34-pound haddock at the 1964 Games.
Queen Elizabeth sizes up a rival before her daily one-on-one basketball game.
Among this Olympics' special guests: Ultraman.
Siling Yi of China started a near-riot today when she discovered her gold medal was made out of chocolate. Peace was restored when British officials threw in some tinned beans.
Cheerleaders lead the beach volleyball crowd of 14,000 out of the arena with an impromptu conga line.
To properly welcome Mary Poppins, each member of the audience was equipped with a spoonful of sugar to help the medicine go down. However, only those able to spell "supercalifragilisticexpialidocious" were permitted to leave.
The spirit of the Olympics softens hearts all over. Here, Death makes conversation with a lonely Dalmatian before stealing her soul and carrying her to the underworld.
British soldiers find tennis boring, await return to Falkland Islands.
Dejected Russian athletes fall short in the Olympic bellhop race.
Australia's secret weapon brings extra punch to the cycling competition.
Brazilian volleyball team member attempts to honor Loverboy on 31st anniversary of "Get Lucky" album.
Olympic swimming pools are kept near freezing temperatures to wake up divers.
The D-Day invasion concluded, Olympic vessels return home.
In a traditional pre-race practice, an Italian swimmer is checked for signs of static electricity.
London's oldest amusement park ride, the Iron Lion, makes its way through the city at an average speed of 2 mph.
Olympians will compete over anything. Here, two divers have an exhaling contest.
Moussa Konate of Senegal practices for the Olympic limbo competition.
The demonstration of the new quick-dry towel method drew praise from experts.
First Lady Michelle Obama reacts to Motorhead's "Killed by Death."
Special greeters are on hand to frighten small children.
The reunited Spice Girls await the Olympic torch.
"Did you see the Spice Girls back there?"
Is that a Union Jack, or are you just happy to see me?
Wenloc's alien freeze-ray is very effective.
The IOC is suing over his buttocks.
For looking at this photo, you have just been fined £100.
Fortunately, a requirement that town criers carry vuvuzelas was struck down.
The Olympics: Where Magritte meets Keith Haring.
Doctor Who will be arriving on the next box.
We are not amused.
"THEN you shake it all about."
Olympian outtakes
Olympian outtakes
Olympian outtakes
Olympian outtakes
Olympian outtakes
Olympian outtakes
Olympian outtakes
Olympian outtakes
Olympian outtakes
Olympian outtakes
Olympian outtakes
Olympian outtakes
Olympian outtakes
Olympian outtakes
Olympian outtakes
Olympian outtakes
Olympian outtakes
Olympian outtakes
Olympian outtakes
Olympian outtakes
Olympian outtakes
Olympian outtakes
Olympian outtakes
Olympian outtakes
Olympian outtakes
Olympian outtakes
Olympian outtakes
Olympian outtakes
Olympian outtakes
Olympian outtakes
Olympian outtakes
Olympian outtakes
Olympian outtakes
Olympian outtakes
Olympian outtakes
Olympian outtakes
Olympian outtakes
Olympian outtakes
Olympian outtakes
Olympian outtakes
Olympian outtakes
Olympian outtakes
Olympian outtakes
Olympian outtakes
Olympian outtakes
Olympian outtakes
Olympian outtakes
Olympian outtakes
Olympian outtakes
Olympian outtakes
Olympian outtakes
Olympian outtakes
Olympian outtakes
Olympian outtakes
Olympian outtakes
Olympian outtakes
Olympian outtakes
Olympian outtakes
Olympian outtakes
Olympian outtakes
Olympian outtakes
Olympian outtakes
Olympian outtakes
Olympian outtakes
Olympian outtakes
Olympian outtakes
Olympian outtakes
Olympian outtakes
Olympian outtakes
Olympian outtakes
Olympian outtakes
Olympian outtakes
Olympian outtakes
Olympian outtakes
Olympian outtakes
Olympian outtakes
Olympian outtakes
Olympian outtakes
Olympian outtakes
Olympian outtakes
Olympian outtakes
Olympian outtakes
Olympian outtakes3
Olympian outtakes
Olympian outtakes
Olympian outtakes
Olympian outtakes
Olympian outtakes
Olympian outtakes
Olympian outtakes
Olympian outtakes
Olympian outtakes
outtakes day 9 06
Olympian outtakes
Olympian outtakes
Olympian outtakes
Olympian outtakes
Olympian outtakes
Olympian outtakes
Olympian outtakes
Olympian outtakes
Olympian outtakes
Olympian outtakes
Olympian outtakes
Olympian outtakes
Olympian outtakes
Olympian outtakes
Olympian outtakes
Olympian outtakes
Olympian outtakes
Olympian outtakes
Olympian outtakes
Olympian outtakes
Olympian outtakes
Olympian outtakes
Olympian outtakes
Olympian outtakes
Olympian outtakes
Olympian outtakes
Olympian outtakes
Olympian outtakes
Olympian outtakes
Olympian outtakes
Olympian outtakes
Olympian outtakes
Olympian outtakes
Olympian outtakes
Olympian outtakes
Olympian outtakes
Olympian outtakes
Olympian outtakes
Olympian outtakes
Olympian outtakes
Olympian outtakes
Olympian outtakes
Olympian outtakes
Olympian outtakes
Olympian outtakes
Olympian outtakes
Olympian outtakes
Olympian outtakes
Olympian outtakes
Olympian outtakes
Olympian outtakes
Olympian outtakes
Olympian outtakes
Olympian outtakes
Olympian outtakes
Olympian outtakes
Olympian outtakes
Olympian outtakes
Olympian outtakes
Olympian outtakes
Olympian outtakes
Olympian outtakes
Olympian outtakes
Olympian outtakes
Olympian outtakes
Olympian outtakes
Olympian outtakes
Olympian outtakes
Olympian outtakes
Olympian outtakes
Olympian outtakes
Olympian outtakes
Olympian outtakes
Olympian outtakes
Olympian outtakes
Olympian outtakes
Olympian outtakes
Olympian outtakes
Olympian outtakes
Olympian outtakes
Olympian outtakes
Olympian outtakes
Olympian outtakes
Olympian outtakes
Olympian outtakes
Olympian outtakes
Olympian outtakes
Olympian outtakes
Olympian outtakes
Olympian outtakes
Olympian outtakes
Olympian outtakes
Olympian outtakes
Olympian outtakes
Olympian outtakes
Olympian outtakes
Olympian outtakes
Olympian outtakes
Olympian outtakes
Olympian outtakes
Olympian outtakes
Olympian outtakes
Olympian outtakes
Olympian outtakes
Olympian outtakes
Olympian outtakes
Olympian outtakes
Olympian outtakes
Olympian outtakes
Olympian outtakes
Olympian outtakes
Olympian outtakes
Olympian outtakes
Olympian outtakes
Olympian outtakes
Olympian outtakes
Olympian outtakes
Olympian outtakes
Olympian outtakes
Olympian outtakes
Olympian outtakes
Olympian outtakes
Olympian outtakes
Olympian outtakes