Golden girl Ennis: I'd do it for nothing
August 9, 2012 -- Updated 0046 GMT (0846 HKT)
STORY HIGHLIGHTS
Jessica Ennis won Olympic gold for hosts Britain in heptathlon
Ennis first of three track and field winners for hosts on Saturday
She admits to feeling the pressure as poster girl of the Games
Medals more important than money for the 26-year-old
(CNN) -- Jessica Ennis is set to cash in after winning heptathlon gold for Olympic hosts Great Britain, but fame and fortune are not the motivation for the poster girl of London 2012.
"If there was no money, I'd still be here doing it. I just want to achieve all I can achieve in sport and win medals and that's the most important thing," the 26-year-old told CNN.
However, Ennis is aware of some of the commercial opportunities that will come her way in the aftermath of the Games
"I also want to enjoy some of the things that are going to come up as well as a result of this but more than anything I'm just so happy and relieved I was able to get the gold and that's the most important thing for me," she said.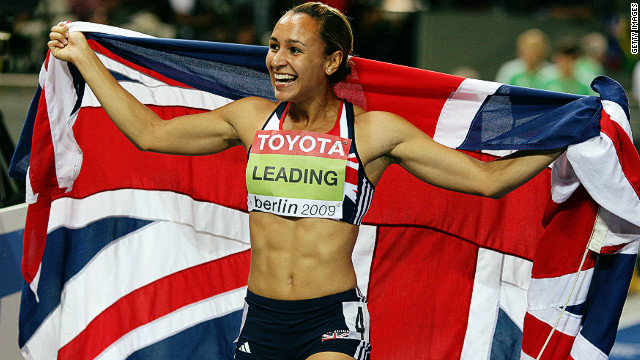 Jessica Ennis celebrates winning the gold medal at the 2009 IAAF World Championships in Berlin with a then personal best tally of 6,731 points.
Ennis crosses the line in the 100-meter hurdles on the first day of her successful bid for the gold medal at the 2009 IAAF World Championships in Berlin.
Ennis had to settle for a silver medal behind Russia's Tatyana Chernova at last year's IAAF World Championships in Daegu, South Korea.
Ennis proudly shows off her Member of the Order of the British Empire medal (MBE) awarded by the UK's Queen Elizabeth for services to athletics.
Ennis with her fiancee Andy Hill (left) and parents Alison and Vinny at Buckingham Palace, London in November 2011.
Ennis won her first senior medal at the 2006 Commonwealth Games held in Melbourne, claiming a bronze medal in the heptathlon. Compatriot Kelly Sotherton (center) took gold with Kylie Wheeler from Australia taking silver.
An exhausted Ennis completes the 800m at the IAAF World Youth Championships in Sherbrooke, Canada in 2003. She finished the overall competition in fourth place.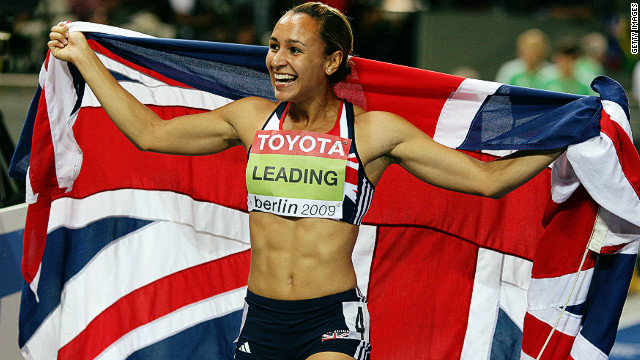 Golden girl Jessica Ennis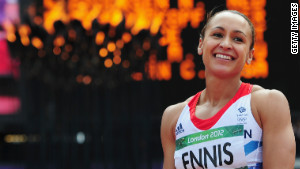 UK's Jessica Ennis wins heptathlon gold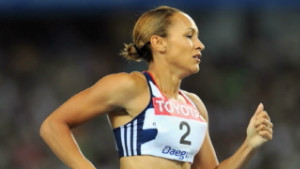 Human to Hero: Jessica Ennis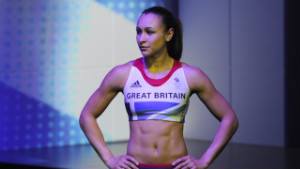 Jessica Ennis ready to step up
Ennis set the capacity crowd in the Olympic Stadium alight last Saturday as she powered to victory in the heptathlon's final event over 800 meters to set the seal on a dominant performance.
"You know people really expected me to win, to do well, it was still a great position to be in though because I'd not experienced anything like that before," she said.
"I just tried to use all that pressure and turn it into positiveness and support."
Ennis came up just 45 points shy of the magical 7,000 mark for the seven events, which was the fifth best tally in heptathlon history.
The 2009 world champion took a commanding lead from the start and never let up.
"I knew how hard it was going to be, and it's not just one day -- it's two days of really tough competition. I knew that I just had to really keep my eye on the ball and not get distracted by what other people expected of me," Ennis said.
Her triumph has been met with acclaim across Britain, which is third in the medal table with 22 golds -- three more than at Beijing 2008, with four days to go.
Many have rushed to congratulate her, but so far nothing official from British Prime Minister David Cameron.
"I've not had a call from the Prime Minister, no," Ennis said.
She is reminded that President Barack Obama is regularly on the line to successful American athletes.
"Does he? I'll have to have a word then," said Ennis, with a smile on her face.