STORY HIGHLIGHTS
Wisconsin killing suspect fronted a white-supremacist rock band
Page talked about a race war while in the Army, former comrade says
He drifted from Colorado to both coasts after discharge, settling in North Carolina
He moved to the Milwaukee area in recent months, former neighbors and landlord say
Oak Creek, Wisconsin (CNN) -- Soldier. Singer. Skinhead.
Investigators spent Monday trying to figure out what led 40-year-old Wade Michael Page from repairing missiles for the Army to a Sikh temple in suburban Milwaukee, where he was killed by police at the end of a Sunday morning rampage.
The shaven-headed Page, whose tattoos included the Celtic cross adopted by white supremacist groups, had been the front man for a white-power rock band called "End Apathy" for several years. Two former neighbors identified him from photos on the band's MySpace page.
His path appears to have taken him from Colorado to Milwaukee, where he enlisted in the Army in 1992; back to Colorado; to North Carolina, where he started the band; and then back to the Milwaukee area, where he had been "a short time" before the shootings, Oak Creek Police Chief John Edwards told reporters Monday.
The Army trained Page first as a mechanic for the Hawk anti-aircraft missile system, then as a psychological warfare specialist. He rose to the rank of sergeant before losing a stripe due to "patterns of misconduct," according to a Pentagon official who spoke on condition of anonymity. In October 1998, he received a general discharge under honorable conditions, the official said.
Community attempts to cope after Wisconsin shooting deaths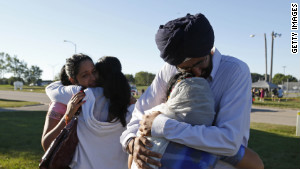 Warning signs from massacre suspect?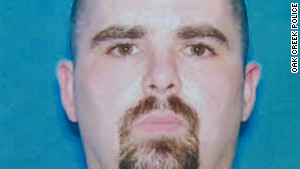 Army vet's brutal attack on Sikh temple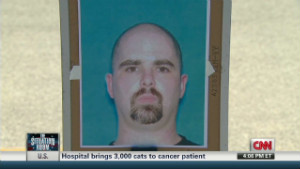 Sikh temple gunman was Army vet
Christopher Robillard of Oregon, who described Page as "my closest friend" in the service more than a decade ago, said Page was pushed out of the military for showing up to formation drunk.
He described Page as "a very kind, very smart individual -- loved his friends. One of those guys with a soft spot." But even then, Page "was involved with white supremacy," Robillard said.
"He would talk about the racial holy war, like he wanted it to come," Robillard said. "But to me, he didn't seem like the type of person to go out and hurt people."
Later Monday, Robillard told CNN's "Piers Morgan Tonight" that Page likely sought attention to his beliefs "because he was always the loner type of person. Even in a group of people, he would be off alone."
Teresa Carlson, the special agent in charge of the FBI's Milwaukee office, said investigators have been told Page may have been involved with the white supremacist movement, but that hadn't been confirmed. No motive for Sunday's attack had been established, but the FBI was investigating whether the killings at the Sikh temple were an act of domestic terrorism, she said.
Page moved back to Denver after his discharge, where he had a tough time in civilian life "and was basically living on the street," Robillard said. It was during that period that Page joined a "racist band" and started to get his body inked, his Army buddy told CNN.
"I asked him why he was aligning himself with this stuff," Robillard said. "He really didn't answer. He would duck it."
Page had a girlfriend who left him for another member of the band, which then kicked him out, Robillard said. The last time they saw each other -- more than 10 years ago -- Robillard said Page was on a motorcycle trip across the country.
It was a trip Page recounted in 2010, in an online interview about his band End Apathy. He founded it in in the small town of Nashville in eastern North Carolina, where he ended up after bouncing around the country from California to West Virginia.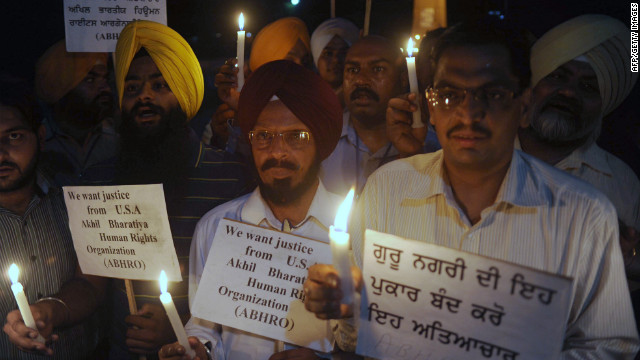 Members of the Akhil Bharatiya Human Rights Organization hold placards and candles during a vigil in Amritsar, India, on Tuesday, August 7, as they pay tribute to Sikh devotees killed in the U.S. The tragedy of the Wisconsin Sikh temple shooting has reverberated worldwide.
Sikhs gather at Washington's Lafayette Park, across from the White House, for a Night of Remembrance of the Wisconsin Gurdwara Shootings on Wednesday, August 8. The man on the left is holding a poster of Oak Creek Police Officer Lt. Brian Murphy, who was shot multiple times as he pursued the gunman.
Photos of the victims are displayed during a candlelight vigil Wednesday in New York's Union Square. Six people were killed in the shooting Sunday, August 5, near Milwaukee.
A woman from the Sikh Temple of Wisconsin mourns during a candlelight vigil Tuesday, August 7, at the Oak Creek Community Center in Oak Creek, Wisconsin.
Mourners and supporters of the Sikh Temple of Wisconsin attend the vigil at the Oak Creek Community Center on Tuesday night.
Mourners continue to hold vigils such as the one Tuesday at the Oak Creek Community Center after the carnage left the local Sikh community reeling.
Peggy Renner-Howell bows her head after laying flowers Tuesday at a makeshift memorial near the Sikh Temple of Wisconsin in Oak Creek.
A man visits the makeshift memorial near the Sikh Temple of Wisconsin on Tuesday.
Members of Wisconsin's Sikh community conduct a candlelight vigil on Monday, August 6, for the six people killed in suburban Milwaukee.
Wisconsin Gov. Scott Walker, along with members of the Sikh community, attends Monday's vigil at the Sikh Religious Society of Wisconsin for the victims of the shooting at the Sikh temple.
Hundreds of mourners gathered at the Sikh Religious Society of Wisconsin on Monday, August 6. The mourners pray for their neighbors killed in the attack on a Sikh temple.
Members of the Miwaukee-area Sikh community gather to learn information about the shooting spree of Wade Michael Page, 40, on Monday, August 6 in Oak Creek, Wisconsin.
A member of the Miwaukee-area Sikh community weeps as he listens to information about the shooting spree.
Harpreet Singh, left, and Amardeep Kaleka, right, whose father, temple President Satwant Kaleka, was killed in Sunday's shooting, cry during a news conference in Oak Creek.
Amardeep Kaleka is consoled at the command center near the Sikh Temple of Wisconsin on Monday.
News crews report Monday from outside Page's home in Cudahy, Wisconsin.
People console each other on Monday at the command center near the Sikh Temple of Wisconsin.
SWAT officers surround a Sikh temple in Oak Creek, Wisconsin, where a gunman whom authorities identified as Wade Michael Page, 40, stormed the building and opened fire on August 5. The incident left six people and the gunman dead.
SWAT officers gather in front of the temple Sunday. The attack occurred about 10:30 a.m., when temple members were reading scriptures and cooking food.
People wait for information in front of the temple as law enforcement officers secure the area.
Police work outside the entrance to the temple, near Milwaukee.
Police man an armored vehicle outside the temple.
A tactical officer runs to position as SWAT officers surround the temple.
A woman wipes away a tear outside the Sikh temple.
People wait for word on family and friends in front of the Sikh temple. The Oak Creek temple, or gurdwara, opened in 2007.
Police coordinate outside the Sikh Temple of Wisconsin, where the rampage took place.
A police officer directs people near the temple.
An officer works to secure a neighborhood in Cudahy, Wisconsin, on Sunday.
Officers take cover behind a vehicle as they secure the neighborhood where the shooter is believed to have lived in Cudahy, Wisconsin.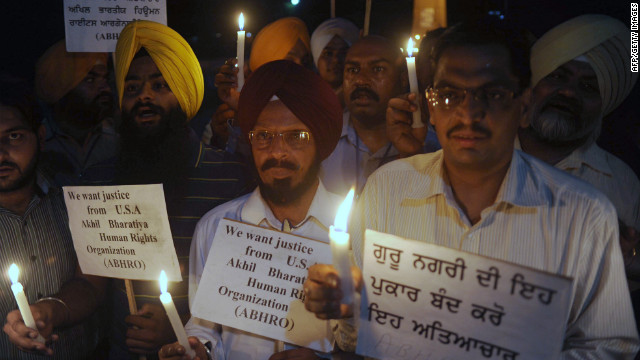 Shooting at the Sikh Temple of Wisconsin
"I am originally from Colorado and had always been independent, but back in 2000 I set out to get involved and wanted to basically start over," he said.
The band put out at least two recordings through a label that promoted them on the neo-Nazi website Stormfront. In a 2010 interview posted online, Page said his lyrics "vary from sociological issues, religion, and how the value of human life has been degraded by being submissive to tyranny and hypocrisy that we are subjugated to."
End Apathy played gigs in North Carolina and in the Midwest, he said. While Page shared the stage with many similar bands, he wasn't a movement leader and doesn't appear to have been involved in any criminal acts, said Mark Potok, who tracks hate groups for the Southern Poverty Law Center in Alabama.
White supremacist groups still strong
Nevertheless, Potok called Page "a neo-Nazi skinhead in the very thick of the white supremacist movement."
In a statement posted on its website Monday, the band's imprint, Label 56, said it had removed "all images and products related to End Apathy."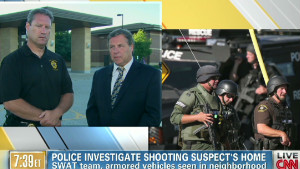 Fed investigating Sikh temple shooting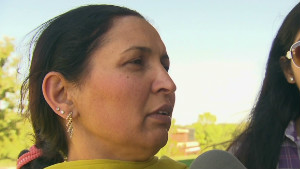 Temple survivor: The shooting didn't stop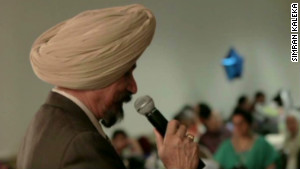 Heroic temple pres. killed in massacre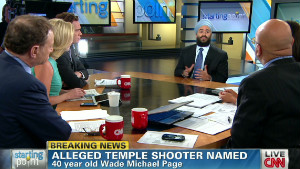 Understanding the Sikh community
"We have worked hard over the years to promote a positive image and have posted many articles encouraging people to take a positive path in life, to abstain from drugs, alcohol, and just general behavior that can affect ones life negatively," the company said.
"We do not wish to profit from this tragedy financially or with publicity," it added. "In closing, please do not take what Wade did as honorable or respectable and please do not think we are all like that."
It wasn't clear Monday what brought Page back to Wisconsin, where he lived first with a girlfriend, then on his own.
David Brown, a former neighbor in a South Milwaukee apartment building, said Page would frequently lift weights and occasionally leave home with a guitar. But every time he tried to talk to his neighbor, Brown said, he would just grunt and walk on by.
Who are Sikhs and what do they believe?
And a former landlord, Kurt Weins, told CNN that Page worked nights at a welding supply business and had recently broken up with a girlfriend when he signed his lease.
"He was quiet. I saw no violence in him," said Weins, who has been questioned by federal agents since Sunday's killings.
"The feds asked me how he paid, whether he had weapons. I had no idea he had weapons," he said.
Robillard said he knows Page's name will now be inextricably linked with hate and bloodshed, "but that's not how I remember him."
"It's the racial holy war talk I always took as something he would vent about, and not act on it," he said. "I never pictured him as someone who would do anything. I thought maybe he was just saying it for attention."
Share your thoughts and remembrances for the victims on CNN iReport.
CNN's Ted Rowlands, Drew Griffin, Nick Valencia, Mike Mount and Dugald McConnell contributed to this report.