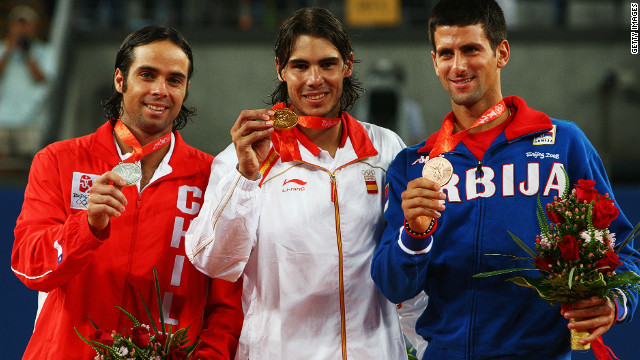 Fernando Gonzalez, left, poses with his silver medal at the 2008 Olympic Games after being beaten by Rafael Nadal, center, in the final. Novak Djokovic, right, took the bronze.
Gonzalez was asked to be Chile's flag bearer at the 2008 Olympics in China, an honor he described as "huge." Chile had only ever won 13 medals before London 2012, and Gonzalez can boast three of them.
Gonzalez and partner Nicolas Massu proudly show the gold medals they won in the men's doubles at the 2004 Olympics in Athens.
Gonzalez only made it to one grand slam final in his 13-year pro career, at the Australian Open in 2007, when he was beaten in straight sets by one of the greatest players of all time -- Roger Federer.
Gonzalez turned pro in 1999 but came to prominence in the early 2000s, when he won the first of his 11 ATP Tour titles. He also beat some big names, including 14-time grand slam champion Pete Sampras.
Gonzalez won the ATP Tour event in Chile four times. Here he celebrates after beating Brazilian Gustavo Kuerten in the 2004 final in Vina del Mar.
Grass was not Gonzalez's favorite surface and he struggled at Wimbledon, reaching the quarterfinal stage just once in 2005.
Gonzalez's last tournament was the Miami Masters in March 2012. He bowed out of the professionla game after a 13-year career with a first-round defeat to Nicolas Mahut.
In good company
Pride of Chile
Gold rush
Melbourne despair
Emerging talent
Home comforts
Pain in the grass
Florida farewell
STORY HIGHLIGHTS
Fernando Gonzalez has won three Olympics medals out of Chile's total haul of 13
Veteran tennis player has a full set of Games medals, which he keeps in his closet
He won bronze in singles and gold in men's doubles in 2004, then silver in 2008
Gonzalez won a total of 11 ATP Tour titles during a 13-year professional career
(CNN) -- Chile has only ever won 13 medals in the history of the Olympics -- and three of them are tucked safely away in Fernando Gonzalez's closet.
The 32-year-old, who retired from tennis in March, was famed for his fearsome forehand during 13 years on the pro circuit, winning 11 ATP Tour titles. However, it is the full set of medals from the Games that he counts as his finest achievement in the sport.
The Athens Olympics of 2004 yielded gold in the men's doubles with partner Nicolas Massu, and a bronze in the singles as his compatriot won that competition too -- becoming the only man to claim both titles at the same Games.
Four years later, in Beijing, Gonzalez reached the showpiece singles final but was thwarted in his bid for a second gold by Rafael Nadal.
While the Spaniard was not able to defend his title at London 2012 due to injury, Gonzalez returned to the world's biggest sporting extravaganza in an ambassadorial role.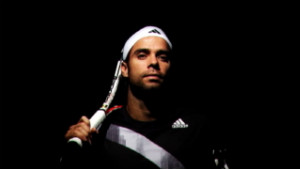 Fernando Gonzalez's Olympic collection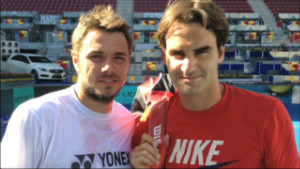 Defending Olympic gold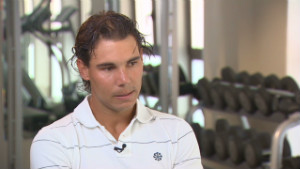 Nadal reveals heartache at Games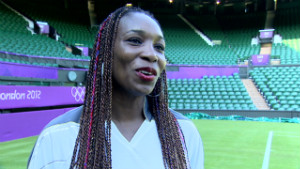 Venus Williams excited by London 2012
Federer focused on Olympic 'dream'
"I always wanted to play the Olympics," he told CNN's Open Court. "I got there with Nicolas thinking that of course it will be a really tough competition, but the main thing in tennis is that you always have a chance to win even if you are fourth in the world going against number one. It is not like the other sports.
"It was something really special to us because we had been used to the tour and spending time with the other tennis players, but this time we were with other athletes and it was very exciting because you could see the different kinds of bodies in the same place."
Gonzalez and Massu's gold rush provoked a surge of pride and patriotism back in Chile, which the pair could only get a true taste of when they returned home as national heroes.
That they had to wait over a month to feel the country's full embrace, due to the U.S. Open coming swiftly after the Games, only made their homecoming more sweet.
"When we went back three or four weeks later it was huge," said the man dubbed "Gonzo" and "Stone Hand."
"The president received us at the government palace. We had breakfast with him and we went out unto the balcony, which is a very popular background where very few people walk out on.
"And there was a lot of people, a few thousand people. It was very exciting and I never dreamed that tennis could give me the chance to have that experience."
Tsonga makes Olympic tennis history after marathon match
After his heroics in 2004, Gonzalez had the ultimate honor bestowed upon him prior to the start of the Beijing Games when he was asked to carry Chile's flag for the opening ceremony.
"It was one of my best moments because you are an ambassador for your country in the world," he said. "For me it feels like to win something important. It is really huge."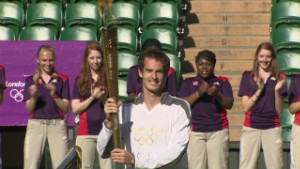 Andy Murray carries the Olympic torch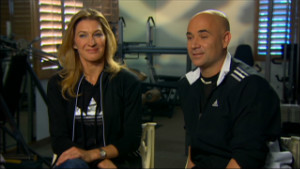 Agassi and Graf's Olympic moments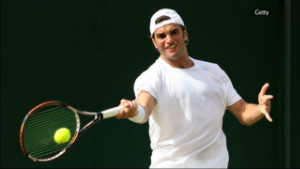 A Tunisian tennis revolution
The only other tennis player to fulfill the same role for his nation in China was 17-time grand slam champion Roger Federer, who defeated Gonzalez in the only major final he ever made -- at the 2007 Australian Open.
Gonzalez turned professional in 1999 and took his first ATP Tour title the year after, his rapier-like forehand cementing his reputation as one of the hottest young players on the circuit.
He reached his first grand slam quarterfinal in 2005 at Wimbledon and made the season-ending ATP Tour Finals, contested by the world's top eight players.
He subsequently made the last eight of every major tournament, while the four titles he clinched on home soil, in Vina del Mar, also rank as a career highlight.
Venus Williams exits singles at London 2012
But it is the success Gonzalez has enjoyed on the international stage that has come to define his career, both in a litany of Davis Cup matches with Chile and at the Olympics.
Despite the country's fervent love of football, Gonzalez always had his heart set on a career on the baseline rather than the touchline.
"In the beginning I just wanted to see tennis. I went to go see some cups and I feel the passion of the sport and then I went to see the national team of football, but I always wanted to go and play tennis.
"Then one thing led to another and I wanted to play tennis and I wanted to represent my country and you know the passion that the people of Chile gave me was really important for my career."
It has been less than six months since Gonzalez called time on his career and, though he says he doesn't miss the grueling travels schedule and endless hotel pit-stops, the Chilean admits he will miss that feeling of being on court in front of thousands of fans.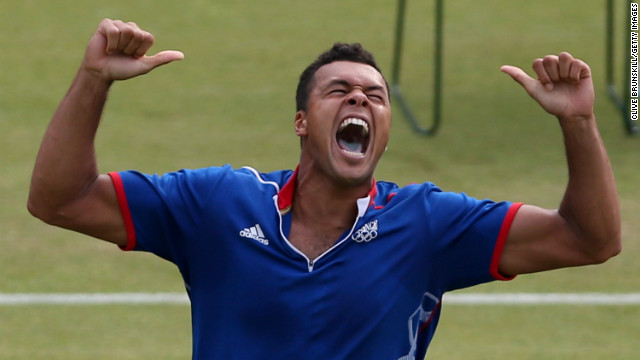 Jo-Wilfried Tsonga shouts for joy as he finds the shot that seals victory in the longest Olympic tennis match. The match lasted just under four hours and the final set ended 25-23 to the fifth-seeded Frenchman.
Canada's 2011 ATP Tour newcomer of the year Milos Raonic proved to be a tough opponent for Tsonga. The world No. 23 won the second set and had a vastly superior second serve game in the decider.
The 66-game thriller easily beat the previous record for a three-set match at Olympic tennis, which was 48 games when Fernando Gonzalez beat Taylor Dent at the 2004 Games in Athens with a scoreline 6-4 2-6 16-14.
Jarkko Nieminen of Finland decided to make a bit of an early exit in his match with world No. 4 Andy Murray. He ended up in the well in front of the spectators as he tried to rescue a shot against the Wimbledon finalist.
Murray was the only British player left in the Olympic tennis singles competitions following his victory against Nieminen during the second round of men's Singles. All the GB ladies singles competitors lost.
Russia's Maria Sharapova caused one of the hometown talent to leave the Olympic competition, beating Laura Robson 7-6 (7-5) 6-3.
While the former Wimbledon junior champion admitted she faced a formidable oponent, Robson said the state of the Center Court surface at Wimbledon was part of the reason for her defeat.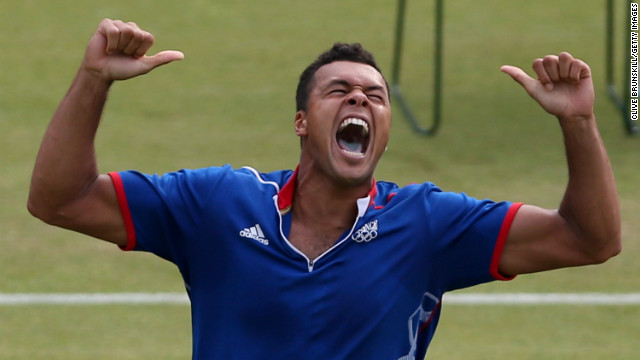 Longest match in Olympic tennis history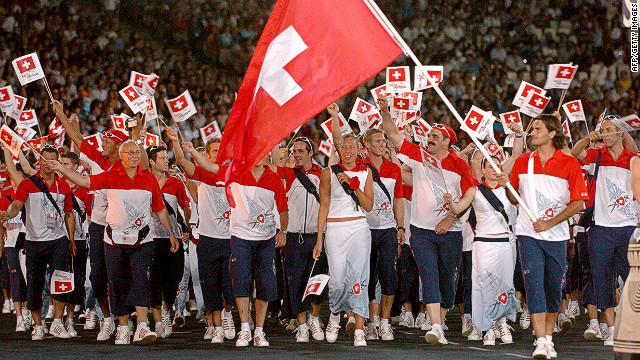 Roger Federer first had the honor of carrying Switzerland's flag at the 2004 Olympics in Athens.
The tennis star was again chosen as flag bearer at Beijing 2008 despite failing to earn a medal in his two previous Olympic appearances.
However, this year the duty has been passed to Federer's friend Stanislas Wawrinka, who helped him finally climb onto the Olympic rostrum at Beijing.
Wawrinka and Federer had long been practice partners, but came together to win the men's doubles title. In the semifinals they beat top-ranked Bob and Mike Bryan of the United States, who had to settle for bronze.
Wawrinka collapses after winning the match point in the final against Sweden's Simon Aspelin and Thomas Johansson.
Federer breaks down as the significance of their achievement gets the better of him.
Wawrinka told CNN that in order to stop themselves from crying, he and Federer cracked jokes up on the podium. When Federer took a look at his medal, he told Wawrinka there was a crack in it.
That 2008 moment remains the peak of Wawrinka's career. He has won two men's singles titles since, but has only reached the quarterfinal stage of a grand slam twice. This year he lost in the fourth round at the French Open, the third round at the Australian Open and the first at Wimbledon.
Wawrinka won the 2003 French Open boys' title, just after turning 18, as he beat American Brian Baker in straight sets. Stepping up to the adult circuit ranked as the world's 14th-ranked junior, his decision to quit school aged 15 to focus on his tennis career seemed justified.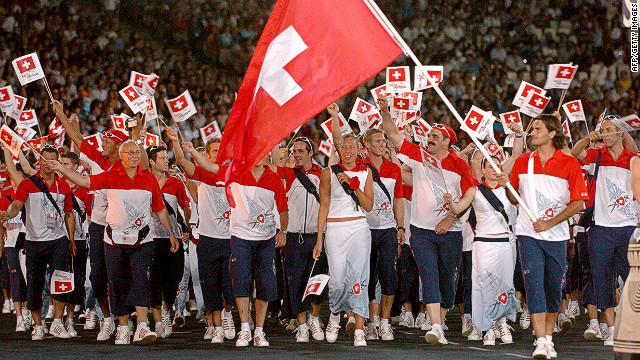 Flying the Olympic flag for Switzerland
But his dual love for the game and his country will also dominate his future, as he plans to help promote tennis in Chile through his foundation and broaden access for those who haven't had the chance to play.
"In Chile there is a lot of talent but maybe the people do not know they have the talent. There are many good football players playing in Europe at a really good level and I think in tennis we can do something similar," he said.
"Not like them, but we can do really well. But also I want to be involved in tennis. I have a few offers to start to work with but I want to take my time.
"It is the first time in my life to have enough time for me, so I'm going to start next year. I love tennis and I will stay around."
And as for his most treasured possessions, where does he keep his hat-trick of Olympic medals?
"They are at my house in the closet," he replies. "Some people come to my house and say, 'Show me them,' but they don't care about the rest, they care about the medals."