STORY HIGHLIGHTS
Shooting at a movie theater in Aurora, Colorado, leaves 12 dead
Eyewitness reports unfold online in real time
People also turn to the Internet on Friday to grieve for victims
The event highlights a shift in the way society gathers and processes news
(CNN) -- The posts show how quickly life can change.
"Everyones dressing up as Batman, im going dressed as Bruce Wayne... Albeit a short stubby unsexy Bruce Wayne #CouldntFindBatmanMaskInTime," wrote one Twitter user, identified online as Zach Eastman.
"Going to see the final batman tonight! So EXCITED!!!" wrote another Twitter user, @DjaylaRene.
And, in hindsight, most chillingly: "Of course we're seeing Dark Knight ... people should never argue with me."
Gunman kills 12 in Colorado theater shooting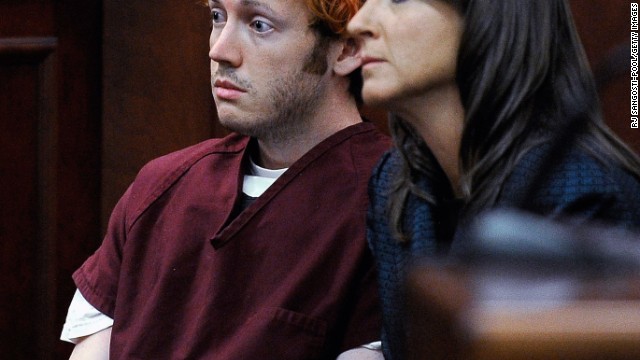 The public gets its first glimpse of James Holmes, 24, the suspect in the Colorado theater shooting during his initial court appearance Monday, July 23. With his hair dyed reddish-orange, Holmes, here with public defender Tamara Brady, showed little emotion. He is accused of opening fire in a movie theater Friday, July 20, in Aurora, Colorado, killing 12 people and wounding 58 others. More photos: Mourning the victims of the Colorado theater massacre
Police release the official photo from Holmes' booking after the shooting.
Holmes often had a blank stare during his court appearance Monday, appearing to be in a daze.
Victims and their relatives and journalists watch the proceedings Monday.
Flags fly at half-staff Monday at the Arapahoe County Courthouse in Centennial, Colorado, where the movie theater shooting suspect had his first court appearance. The prosecutor held a press conference outside the courthouse.
Arapahoe County District Attorney Carol Chambers talks to reporters Monday before heading into the courthouse. Chambers said the decision on whether to pursue the death penalty is a long process that involves input from victims and their families.
Family members of the victims arrive at the courthouse Monday for the suspect's first court appearance.
The Century Aurora 16 multiplex in Aurora becomes a place of horror after a gunman opened fire Friday in a crowded theater. At least 17 people remained hospitalized late Sunday, July 22, in the shooting rampage that shocked the nation.
Holmes is accused of opening fire during a midnight screening of the new Batman movie, "The Dark Knight Rises." Holmes purchased four weapons and more than 6,000 rounds of ammunition in recent months, police say.
Police investigate outside the Century 16 multiplex Saturday, July 21, a day after the mass shooting. Authorities have been tight-lipped about a possible motive in the case.
Agents search the suspect's car outside the theater.
Aurora police escort a sand-filled dump truck containing improvised explosive devices removed from Holmes' booby-trapped apartment Saturday. Authorities have said they believe the suspect rigged his place before leaving for the movie theater.
Police break a window at the suspect's apartment Friday in Aurora.
Law enforcement officers speak with Colorado Gov. John Hickenlooper, center, outside the suspect's apartment Saturday.
Law enforcement officers prepare to disarm the booby-trapped apartment Saturday.
Officials tow cars outside Holmes' apartment Saturday. Police disassembled devices and trip wires set up in the apartment.
Officers prepare to place an explosive device inside the apartment.
Debris flies out a window, right, after law enforcement officers detonate an explosive device inside the apartment Saturday.
People mourn the victims during a vigil behind the theater where a gunman opened fire on moviegoers in Aurora.
A woman grieves during a vigil for victims behind the theater.
A distraught woman receives counseling from Pastor Quincy Shannon, left, in front of Gateway High School in Aurora, where the families of the missing met following the shooting.
Lin Gan of Aurora holds back tears as she speaks to reporters about her experience in the Century 16 theater Friday.
People embrace before a vigil for victims behind the theater where a gunman opened fire on moviegoers.
Investigators work on evidence near the apartment of James Holmes on Friday.
Members of the Aurora Police Department SWAT unit walk near the apartment of James Holmes. Police have Holmes, 24, of North Aurora, in custody.
Television news crews gather in front of the home of Robert and Arlene Holmes, parents of 24-year-old mass shooting suspect James Holmes, in San Diego, California, on Friday.
A popcorn box lies on the ground outside the Century 16 movie theatre.
An NYPD officer keeps watch inside an AMC move theater where the film "The Dark Knight Rises" is playing in Times Square on Friday. NYPD is maintaining security around city movie theaters following the deadly rampage in Aurora, Colorado.
Adariah Legarreta, 4, is comforted by her grandmother Rita Abeyta near the Century 16 Theater in Aurora.
A cyclist and pedestrians pass a theater showing the latest Batman movie in Hollywood, California, on Friday. Warner Brothers said it was "deeply saddened" by Friday's massacre at a Colorado screening of "The Dark Knight Rises."
Obama supporters observe a moment of silence for the victims at a campaign event at Harborside Event Center in Fort Myers, Florida, on Friday.
Jessica Ghawi, an aspiring sportscaster, was one of the victims.
A woman waits for news outside Gateway High School, a few blocks from the scene of the shooting at the Century Aurora 16.
Aurora police chief Daniel J. Oates speaks at a press conference near the Century 16 Theater on Friday.
Agents search the trash container outside the suspect's apartment in Aurora.
A Federal ATF officer carries protective gear onsite at the home of alleged shooting suspect James Holmes.
Obama speaks on the shootings at the event in Fort Myers.
Moviegoers are interviewed at the Century Aurora 16.
Officers gathered at the theater Friday.
Investigators were a common sight at the theater Friday.
Authorities gather at the shooting suspect's apartment building in Aurora. Police broke a second-floor window to look for explosives that the suspect claimed were in the apartment.
Screaming, panicked moviegoers scrambled to escape from the black-clad gunman, who wore a gas mask and randomly shot as he walked up the theater's steps, witnesses said.
University of Colorado Hospital spokeswoman Jacque Montgomery said that all of the wounded had injuries from gunshot wounds, ranging from minor to critical.
Onlookers gather outside the Century Aurora 16 theater.
A woman sits on top of her car near the crime scene.
Police block access to the Town Center mall after the shooting.
Cell phone video taken by someone at the theater showed scores of people screaming and fleeing the building. Some, like this man, had blood on their clothes.
Witnesses told KUSA that the gunman kicked in an emergency exit door and threw a smoke bomb into the darkened theater before opening fire.
What is believed to be the suspect's car is examined after the shooting.
Police Chief Dan Oates said there was no evidence of a second gunman, and FBI spokesman Jason Pack said it did not appear the incident was related to terrorism.
Republican presidential candidate and former Massachusetts Gov. Mitt Romney delivers remarks regarding the shooting in an Aurora, Colorado, movie theater on Friday at a campaign event in Bow, New Hampshire.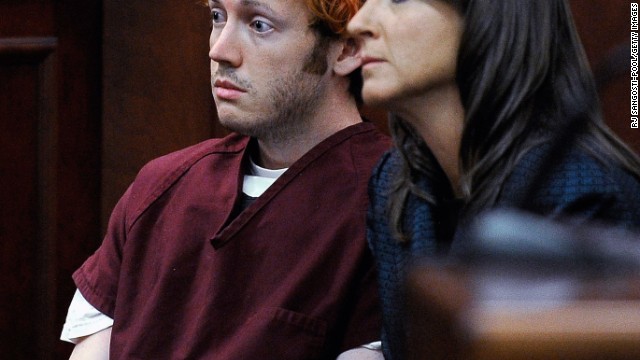 Colorado movie theater massacre
Those posts surfaced before the shootings early Friday morning at a late-night showing in Aurora, Colorado, of the Batman movie "The Dark Knight Rises," in which 12 people were killed and dozens more were injured. All three people who were quoted above appear to have been in the theater complex when a heavily armed gunman opened fire on moviegoers, according to police.
The third post appears to be from Jessica Ghawi, who was reported dead in the shooting. Ghawi was a former sports-news intern at a television station in San Antonio, according to that station, Fox 29. "It's true, my former intern Jessica Ghawi was a victim in the shootings last night. She used @JessicaRedfield as her twitter handle," wrote a Twitter user identified as Mike Taylor.
In the hours after the shooting, her friend mourned her death in real time.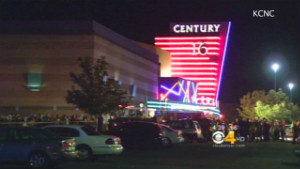 Listen to theater shooting 911 calls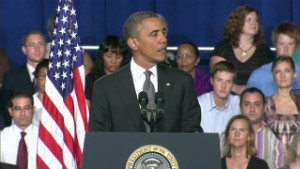 Obama: Such evil is senseless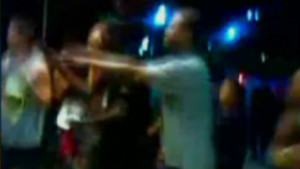 Video: Chaos at theater shooting scene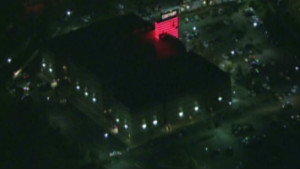 Witness: People bleeding in theater
"Devastated," wrote a sports radio host in Denver, identified online as Peter Burns. "Lost a very close friend in the shooting last night. @JessicaRedfield came to Denver to pursue sports career. I'm shaking."
Aspiring sports reporter Ghawi feared dead in shooting
The horrifying posts highlight a shift in the way our society tells the story of a tragedy, and also how we react to it. Before Twitter, smartphones and YouTube, it would have been impossible for an event like Colorado's "Batman Massacre" to have played out for the global public in real time.
The shooting is just the latest instance of social media being used to document a tragedy or a news event even as it is unfolding. A Pakistani man last year unwittingly live-tweeted the raid that killed Osama bin Laden. And the war in Syria is being documented in large part by citizens and members of the opposition movement who risk their lives to post YouTube videos and photos of the violence.
NRA tweeter was 'unaware' of Colorado shooting, spokesman says
But the social media posts about the Colorado shooting are a haunting reminder of the visceral power of first-person accounts of tragedy. And also a sign that society these days deals with grieving after an event like this in a much more public and immediate way than in years past.
Reports of the 1999 Columbine school shooting, for example, which happened only 17 miles from Aurora, spread in a much different way. Thirteen years ago, witnesses talked to TV crews rather than uploading their stories instantly to the Internet with mobile phones.
Shooting turns movie into surreal horror: 'This is real'
Some reports from the Aurora movie theater appeared to come out as the shooting occurred.
"Now I'm thinking it was bullets coming through the wall from 9 causing smoke and fire cracker sounds. #aurorashooting #batman #shootng," a Twitter user identified as Jamie Marshall wrote.
"Never seen so many cop cars in my life. Its a parade of lights," wrote Isaac Ramos.
"Everything keeps replaying in my head. It was so unreal," @DjaylaRene wrote.
"I am getting ready to cry. So scared. I need a hug. I almost got shot 9 times. I had a chance to be like 50," wrote another Twitter user, @Abenistar.
He later added: "I seen a person bleeding out their mouth and gasping for their last breath. This ain't right. #Century16Shooting. Thunk the world is ending."
Shaky YouTube videos show people screaming, crying and rushing out of the theater after the shooting, some of them with bloody wounds. Another video, apparently taken outside the building by a person who was in the theater next to the shooting, offers a glimpse into the mindset of a person who has just witnessed tragedy. The amateur videographer sounds to be at a loss for words.
"Oh Jesus. July 20th, 2012. Aurora Century 16," he says, in a sort of real-time confessional about the event. "There has been a massive shooting here. A lot of people wounded, a lot of people dead. I can't really take pictures, just because I'd rather (be) helping people than wanting to take pictures of some pretty ghastly (expletive). There's some guy in a gas mask apparently -- teargassed theater 9. We were in theater 8. Just lit it up. It hit a lot of people, a lot of younger people. Oh. It's pretty -- it's pretty bad."
Timeline of worst mass shootings in U.S.
Officials also turned to the Internet in an effort to make sense of the events.
The Red Cross is asking people who witnessed the shooting to tell loved ones that they were OK over social media sites like Facebook and Twitter.
"People don't know how close you were, so help alleviate that anxiety," spokeswoman Patricia Billinger told USA Today.
And other officials used the Internet to offer sympathy.
"We certainly appreciate the nation's thoughts and prayers as our police department continues to investigate the terrible theater shooting tragedy that occurred today," the city of Aurora wrote on its Facebook page. "Our condolences go out to the victims and their family members."
Are you there? Share your story with us on CNN iReport and post your tributes to the victims.
CNN's Doug Gross and Dorrine Mendoza contributed to this report.