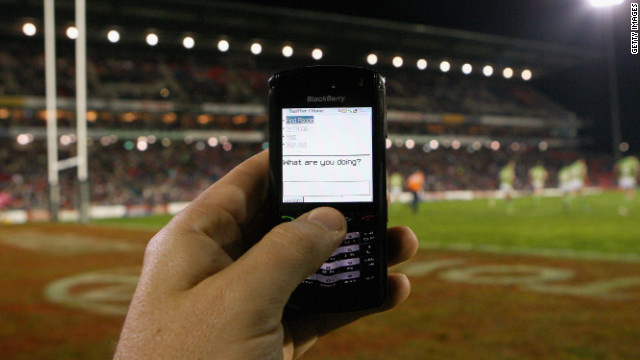 The mobile phone is becoming more and more prominent at sporting events, with spectators eager to share opinions and pictures via social media.
For the first time since 2006, the British Open will allow fans to bring phones onto the golf course when it gets underway on Thursday. Darren Clarke (center), who went on to lift the Claret Jug in 2011, and Rory McIlroy can be seen here checking out a phone during a practice round ahead of last year's event.
Golf fans have always observed strict on-course etiquette. World No. 3 Lee Westwood and Australia's Adam Scott have both backed the use of phones at the British Open, providing it does not distract the players.
Fans clamoring for pictures of their favorite stars has long been a familiar site at sporting events all over the world.
Sports fans have also started taking their own visual souvenirs, including filming parts of the action on their smart phones, a practice which is prohibited at most events.
The rise of the phone
Open for business
Par for the course
Sporting snaps
Memorable moments
STORY HIGHLIGHTS
The British Open will allow mobile phones for the first time since 2006
Academic Ellis Cashmore believes mobiles have become like pacemakers -- artificial devices, but vital for the regulation of organs
Top golfers Lee Westwood and Adam Scott have backed the move
Use of phones will be restricted certain zones, while they must be switched to silent
(CNN) -- Jesse Owens' triumph over the Third Reich in Berlin at the 1936 Olympic Games, Zinedine Zidane's perfect volley in the 2002 European Champions League final, Tiger Woods' astonishing chip-in at the Masters in 2005 or Rafael Nadal celebrating in the growing dusk around Wimbledon's Centre Court after overcoming Roger Federer in 2008.
All iconic moments in the history of sport, forever etched in the memory of spectators lucky enough to be able to say "I was there".
But these days witnessing greatness is clearly not quite enough for the modern sports fan as countless spectators religiously record career-defining events on mobile devices and post their own personal accounts on various social media websites.
Shades of greatness: Duval dreams of British Open renaissance
"The pleasure of sport lies not so much in witnessing an event as talking about it," explains Ellis Cashmore, professor of Culture, Media and Sport at England's Staffordshire University.
"We've all at some point sat at home and watched a fight or a tennis match in isolation and it's never as enjoyable as when we are in company, talking about the competition as it unfolds. Mobile phones have opened out the possibilities. We can talk to anyone, anywhere while the action is taking place."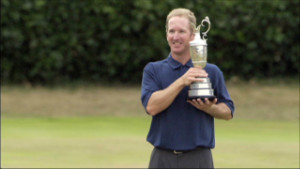 David Duval looks to regain winning form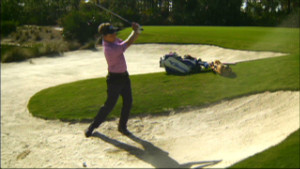 Hotshots: Luke Donald's bunker shot
One event to have resisted the tidal wave of mobile technology which has swept through society is the British Open -- golf's oldest major -- which will take place for the 141st time this weekend.
Blog: Why U.S. golf has a healthy future
But this year the R & A, which governs golf outside the United States and Mexico, has relented, allowing spectators at north-west England's Royal Lytham and St. Annes Golf Club to bring their phones into the event for the first time since 2006.
"The attachment people have to their mobile phones is getting ever stronger," R & A head of communications Malcolm Booth told CNN.
"People feel it's an item they really don't want to be separated from. It's very clear to us that people coming to any sporting event, and the Open is no exception, want to have their mobile phones with them."
This is a view supported by Cashmore as he outlines how people are increasingly unwilling to venture out of the house without a mobile phone in their pocket.
"Mobiles are now less accessories, more extensions of our lives," said Cashmore, who is currently conducting a study entitled "Barbaric Britain?"
"We can manage without our watches or our keys, but not our phones. They are like pacemakers -- artificial devices, but vital for the regulation of organs.
"More generally we are consuming sports differently today than we were as recently as five years ago. The pattern is towards a much more remote consumption through smartphones and mobile computers.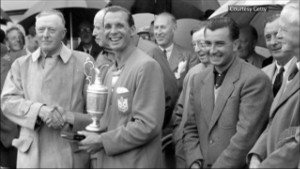 Will the Open return to Royal Portrush?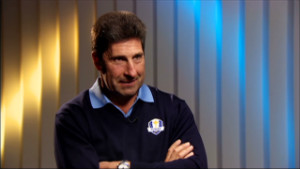 Olazabal ready to lead Ryder Cup team
"Portability is the key to this. We consume not just sport but everything on the move."
Current world No. 3 Lee Westwood, searching for a first major title in front of his home fans, sees no reason why the public should be separated from their trusty mobile phones, providing the players are not distracted at crucial moments.
Australian Adam Scott, also looking for a first win in one of golf's four marquee events, agrees with Westwood, though as long as the sport's fans observe the customary on-course etiquette.
The R & A have set up designated "Mobile Device Zones" where visitors can use their phones, while also attempting to ensure spectators do not take home their every own visual souvenirs.
"There are obviously great challenges with that," outlined Booth. "That provision is in keeping with many sporting events, including the Olympics where they are going to have exactly the same challenge.
"We have a very strict mobile phone policy at the Open Championship this year which means there are dedicated areas where people can use their phones.
"The hope is they will not use phones to any great extent near play and we'll have a marshal near play encouraging that behavior. It is one of the great challenges of allowing mobile phones at any sporting event."
Cashmore argues such personal recordings of events are used by people to enhance their eye-witness memories.
"We remember experiences by context: the circumstances that form the setting for an event, what happened immediately before and afterwards, and the people with whom we stood, sat and chatted to," said Cashmore.
"Phones enable us to extend this to a wider network of people. By describing an experience we memorialize it."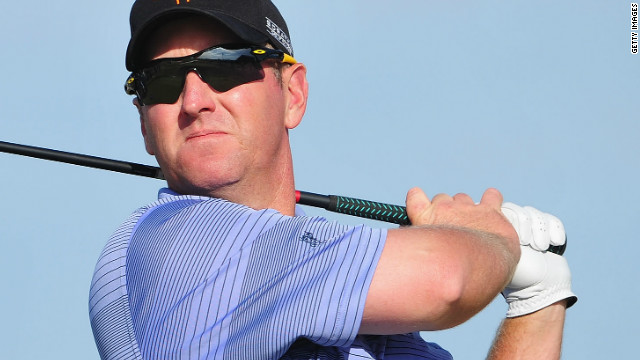 David Duval is battling to regain the form that made him the world's No. 1 golfer for 15 weeks during his peak period more than a decade ago.
This month he returns to the scene of his greatest triumph, Royal Lytham and St. Annes Golf Club in England where he made an emotional speech after winning the 2001 British Open.
The American claimed his only major championship to date as he negotiated his way around the tricky links course for a total of 10 under par.
He said the key was learning to be disciplined and sticking to a gameplan when faced with the inevitable bunker hazards.
The 40-year-old plays with trademark dark glasses due to his eyes' sensitivity to light.
He says it is easier to wear them, no matter the conditions -- such as here at the 138th British Open at Turnberry in 2009.
Duval has had glimpses of a return to his former glory. In 2009 he tied for second at the rain-hit U.S. Open, which stretched to a fifth day. He was joined by son Brayden for the trophy presentation.
Duval with his daughter Sienna before the 2010 Masters Tournament. He had a promising start to that year but missed the cut at Augusta and the British Open, and tied for 70th at the U.S. Open.
Duval was at his peak in 2001. Here he poses with Masters champion Tiger Woods, U.S. Open winner Retief Goosen and PGA Championship victor David Toms at the Grand Slam of Golf in Hawaii.
Duval was unable to stop Woods completing a "Tiger Slam" at the Masters earlier that year, finishing second -- two shots behind the world No. 1 -- at Augusta in April. They won the World Cup of Golf for the U.S. the previous year.
But he turned the tables at Royal Lytham in July 2001, winning by three shots as Woods finished back in 25th.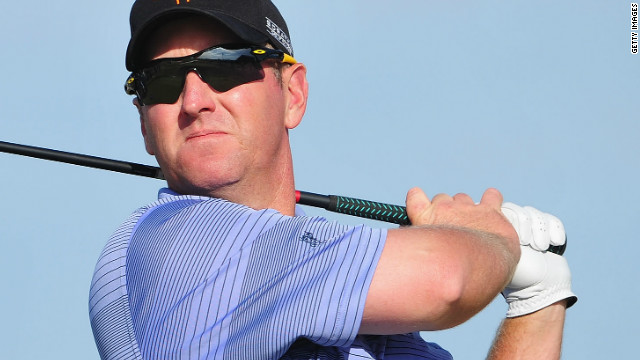 Duval's long wait for golfing success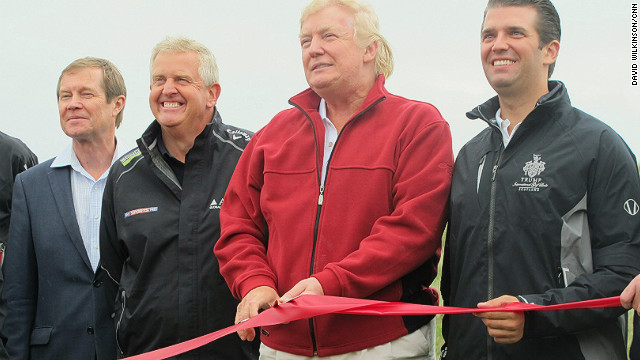 Trump (second from the right) cuts the ribbon at the grand opening of the Trump International Golf Links.
Trump, who has delayed plans to build an extended $1 billion resort on the east coast of Scotland, hits the course's first ever shot.
Trump has long been an avid golfer, with a reported low single-figure handicap. He has even published a book compiling advice on the game he has received from his favorite professionals.
Former Ryder Cup European team captain Colin Montgomerie was the star chosen by Trump to have a swing at the new course.
Trump, far left, marches down the fairway for the first time, accompanied by Montgomerie. The American's plans to continue construction have been unpopular with locals.
Trump played up to his Scottish roots, entertaining those in attendance with complimentary shortbread, whiskey and a spot of traditional music.
The course is up to such a high standard that Golf World magazine has already ranked it as the eighth best in Britain -- without a single competitive round being played on it yet.
The Menie Estate, upon which the course is built, is protected by numerous charities and societies. The sand dunes featured throughout the course are a part of a site of scientific interest.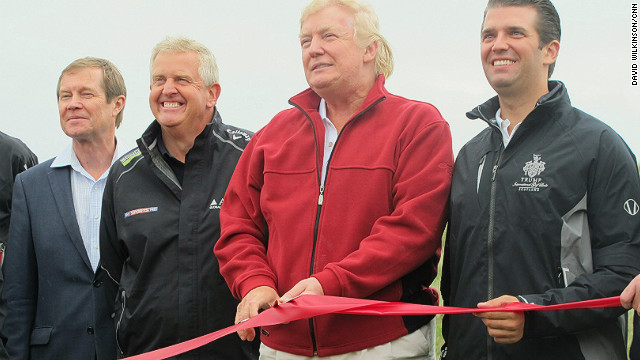 Trump opens Scottish course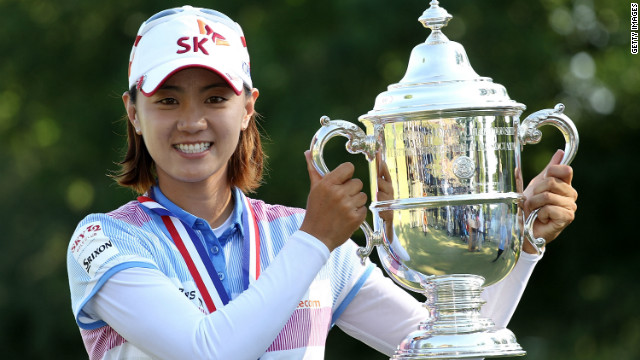 Na Yeon Choi celebrates after clinching her first major victory at the 2012 U.S. Women's Open.
The South Korean was sprayed with champagne after her four-stroke win at Blackwolf Run.
She was congratulated by compatriot Se Ri Pak, left, who inspired a new generation of Korean golfers when she won the same tournament at the same venue in 1998.
Korea-born New Zealander Lydia Ko was the leading amateur as she tied for 39th, at the age of 15.
Paula Creamer, the 2010 champion, was the highest-placed American as she tied for seventh.
U.S. 17-year-old Lexi Thompson failed in her bid to become the youngest winner of a major golf tournament as she faded from third equal after 54 holes to a tie for 14th. She would have been 10 days younger than Young Tom Morris when he won the British Open in 1868.
Hawaii-born Michelle Wie, whose parents emigrated from South Korea, is still waiting for her first major win after a final-round 80 left her tied for 35th.
World No. 1 Yani Tseng of Taiwan finished tied for 50th after successive rounds of 78 in the only one of the four major tournaments she has yet to win.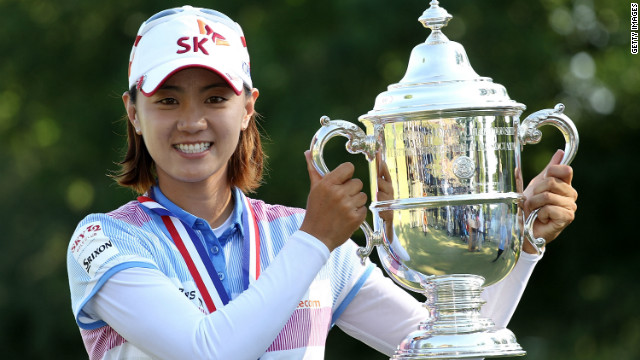 2012 U.S. Women's Open
One man who believes sport's iconic moments do not require additional "memorializing" is British journalist Richard Williams, the author of Perfect 10: Football's dreamer, schemers playmakers and playboys.
Ten years ago Williams was at Hampden Park, Glasgow when Zidane's audacious left-foot strike in the last minute of the first half proved enough to give Real Madrid a 2-1 win over Germany's Bayer Leverkusen in one of soccer's most high-profile matches -- the European Champions League final.
Williams believes he witnessed a sporting moment of such complete perfection he decided to never watch a replay of the now iconic goal.
"Maybe people growing up now, in the age of technology and media saturation, will develop a different attitude," wrote Williams in a chapter extolling the talents of Zidane.
"But one of the pleasures of being a football fan is the archive of individual images saved on the memory's hard drive.
"Each of them is divorced from its immediate context: only with the greatest difficulty could I dredge up the details of the matches in question, never mind its result.
"I wanted Zidane's goal to claim a place in that personal file ... If I watched it again on television, I would inevitably be replacing my own image of the moment with that of a television camera, if only partially.
"It would not contain within it the surge of exhilaration and admiration that I felt in that moment and that remain part of the emotional response to replaying the goal as it was experienced from my own point of view."
Despite the compelling and heartfelt argument put forward by Williams, Booth is confident the British Open will retain the aura which has helped it become one of golf's most cherished tournaments.
"You can't swim against the tide in terms of technology and we're not the only sporting event having to deal with this challenge," said Booth.
"We've got great television partners and they are always going to find a way to romanticize those phenomenal sporting moments. Equally, people will want to take their own records of sporting events.
"There would be no point trying to fight that, it is the way people want to consume events now. But traditional media will always allow you to present events in the way they should be."
So with the influence of the phone continuing to grow, how long before spectators are so busy tweeting about the British Open they miss the champion lifting the Claret Jug?