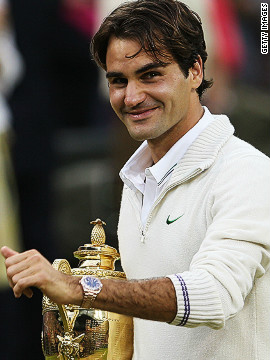 Roger Federer has surpassed Pete Sampras' record of 286 weeks at the top of the world rankings, after a two-year absence from the No. 1 spot. Federer will be hoping to cement his status as the best in the world with a gold medal at the Olympic Games in London later this month.
Sampras' record had looked to be safe, but Federer's Wimbledon win -- his first grand slam title since 2010 -- equaled the American's mark of seven crowns at the All England Club and ended Novak Djokovic's 12-month reign.
In this month's final, Federer defeated Britain's world No. 4 Andy Murray -- who is coached by Ivan Lendl. The Czech never won Wimbledon in his collection of eight grand slam titles, but spent the third-highest number of weeks at No. 1, achieving a total of 270.
Jimmy Connors is fourth on the list with 268 weeks. The American is the only male to have won more than 100 singles titles, while he has also reached more grand slam quarterfinals (41) than any other player. The eight-time major champion was also the first man to spend a total of five years in the No. 1 spot.
Perhaps more famous now for his commercial ubiquity, John McEnroe was one of the best players of his era. Renowned for his fiery temperament and on-court rivalries with the likes of Lendl, Connors and Sweden's Bjorn Borg, the American has spent the fifth longest amount of time in the top spot with 170 weeks.
By defending her Stanford title on Sunday, Serena Williams (left) equaled her older sister Venus' record of 43 WTA tournament victories, the most by any player still active on the Tour. Former world No. 1 Serena retained her ranking of fourth, achieved by winning her fifth Wimbledon title this month. She also won the doubles with Venus.
No. 1: Roger Federer
No. 2: Pete Sampras
No. 3: Ivan Lendl
No. 4: Jimmy Connors
No. 5: John McEnroe
Leading women
STORY HIGHLIGHTS
Roger Federer surpasses Pete Sampras' number of weeks at world No. 1
Wimbledon champion Federer has now topped the rankings for 287 weeks in his career
Serena Williams equals Venus' total of 43 WTA Tour titles
The dominant sisters are now sixth on the all-time list of most WTA Tour wins
(CNN) -- Roger Federer's reputation as one of the finest tennis players of all time was cemented on Monday, as the Swiss broke Pete Sampras' record for the most number of weeks at the top of the world rankings.
Federer returned to the No. 1 spot for the first time in over two years with a record-equaling seventh Wimbledon men's singles triumph, a victory which was also gave him an unparalleled 17th grand slam title.
The 30-year-old has now spent 287 weeks at the summit since turning pro in 1998, one more than 14-time grand slam winner Sampras managed between 1993 and 2000.
By comparison, Steffi Graf holds the women's record total of 377 weeks at No. 1, with Martina Navratilova second on 332.
"It is really an amazing feeling for me to have regained the No. 1 ranking," Federer said on the ATP Tour website.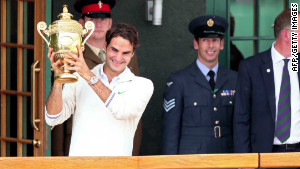 Federer: I felt bad beating Andy Murray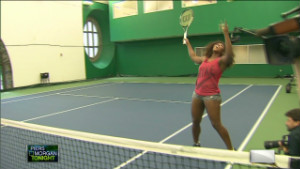 Take a bow Serena Williams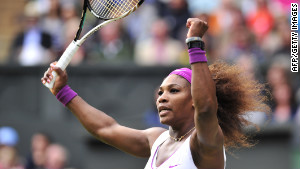 Serena Williams wins 2012 Wimbledon
"I had set a goal with my team to try to get back to the top of the rankings, but I never thought with the depth in the game this year that I would have been able to get it back so quickly.
"I am extremely proud and honored to have beaten Pete's record as he was my childhood hero and I have always looked up to him."
Sampras, who retired in 2002, congratulated Federer on his achievement.
"Great effort. The hardest thing to do in sports is the ability to stay on top. Roger has been able to do so by great play and durability," the American said.
Behind Federer and Sampras on the list are eight-time grand slam winners Ivan Lendl (270 weeks) and Jimmy Connors (268 weeks) while John McEnroe, a winner of seven major titles, was at the top for 170 weeks.
Federer is "the greatest ever tennis player"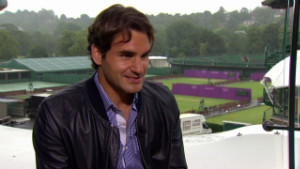 Federer reflects on Wimbledon win
Despite dropping out of the top three in October 2011, Federer has still maintained his incredible run of reaching 33 grand slam semifinals in a row stretching back to the 2004 French Open.
Federer spent a record 237 consecutive weeks at No. 1 between February 2004 and August 2008, whereas Sampras only managed 102 weeks in a row.
One record Federer is yet to claim is that of the oldest man to win a major. Andre Agassi achieved that feat by winning the 2003 Australian Open at the age of 33 years and 131 days.
In the women's game, Wimbledon champion Serena Williams equaled older sister Venus' total of 43 WTA Tour titles by beating fellow American Coco Vandeweghe in Sunday's final of the Bank of The West Classic in California.
The dominant Williams sisters now share the record for the most tournaments won by players still active.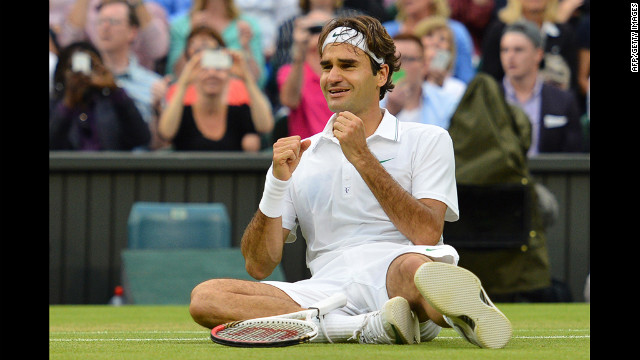 Roger Federer of Switzerland celebrates after defeating Andy Murray of Great Britain to win his 7th Wimbledon championship in London on Sunday, July 8. Visit CNN.com/tennis for complete coverage.
Federer lies on the grass court at the All England Tennis Club upon winning match point during the men's singles final against Murray on Sunday.
Murray, the first Briton to reach a men's singles final at Wimbledon in 74 years, returns a shot to Federer during the match Sunday.
Murray returns a double-handed backhand to Federer during the men's singles Wimbledon championship on Sunday.
Murray leaves the court during a rain delay in the second set Sunday. Murray was trying to become the first British man to win the title since Fred Perry in 1936.
Ground staff pull a cover onto center court during a rain delay in the championship match.
Tennis fans shelter from a heavy downpour that developed during the match Sunday.
Federer, left, returns a shot from Murray during the men's singles Wimbledon championship in London on Sunday.
Federer returns a forehand to Murray during the first set.
Murray reaches for a short shot by Federer on Sunday.
Fans cheer during the first set of the championship match Sunday.
Federer jumps and returns a shot to Murray on Sunday.
Murray and Federer enter the court prior to the men's singles final match on the final day of Wimbledon on Sunday.
London's Mayor Boris Johnson, top left, and Britain's Prime Minister David Cameron, right, attend the match Sunday.
Pippa Middleton, left, and her sister, Catherine, Duchess of Cambridge, sit in the royal box during the match between Federer and Murray on Sunday.
An official changes the order of play board at the All England Lawn Tennis Club ahead of the championship match Sunday.
Tennis fans gather on Murray Mount to watch the final match Sunday.
Spectators race to claim a vantage point on Murray Mount after the gates opened at the venue on Sunday.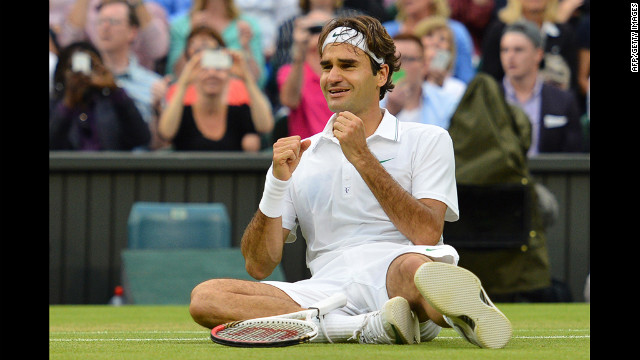 Men's singles Wimbledon Championship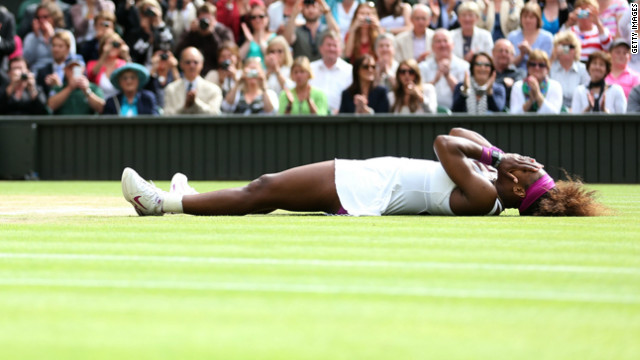 Serena Williams celebrates her win against Poland's Agnieszka Radwanska for her fifth Wimbledon title. Visit CNN.com/tennis for complete coverage.
Williams and Radwanska shake hands after the match on Saturday.
Williams reacts during a play against Radwanska. She finished the tournament with 102 aces, three times as many as the the next closest woman player, Sabine Lisicki, who had 34.
Radwanska hits a forehand return back to Williams.
Williams' mother, Oracene Price, center, finds shelter under an umbrella during a temporary rain delay.
Still held on the grass, Wimbledon has always been held at the All England Lawn Tennis and Croquet Club in London.
Radwanska reacts after a good play.
Williams serves during her final match against Radwanska.
Radwanska serves to Williams in the final match in the women's singles.
Radwanska, right, the No. 3 seed from Poland, took her place in a showpiece final for the first time in her fledgling career. Her opponent, 30-year-old Williams, also recorded a straight sets win.
Spectators in the royal box on Centre Court wait for the final match to begin on Saturday.
Radwanska rests on her chair during a break between games during the match against Williams. Radwanska won on her Grand Slam semifinal debut to become Poland's first major finalist in 75 years.
Williams hits a forehand return. The U.S. player is gunning for a 14th major singles titles.
The ground staff installs rain covers, causing a delay in the game.
"This is what I dreamed of since I was a kid," Radwanska said. "Everyone wants to reach a Grand Slam final. It is the best two weeks of my career."
Going into Saturday's final, Williams boasted 85 aces in this year's tournament, second only to German quarterfinalist Philipp Kohlschreiber, who has 98 to his name.
Ground staff rush onto the court to install the rain covers.
Spectators hide under umbrellas and rain jackets as protection from the rain. See the best WImbledon photos.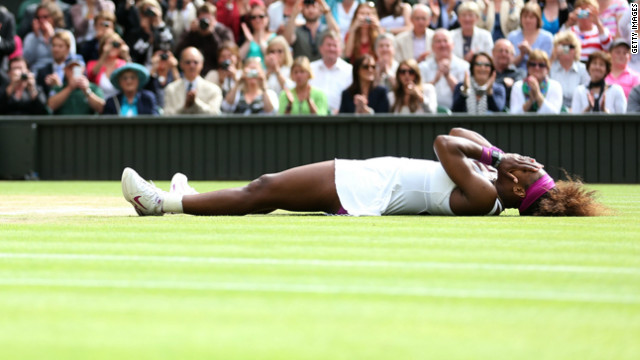 Photos: Women's singles Wimbledon championship
The 30-year-old Serena has won 28 of her last 29 matches and is now joint sixth on the all-time list of WTA Tour title winners.
The legendary Czech Martina Navratilova tops the list with 167 titles, ahead of American Chris Evert with 154.
Germany's Graf, the wife of Agassi, has 107, while Lindsay Davenport of the U.S. collected 55 titles during her career.
The Williams sisters are level with Switzerland's Martina Hingis and Justine Henin of Belgium.
For former world No. 1 Serena, her recent run of form comes off the back of a 2011 season which was blighted by life-threatening blood clots on her lung.
"I've never felt this fit, this strong, this happy to play -- and I think I can be even better," fourth-ranked Williams told the WTA Tour's website after her 7-5 6-3 win over the 20-year-old Vandeweghe, who made it into the main draw as a lucky loser from qualifying.
"I want to sustain this momentum and build on what I did at Wimbledon. I'm going to get back on the grass now for the Olympics -- I'm not sure when I'm heading back to London, but I'll do it as soon as I can."
Williams will be looking to win her third gold medal in the British capital, after clinching the doubles title alongside Venus at the 2000 and 2008 Games.