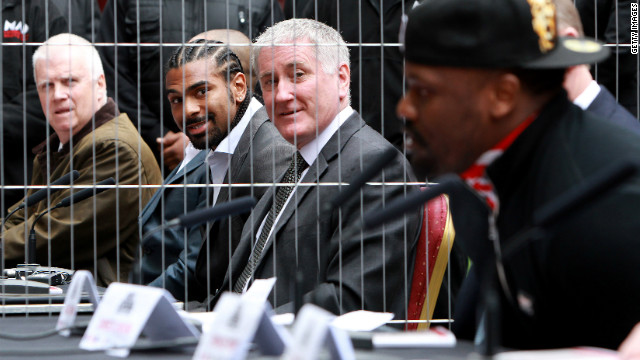 David Haye and Dereck Chisora have never before faced off in the ring, but Saturday's controversial fight is borne of their mutual animosity.
Former WBA heavyweight champion Haye confronted Chisora at a press conference following his fellow British boxer's defeat by Vitali Klitschko in February.
The Haye and Chisora teams then got involved in a violent brawl. Haye's manager Adam Booth was left with a bloodied face after being allegedly struck with a bottle.
Chisora had sparked controversy when he slapped Klitschko at the weigh-in ahead of their fight, and spat water at the Ukrainian's fellow world champion brother Wladimir. He subsequently lost his boxing license.
With the men's side of the sport receiving so much negative press, Britain's Lisa Jane Whiteside (left) and Poland's Sandra Kruk will be hoping to show the world what women can do at the Olympic Games this summer. Here are a few of the ones to watch...
Mary Kom is one of the finest female boxers of her generation. She is the only woman to win a medal at all six Amateur World Championships, taking home the gold on five occasions. The 29-year-old is India's only qualifier for the Olympics and is also the IBA's Ambassador for Women's Boxing. In 2010 she was voted Indian Sportswoman of the Year.
At only 17 years of age, Clarissa Shields has already won 27 bouts, with 14 knockout wins to her name and only one loss. The U.S. middleweight has won two Junior Olympic championships and will be looking to add to that at London 2012.
Savannah Marshall is Britain's strongest candidate for boxing gold on home canvas. In May the middleweight became the first Britsh woman to win a world title, overcoming a bloodied nose to beat Azerbaijan's Elena Vystropova on her 21st birthday.
Ireland's European and world champion Katie Taylor has won a total of 13 gold medals across three different federations, all at the 60 kg weight class. She has also represented the Republic of Ireland at international level in football, and might be recognized by some after starring in a recent Lucozade Sport advertisement.
Ranked third in the world in the flyweight (51kg) division, Nicola Adams has been a pioneering figure for British women in the sport. In 2001 she became the first female boxer to ever represent England and in 2007 she became the first Briton to win a medal, with bantamweight silver at the European Championships and is now the continental flyweight champion.
Forced apart
Trouble brewing
Munich mess
A slap in the face
Women in the ring
'Magnificent Mary'
American ambition
Britain's big hope
Irish invincible
UK pioneer
STORY HIGHLIGHTS
David Haye and Dereck Chisora will face off this Saturday in London
The fight will take place at Upton Park in front of a crowd of 30,000
An global audience throughout 60 countries will be tuning in to the controversial bout
Women's boxing debut at Olympics may rectify some of damage done to the sport
(CNN) -- Money talks -- that's hardly a revelation, but the overriding feeling towards Saturday's David Haye versus Dereck Chisora "circus fight" in London is shock and outrage that it could even take place.
With neither fighter holding a British boxing license, promoter Frank Warren had to resort to asking the little-known Luxembourg federation to sanction the bout.
It has since been expelled from the European Boxing Union for agreeing to give legitimacy to an event that no-one else would touch.
Chisora was banned by the World Boxing Council and the British Boxing Board of Control following his bust-up with Haye in Munich in February, while his former world champion opponent escaped punishment only because he had already retired.
Their ugly scuffle at a press conference after Chisora's defeat by Vitali Klitschko, which Haye attended, has set the scene for a showdown straight from the pages of the professional wrestling handbook.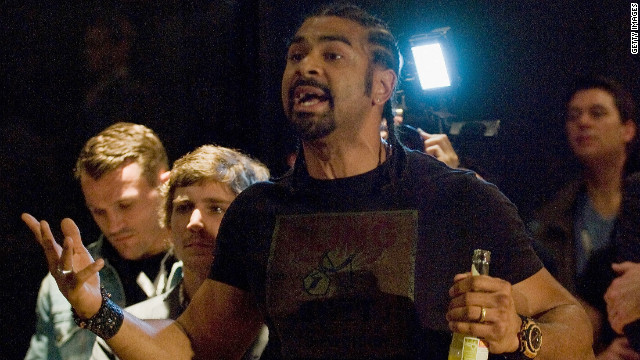 Former WBA heavyweight champion David Haye argues with Dereck Chisora moments before they brawled in Germany on Saturday.
Chisora sits in his corner during his fight against WBC heavyweight champion Vitali Klitschko in the Olympic hall in Munich.
The veteran Ukrainian Klitschko (L) beat challenger Chisora on points.
Chisora slapped Klitschko at the weigh-in ahead of their fight on Friday.
Zimbabwe-born Chisora had signed on to fight Klitschko's younger brother Wladimir in December 2010, but the Ukrainian pulled out due to injury.
Wladimir instead fought Haye in July 2011, taking the Briton's WBA title and defending his own belts. Haye retired in October after his 31st birthday, but has been angling to fight Vitali.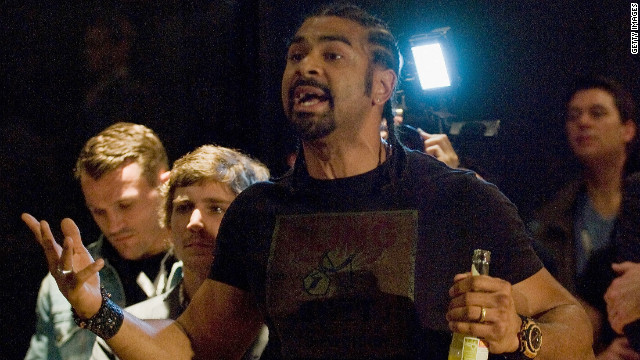 Boxers brawl after title fight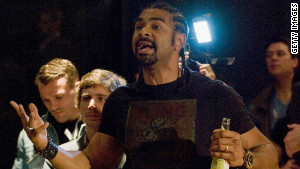 Boxing brawl fallout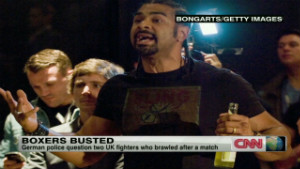 Boxers come to blows after fight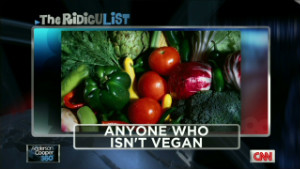 Mike Tyson: 'I was a prostitute hunter'
Their pantomime behavior has only served to rack up the ticket sales to close to 30,000 and secure airtime in 60 countries worldwide.
Chisora threatens to shoot Haye
"Chisora's not a nice guy, the fact he bites people in the ring, spits water in peoples' faces, slaps people at weigh-ins, kisses people at weigh-ins. What's to like?" Haye said this week.
Boxing commentator Steve Bunce has compared Haye and Chisora's Munich brawl to Lennox Lewis' pre-fight rumble with Mike Tyson a decade ago. Lewis punched Tyson, and in exchange the American bit his leg. This was heralded at the time as the biggest fight ever.
Needless to say this won't be the biggest fight ever, but expect passion, expect a feisty encounter between two British heavyweights who have both gone the distance with the Klitschko brothers in the past year and are still holding out for a rematch.
Haye has pointed to worldwide attraction to the scuffle in Germany -- 20 million views of a YouTube video showing him brandishing a glass bottle -- as justification for Saturday's fight.
Can boxing climb out of the gutter?
"People are looking at it. If I'm disappointed in something, I'm not going to keep looking at it," Haye, who lost his WBA title to Wladimir Klitschko last year, told the UK Press Association.
"Beating Chisora won't add to my legacy. In 50 years' time when people look back at my career they won't see this fight and think Dereck Chisora was a great fight and look what David did to him.
"Chisora doesn't have any titles and has been coming off three losses. It's a fight for the night, simply because I beat him up at a press conference a few months ago."
To give some indication of where men's boxing is at, on the same night Britain's Amir Khan will be fighting Danny Garcia in Las Vegas, having been reinstated as WBA welterweight champion after American Lamont Peterson was found guilty of doping following his controversial win when they met in December.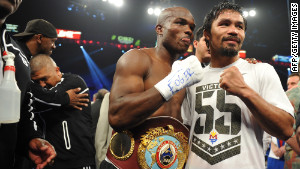 Pacquiao promoter 'ashamed' of boxing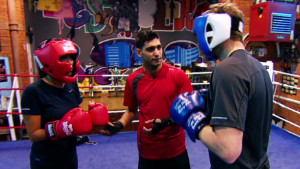 Learn the ropes of boxing with Amir Khan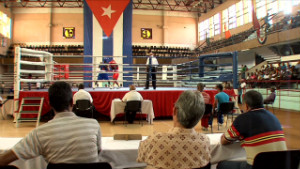 Cuba's punching pedigree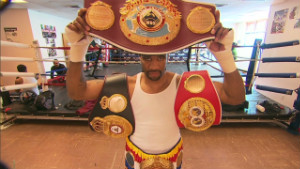 From homeless to World Champion
WBC champion Garcia's trainer and father has already upped the stakes by insulting Khan's Pakistani heritage.
"He's going to see a Pakistani fight on Saturday and knock his son out," Khan responded.
It's all in stark contrast to the image that women's boxing will be hoping to portray in the UK capital in the coming weeks, as females get to fight at the Olympics for the first time.
There's still some divided opinion as to whether female boxers should be included at the Games, but anyone who watches the athleticism and speed of veteran world titleholders Katie Taylor and Mary Kom will be left in no doubt as to their value to the tournament.
"She is without doubt the finest female amateur boxer in the world," Bunce said of Taylor, who has won her 60 kg division at every world championships since 2006.
According to one blogger: "Katie Taylor has single-handedly made women's boxing an accepted, if not yet a mainstream sport. Young girls throughout Ireland lace up in clubs each week, inspired by a bona fide hero, and our collective print and broadcast media are enamored with the woman that inspired them."
The Irish fighter's father Peter agrees, telling the Gulf news website: "Katie's pioneered the way for female boxing, she's made their path a little bit easier."
Going to the Games, or watching from home? Send us your pictures and videos
He's referring to the likes of 17-year-old Claressa Shields, who was the youngest boxer at the U.S. Olympic trials in February and fights with an assuredness beyond her years.
Then there's Savannah Marshall, who won Britain's first world title on her 21st birthday in May.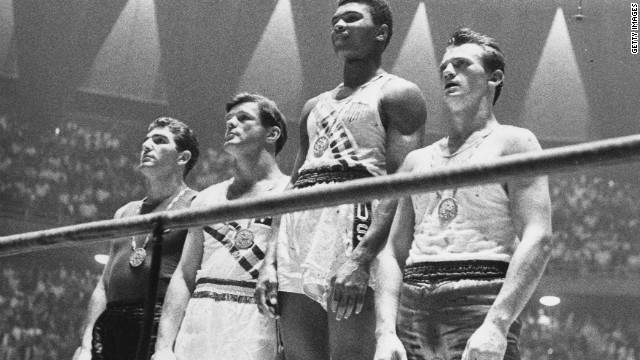 Cassius Clay, later to become known as Muhammad Ali, rose to prominence at the 1960 Olympic Games in Rome, where he claimed a boxing gold medal in the light heavyweight division.
Ali boldly predicted how many rounds it would take him to knock out British boxer Henry Cooper ahead of their bout in London in 1963. The fight was stopped in the fifth round as Cooper was bleeding heavily from a cut around his eye and Ali was declared the winner. Cooper died in May 2011.
Ali first became a world champion in 1964, when he was still known as Cassius Clay. He upset the odds to defeat reigning champion Sonny Liston, a result which prompted him to yell "I'm the greatest" at gathered reporters.
In 1974, Ali took part in one of the most famous world championship fights in the history of boxing. He took on reigning champion George Foreman in Zaire, in a fight which was dubbed the "Rumble in the Jungle." Ali emerged victorious after flooring Foreman in the eighth round.
Ali provided one of the iconic images of the 1996 Atlanta Olympics when he lit the Olympic flame to officially declare the Games open.
In addition to lighting the flame, Ali also received a replacement gold medal for the one he had won 36 years earlier. Ali tossed the original into the Ohio River after being refused entry to a restaurant.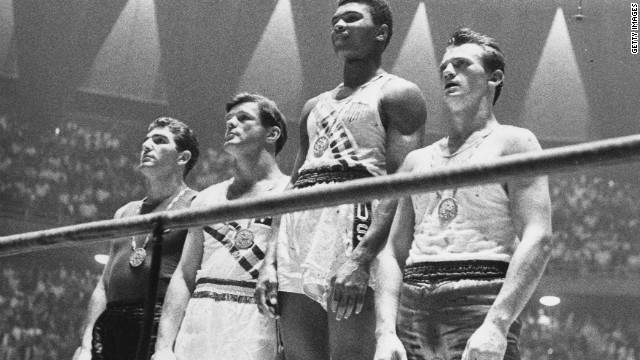 Muhammad Ali: 'The Greatest' at 70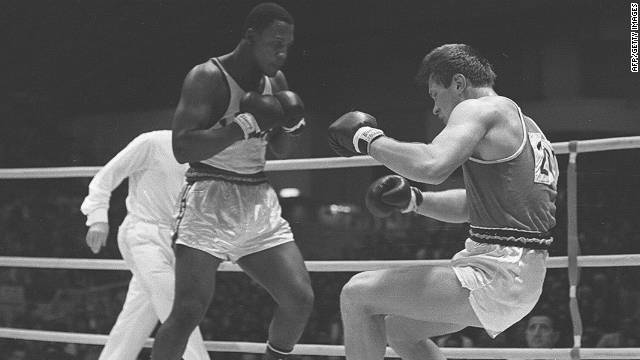 Joe Frazier and Russian Vadim Yemelyanov fight in a semifinal at the Olympic Games in Tokyo in 1964. Frazier went on to win gold.
Frazier poses in a fighting stance in the ring with his trainer Eddie Futch behind the ropes in 1968.
Muhammad Ali goes down in the 15th round after a left hook from world heavyweight champion Frazier in 1971, who kept the title with a unanimous points win.
Frazier and Joe Bugner compete during a world title eliminator fight at Earl's Court, London, in 1973. Frazier emerged the winner after a very hard-fought match.
Then South African president Nelson Mandela poses with former heavyweight boxing champions Michael Spinks, left, and Frazier in Pretoria in 1997.
Frazier and Sugar Ray Leonard meet before Frazier's daughter Jacqui Frazier-Lyde fought Laila Ali during the women's super middleweight fight in 2001 in New York.
Frazier and boxing promoter Don King attend the roasting of Don King at the Friars Club in 2005 in New York.
Frazier poses for a portrait at his boxing gym in 2009 in Philadelphia, Pennsylvania.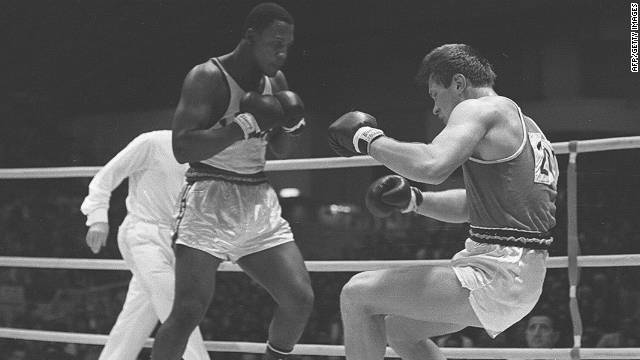 Joe Frazier: A Life in Pictures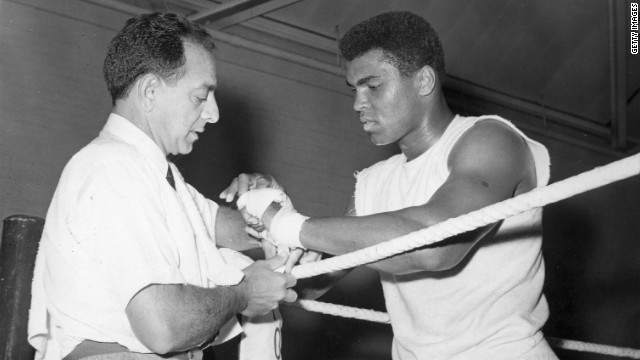 Angelo Dundee helped a young Cassius Clay transform himself into the world heavyweight champion. Here he tapes the renamed Muhammad Ali's hands at a training session ahead of a 1966 bout with British champion Henry Cooper.
Dundee with Ali ahead of his successful title defense against Joe Bugner in June 1975.
George Foreman accused Dundee of loosening the ring ropes before his famous defeat by Ali in 1974's infamous "Rumble in the Jungle" but later worked with the trainer as he retained his IBF belt in 1995.
In 2000, U.S. President Bill Clinton presented Ali and Dundee with the National Italian American Foundation One America award. Born in Philadelphia, Dundee had Italian ancestry.
Dundee was portrayed by actor Ron Silver in the 2001 film "Ali" starring Will Smith in the title role and Jamie Foxx as assistant trainer Drew Bundini Brown.
Dundee had the honor of throwing the first pitch of a baseball game between the Tampa Bay Rays and the Minnesota Twins in St. Petersburg, Florida, in 2010.
Dundee helped Oscar De La Hoya train for his 2008 fight against Manny Pacquiao in Las Vegas.
Dundee at an Ali book launch with Ken Norton in 2003. Norton broke Ali's jaw when he inflicted only his second career defeat in 1973, but lost the rematch in another split-decision.
Dundee signs memorabilia at the 23rd Annual Great Sports Legends Dinner to Cure Paralysis in New York in September 2008.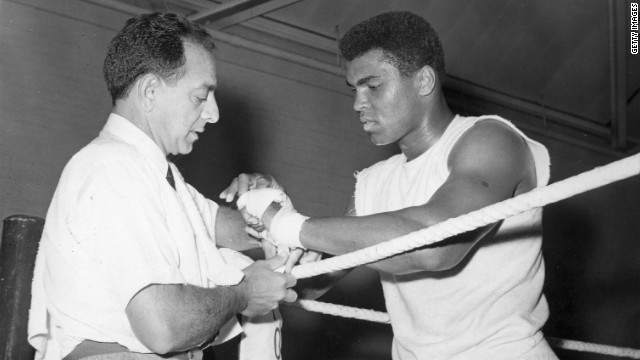 Ali's trainer: Angelo Dundee
"She's winning for fun," says Bunce.
Kom, a five-time world champion and mother of twins, has been rated as one of the world's most marketable athletes by SportsPro magazine.
"She has the potential to turn her into an Indian sporting legend and a role model for young Indian women," it said.
"Despite its huge population, Olympic golds have been thin on the ground for India but Kom, the daughter of a farmer, has had the kind of humble beginnings and a family-oriented appeal that could make her the archetypal national heroine."
The name of boxing may have taken quite a battering in recent weeks with the media circus surrounding Haye vs. Chisora, but the women are sure to knock the men out of the limelight when it really matters at the London Games.
Just don't expect the (possibly fake) blood and guts you might see this weekend.
"Amateur female boxing is more about technique and skill and evading the heavy blows than it is about smashing people up," says Tanya Aldred in British newspaper The Independent.
"For that reason, it should appeal to those who admire the discipline of boxing but not the blood and gore."