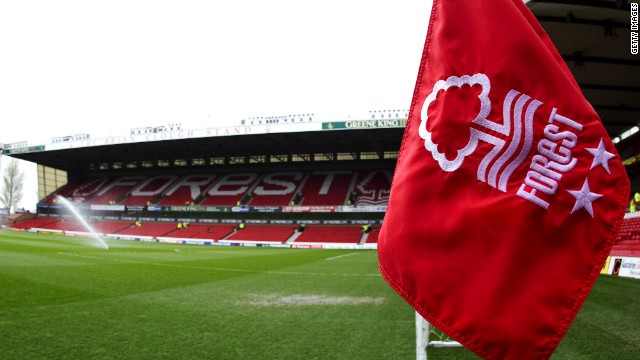 Nottingham Forest has become the latest English club to be bought by overseas investors following a takeover by Kuwait's Al-Hasawi family.
The club's golden era began in 1978 when Forest won the English first division under the guidance of iconic manager Brian Clough, right, and his assistant Peter Taylor.
A year later, Forest stunned the football world by winning the European Cup, eliminating two-time defending champions Liverpool before beating Sweden's Malmo in the final.
Forest matched Liverpool's feat by winning Europe's top club tournament again in 1980, beating Hamburg 1-0 in the final in Madrid.
However, apart from a domestic cup in 1990, that was the last major trophy that Forest won under Clough, whose reign ended after relegation from the new Premier League in 1993.
Forest's "Robin Hood" mascot on parade during a third-division match in 2007. The club narrowly avoided a return to that tier last season amid continuing struggles on and off the pitch.
Owner Nigel Doughty quit as chairman after his disastrous appointment of former England manager Steve McClaren last season, then put the club up for sale. He passed away in February 2012 aged 54 before the Al-Hasawi family agreed the takeover.
Forest fans will hope the new owners have the same impact that Abu Dhabi billionaire Sheikh Mansour bin Zayed Al Nahyan has had at Manchester City, having won the Premier League title within four years of taking over.
Middle East money has been flowing into European football, with Qatar's Sheikh Tamim Bin Hamad Al Thani plowing millions into French club Paris Saint-Germain.
In 2010, Qatar won the race to host the 2022 World Cup, the first Middle Eastern country to do so. As well as France, it has also invested in the Spanish league.
New owners
Cloughie's boys
European glory
Double success
Sinking feeling
Rich and poor
Benefactor passes away
City sheikh
Arab ambition
Spreading influence
STORY HIGHLIGHTS
Kuwaiti family buys former European Cup winner Nottingham Forest
English club has been out of the elite division for more than a decade
Experts say there is great value in buying a team with such a rich history
Al-Hasawi family said to have more soccer knowledge than some failed investors
(CNN) -- For sale: One football club, formerly the best in Europe, now fallen on hard times. Buyer: Rich Middle Eastern family, determined to restore club's "glory days."
When it was announced this week that a Kuwaiti family had agreed to take over Nottingham Forest, two-time winner of the European Cup, the big question became: Is this another Manchester City or Chelsea -- or more evidence of football's "prune juice" theory?
For every Sheikh Mansour and Roman Abramovich, there is a Sulaiman al-Fahim or Venky's to prove that money pumped into one end of a club generally comes straight out the other.
Indeed, Forest -- last a member of England's top division as long ago as 1999 -- reportedly required more than $100 million of investment from Nigel Doughty during his 13-year spell as owner.
How much is Manchester City's victory worth for Abu Dhabi?
That might not seem like a lot for a Premier League team, but for one that last season only narrowly avoided a return to the third tier, it's a significant amount.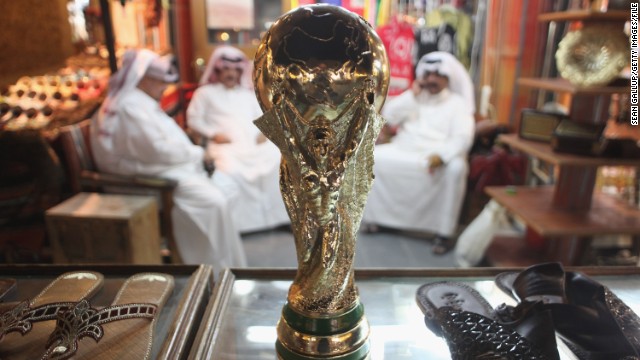 The announcement by FIFA in 2010 that Qatar would host the 2022 World Cup finals has brought greater exposure for the tiny emirate.
In particular the plight of the country's migrant workers, who make up 90 per cent of Qatar's population, has been highlighted by the International Trade Union Confederation. The ITUC has called for FIFA to strip Qatar of the 2022 World Cup unless it significantly improves its record on worker rights.
The ITUC points to Qatar's system of sponsorship which ties workers to employers and has been abused in the past. They also point to the high number of worker deaths and the conditions that many find themselves in. Temperatures on building sites in the summer months can hit 50 degree Celcius.
Qatar's economy has boomed since it started exporting liquefied natural gas in 1997 -- only Luxembourg has a higher gross domestic product per capita. But the 2022 World Cup has sparked a construction boom in a race to ready Qatar's infrastructure for the tournament.
Qatar's ambitious plans include building brand new, state of the art stadiums that would rival any in the world.
To combat the intense desert heat in the summer, each stadium would be equipped with zero carbon cooling technology that would cool the pitch and the stands.
But costs have spiraled and the technology has yet to be successfully deployed in full. Qatar's 2022 World Cup organizing committee recently requested that the number of new stadiums it builds be reduced to eight or nine from the currently planned 12.
The Qataris have also been busy investing in football abroad. The Qatar Investment Authority bought a majority shareholding in French football club Paris Saint-Germain in May 2011, immediately making it one of the richest teams in Europe. Ex-Milan and Inter coach Leonardo, center, was appointed director of football, while Carlo Ancelotti (left) is now coach.
Qatar has its own 12-team top division, with the leading four clubs at the end of the season going into the Qatar Crown Prince Cup. Football is the most popular sport in the kingdom, with nearly 700,000 attending matches in any one season.
Sheikh Abdullah Bin Nassar Al-Thani (left), a member of the Qatari royal family, bought Spanish club Malaga for €36 million ($48 million) in June 2010. The investment brought with it a place in this season's UEFA Champions League. Malaga went on to reach the quarterfinals.
Al Sadd's victory in the 2011 Asian Champions League final vindicated Qatar's decision to plough money into its coaching set-up rather than splash out on top overseas names. Just five of Al Sadd's playing roster were non-Qatari nationals.
Mohammed bin Hammam, Qatar's former high-ranking member of FIFA's executive committee as president of the Asian Football Confederation, was banned from football after being found guilty of trying to bribe delegates ahead of the 2011 presidential election in which he was to be Sepp Blatter's only opponent.
The issue of how migrant workers are treated has long been a hot topic in the Gulf. The UAE, Saudi Arabia, Kuwait and Bahrain have all been criticized in the past for their poor treatment of guest workers. But the 2022 World Cup has focused attention on Qatar. Here one Indian worker proudly shows his ticket for a match at the 2011 Asian Cup finals, hosted in Doha.
Thousands of Indian workers were given the day off by their employers and given free tickets to watch India play at the tournament, even though most were ardent cricket fans. Many spoke of their relief at working in Doha, rather than any of the other Gulf cities near by.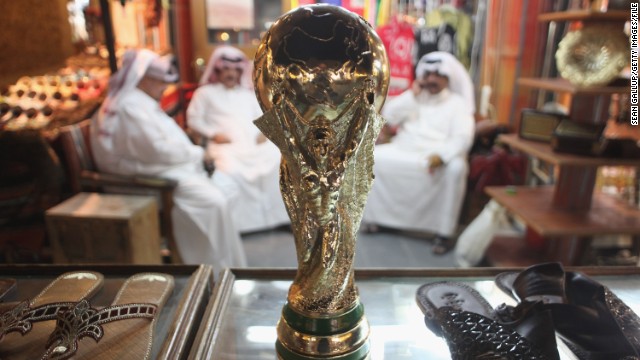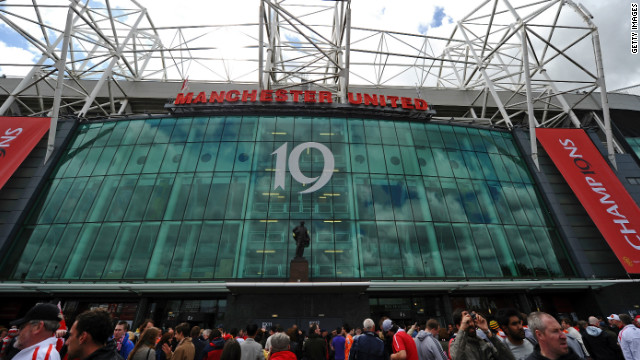 Manchester United is the most valuable brand in football according to a report by independent consultancy Brand Finance. The global appeal and on-field success of the 19-time English champions has helped establish a brand worth an estimated $853 million.
Bayern Munich's players and fans were distraught after losing Saturday's European Champions League to Chelsea, but the German team's brand was second on the list, valued at $786 million.
Real Madrid recently pipped Barcelona to the Spanish title, but both clubs have suffered setbacks financially. Both brands decreased, by 7% and 8% respectively, as a result of the eurozone crisis and its impact on the Spanish economy.
Chelsea's brand value was significantly boosted by the European triumph. The west London club, backed by Russian billionaire Roman Abramovich, is ranked fifth on the list valued at $398 million.
Manchester City's dramatic Premier League title win has increased the value of the Abu Dhabi-owned English club's brand, putting it eighth on the list, worth an estimated $302 million.
The 2011 Major League Soccer champions Los Angeles Galaxy had the honor of meeting President Barack Obama earlier this month. Galaxy, 50th on the list, still struggle to attract commercial rights deals which compare to the club's European counterparts.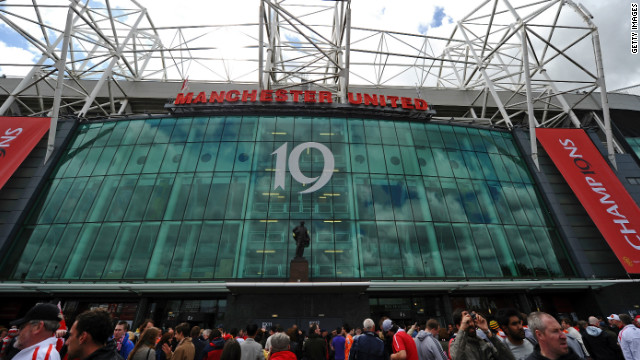 Brand power: Football's most valuable clubs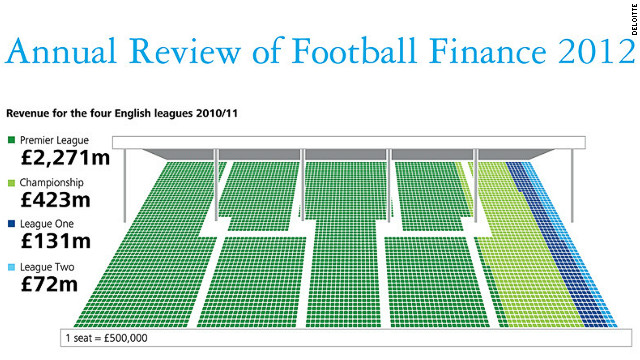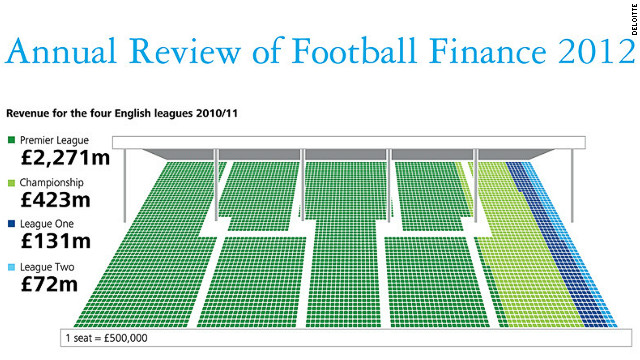 Deloitte's annual football review
However, the Al-Hasawi family could potentially achieve a much greater return on their investment at Forest than, say, the series of money men who have followed in Al Fahim's unsuccessful attempt to make capital out of former EPL side Portsmouth.
"Financial interest from the Middle East has fallen into two camps: the genuine and the fantasists," Middle Eastern football expert James Montague told CNN.
"You have on one hand the likes of Sheikh Mansour who bought Manchester City, put his money where his mouth is and within four years has transformed the club from also-rans into title winners. They are now feared across Europe.
Arabian dreams: Abu Dhabi celebrates City's title triumph
"On the other you have a string of failed takeovers from those hoping Middle Eastern money could be some kind of panacea. Or in the case of Portsmouth were taken over by the UAE's Sulaiman al Fahim and eventually became the first Premier League club to go into administration.
"This takeover appears to fall in to the former category, largely because they have a successful track record in domestic football. Remember, Manchester City wasn't the first club Sheikh Mansour bankrolled. His first love is the Abu Dhabi-based club Al Jazira. Likewise the Hasawi family have turned Kuwaiti club Qadisa into a local regional powerhouse."
While Portsmouth's only English titles date back to 1949-50, Forest won the old first division championship relatively recently in 1978 and then shocked the football world by lifting Europe's top club trophy in the following two seasons.
Will football clubs play fair financially?
"It makes a great deal of sense for an investor to buy into a club of Forest's stature," says Simon Chadwick, professor of sport business strategy and marketing at England's Coventry University.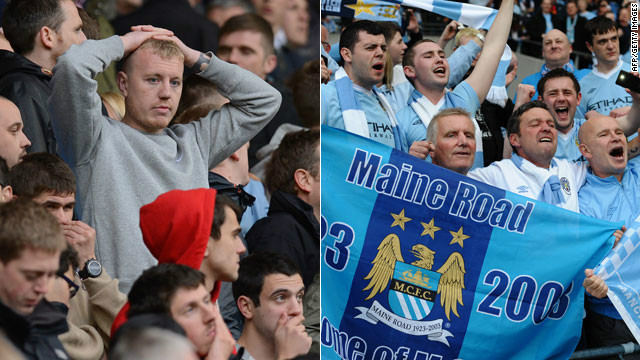 On a day of high drama and emotion, the blue half of Manchester was left to celebrate as Manchester City pipped their city rivals to the title. Click on for the highlights ...
20 mins: Manchester United, relying on City to slip up against QPR, score first through Wayne Rooney in their must-win match at Sunderland. Advantage United!
39 mins: Back in Manchester, Pablo Zabaleta puts City back in the driving seat as Paddy Kenny fails to keep his shot out.
48 minutes: A terrible mistake from Joleon Lescott allows Djibril Cisse (center) to race through and equalize for QPR. Advantage well and truly with United!
54 minutes: With City looking shell-shocked, QPR captain Joey Barton is sent off after a clash with Carlos Tevez.
66 mins: Unbelievable! Jamie Mackie (3rd from left) puts 10-man QPR 2-1 ahead after a rare counter attack. Classic smash and grab -- the City players can't believe it.
92 minutes: With time added on City grab a lifeline through substitute Edin Dzeko (right). But City need to win. United have beaten Sunderland 1-0!
95 minutes: City have done it! Argentina striker Sergio Aguero is mobbed by teammates after scoring the winner with seconds to go in injury time.
City manager Roberto Mancini (center) runs to greet his jubilant players after their breathtaking victory.
Victorious captain Vincent Kompany holds aloft the Premiership trophy ...
... while United players look dejected as the result from Manchester filters through.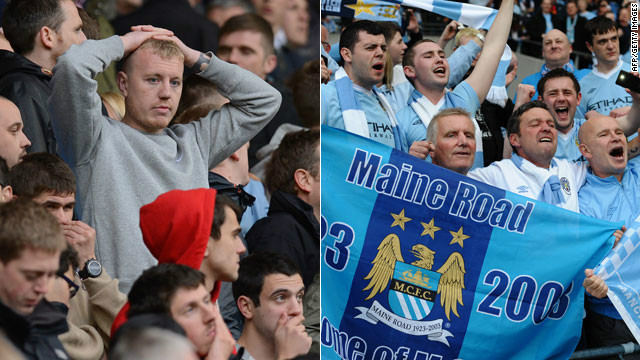 Celebration and heartache: A city divided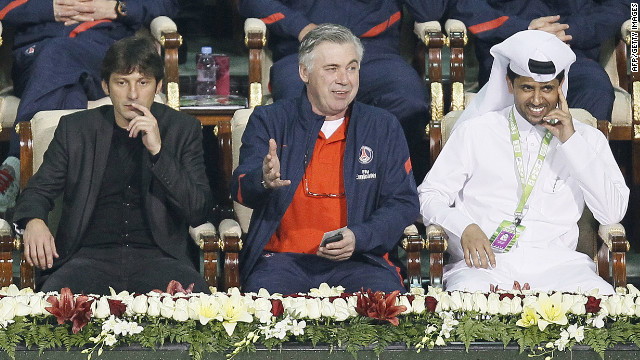 Paris Saint-Germain's main players: From left to right, general manager Leonardo, coach Carlo Ancelotti and president Nasser Al-Khelaifi.
PSG owner Sheikh Tamim Bin Hamad Al Thani (c) takes in a PSG training session in the Qatari capital Doha prior to the 2011/12 season.
The signing of Argentina midfielder Javier Pastore for a reported fee of $57 million in June 2011 demonstrated the new wealth at PSG's disposal.
PSG appointed former Juventus and Chelsea coach Carlo Ancelotti in December in a bid to secure the club's first French league title since 1994. The vastly experienced Italian has won the presitgious European Champions League twice with AC Milan.
PSG are battling at the top of the table for their first Ligue 1 title in 18-years. Here, the players celebrate a late equaliser against 2008 French champions Lyon which secured a point in an enthralling 4-4 draw.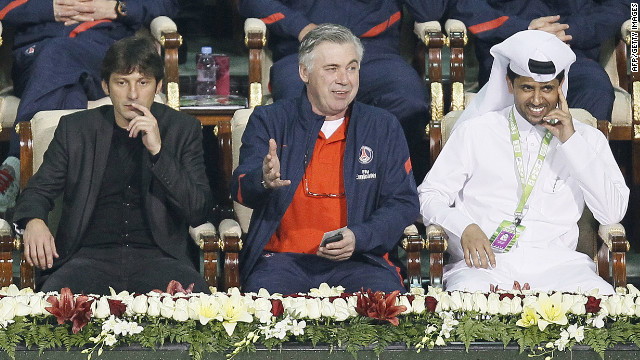 Putting the pride back into PSG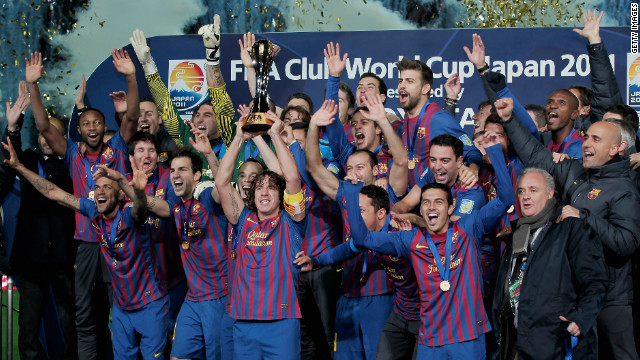 Barcelona's players are the best paid in the world according to a new report. The team kept its No. 1 place on the earnings table with each player taking home an average annual salary of $8.6 million (£5.2 million). That's a whopping $166,934 (£101,160) per week and a 10% rise on last year.
Spanish football teams continued to dominate the rankings, with Real Madrid keeping its No. 2 spot. It's players earned an average $7.7 million (£4.7 million) - a 6% rise on last year. Cristiano Ronaldo became the most expensive footballer in history in 2009 after moving from Manchester United to Real Madrid in a six-year deal worth $129 million (£80 million).
Manchester City moved up the rankings from 10th last year to 3rd in 2012, thanks to an average annual salary of $7.4 million for its players. It's a 26% increase on last year and demonstrates the wealth of the English club's owner Sheikh Monsour.
Russian billionaire Roman Abromovich's Chelsea team climbed the rankings from sixth to fourth, with players earning around $6.7 million a year -- the equivalent of $130,690 a week.
The first non-soccer entry in the rich list is the LA Lakers. The Americans are also the only bastketballers in the top 10, with players taking home $6.2 million annually -- about $120,732 per week.
Baseball's New York Yankees have continued to fall in the rankings -- dropping from No. 1 in 2010 to sixth this year. But the MLB team's players can still take comfort from an average yearly salary of $6.1 million -- around £118,968 a week.
Former Italian Prime Minister Silvio Berlusconi pumped even more money into his football club AC Milan last year. The Serie A champions rose from 14th in the list with players enjoying a yearly salary of $6.1 million, pocketing $117,399 per week.
Also rising in the rich list was Germany's Bayern Munich, up from 12th place last year. Players boasted a yearly salary of $5.9 million, taking home $113,609 a week.
The Philadelphia Phillies are one of just three U.S. teams in the top 10. The baseball franchise's players earned an average $5.8 million a year, or $111,884 per week.
Internazionale sneaked into the top 10 with an average yearly salary of $5.7 million for its players. It's a family affair for Italian oil tycoon Massimo Moratti, whose father Angelo also owned the club in the 1950s and '60s.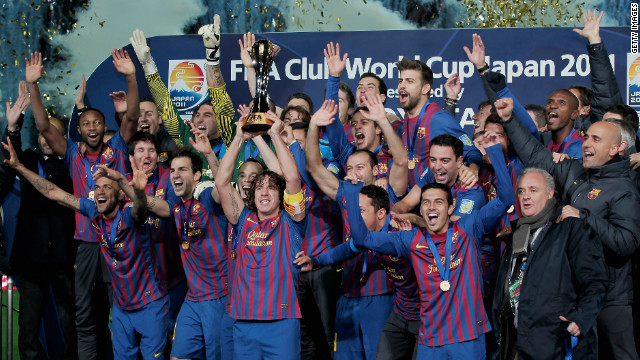 The world's 10 best-paid sports teams
"There is some equity in the brand amongst fans and potential fans that dates back to their successes in the late '70s and early '80s. This brand equity can offer things to customers and investors that other organizations can't."
Forest's near neighbor Leicester City, another club to have lost top-flight status in recent years, is now owned by a Thai group -- but Chadwick says there is a big difference in their earning potential.
"Forest's financial position, while not being especially strong, is more stable than it has been over the past five years or so," he said.
"For people like the Al-Hasawi family, it depends on what their view of the club is. If they see it as a revenue-generating asset, clearly it's going to take a great deal of hard work to build those revenue streams.
"It's there where Forest's history and equity of the brand can have an impact. Forest can deliver a level of revenue that their closest geographic rivals Leicester City can't. Nottingham has a significant population so in terms of being able to fill a stadium, in terms of latent fan base, it's very significant."
French revolution: Can Qatari cash make PSG a football force?
Foreign investors once flocked to the lucrative but highly expensive Premier League -- Manchester United was reportedly valued at £1 billion when the Qatari royal family was linked with the club -- but the second-tier Championship is now proving to be more value for money.
"Sheikh Mansour saw that you needed to find undervalued clubs with history and prestige," said Montague, author of "When Friday Comes: Football in the War Zone."
"City fit the bill, and in a way Forest has even more potential. We drool at clubs like Barcelona, Manchester United and Inter Milan winning the Champions League, but Forest won back-to-back European Cups just over 30 years ago and had one of the most iconic managers -- Brian Clough -- in charge.
"A whole industry has boomed over Clough -- biographies, novels, films. For the reported £20 million ($31 million), the Hasawi family are getting former European champions with Hollywood-level exposure for a snip."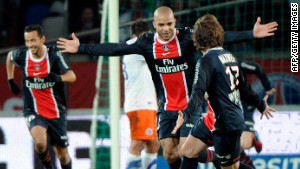 PSG's push for football glory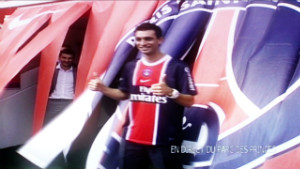 Javier Pastore predicts PSG success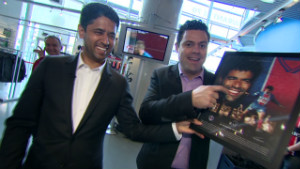 Paris St-Germain's ambitious president
Earlier this year, a Russian group agreed to buy Reading months before the club's promotion to the top flight, while Italians have bought Watford, Malaysians control Cardiff, Hong Kong's Carson Yeung owns Birmingham, a North American group has Derby County and an Egypt-born UK businessman has taken over Hull.
PSG's Qatari owners aim to be world's best
"It makes the competition for players more intense, the competition for spectators more intense," Chadwick told CNN.
"Whereas maybe five or 10 years ago the involvement of a rich investor might have been seen as the right ingredient for success, I think now such is the level of interest in English football and such is the level of investment, it's now much more about managerial competence and skill and knowledge of the industry and networking."
Doughty brought in former England manager Steve McClaren at the start of last season with disastrous results, and the current FC Twente coach's short reign resulted in the Forest benefactor -- considered one of the most powerful men in UK business -- standing down as chairman.
Doughty put the club up for sale, but the Al-Hasawis dealt with the executors of his estate following the investment banker's death at the age of 54 in February.
They issued a statement stating their goal to "bring the Reds back to the top of the table" but acknowledged "challenging times ahead" -- and have already sacked manager Steve Cotterill just nine months into his three-and-a-half-year contract.
"If the family is looking at this on a medium to longer term basis, they'll look to develop a scouting network and sign players for relatively small amounts of money," Chadwick said.
"They will have to manage the club in a very shrewd way to make sure they don't get back into debt in the same way. One would hope that Forest as a club have learned their lessons.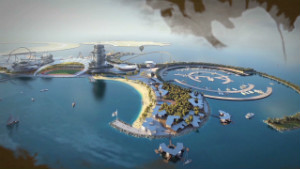 Real Madrid's football fantasy island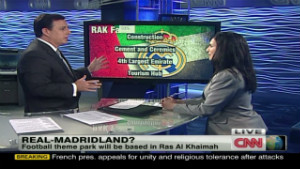 Football theme park to be based in UAE
"When they were relegated they tried to spend their way out of trouble. They dropped further and further down the league structure, while at the same time building up their debts."
Cash for cups? Qatar's sporting influence spreads across the globe
If Forest fans are getting overexcited about their future, they don't have to look very far for proof that such a takeover can go horribly wrong.
In 2009, city rivals Notts County announced that football's oldest professional club -- languishing in the bottom division and in danger of collapsing -- had been bought by a group called Munto Finance, purportedly financed by Middle East money.
In came former England manager Sven Goran Eriksson and international star Sol Campbell on lucrative long-term deals, but they had both gone before the end of that season as Munto's promises to wipe out crippling debts proved empty. Still struggling to survive, the club was sold for a nominal fee of £1 just months after the takeover.
"There will always be this fear. The 'fit and proper person test' applied to new owners is not especially robust or rigorous, so we can never be completely sure about what new owners' intentions or resources are," Chadwick said.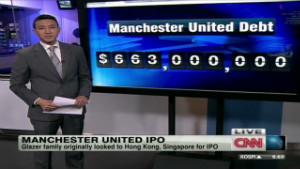 Manchester United heads to Wall Street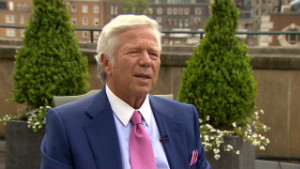 NFL owner: 'Soccer too expensive'
"Until we get into this period of ownership, it won't be entirely clear what they are able to do."
From riches to rags: Why Rangers' financial meltdown should worry Europe
He cited the example of Blackburn Rovers, who suffered relegation from the EPL after only one season under the ownership of Indian chicken magnates Venky's.
"The experience since they took over is a stark illustration of how inexperience can cause problems. No matter your intentions or how much money you've got, experience of the industry is very important," Chadwick said.
"Do they know what they're letting themselves in for? Running a football club is very different from running other forms of business.
"What do they see as being the strategic position at Forest? If they are looking to win the Premier League and get in the Champions League, they are going to have to invest a significant amount of money.
"But if their definition of glory days is to get back into the Premier League then it will require a more modest sum. Stoke. have proved you can establish yourself as a midtable team. It's still very expensive, but not as expensive as what City have spent to win the title."