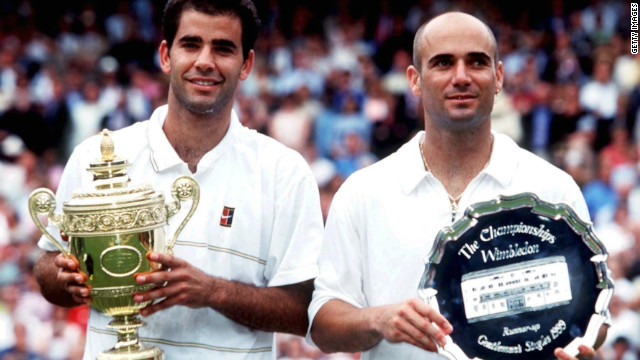 Pete Sampras, left, celebrated his sixth Wimbledon success in 1999 after beating Andre Agassi in the final.
Sampras' powerful serve and volley game earned him seven titles in eight years at the grass-court grand slam.
However, he struggled in his early years there. After two first-round exits, a youthful Sampras lost to fellow American Derrick Rostagno in round two in 1991.
Sampras won his first Wimbledon trophy in 1993, and is pictured here with Britain's last male winner Fred Perry, who collected his third title at SW19 in 1936.
Sampras, here employing his trademark jump smash, matched the alltime Wimbledon record for men's titles held by William Renshaw -- who won seven in the 1880s.
Sampras finished his career on a high, winning his 14th and final grand slam on home soil at the 2002 U.S. Open after beating Agassi in the final.
Sampras is still enjoying his tennis and was all smiles in a 2011 exhibition match in New York against old rival Agassi.
The year before, Sampras played an exhibition with Roger Federer, who has a record 16 grand slams but is still one short of the American's Wimbledon tally.
Sampras with actress wife Bridgette, who he married in 2000, and the younger of their two sons, Ryan.
King of the grass
Serve and volley specialist
Early struggles
Big breakthrough
Smashing records
Glorious finale
Veteran campaigner
Legends past and present
Family man
STORY HIGHLIGHTS
Pete Sampras admits he "hated" playing on Wimbledon's grass in his early years
American legend took time to adapt to the bounce of the London surface
Sampras won seven titles from 1993-2000 as he dominated at SW19
Roger Federer is still bidding to equal the men's record held by Sampras
(CNN) -- Wimbledon holds a special place in the tennis calendar, an elegant tournament rich with tradition, style and sporting majesty.
The modern era of the men's game there has been defined by the legacy of Pete Sampras, who won a record seven titles in eight years.
However, it was not exactly love at first sight for the confident young American, who -- despite winning his first grand slam at the age of 19 -- suffered early exits in his first three visits to the famous grass-court venue.
"I didn't like grass at all and when people ask me about grass and when I first went over there, I tell them I hated Wimbledon. I hated the surface," he told CNN.
Calendar of the court: The six seasons of the tennis year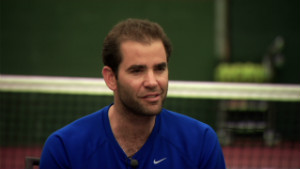 On court with Pete Sampras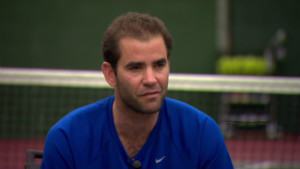 Pete Sampras on the state of U.S. tennis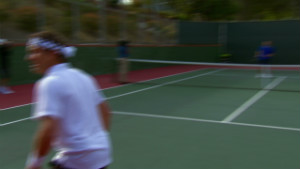 Sampras demonstrates his signature shot
But, speaking to Open Court's Pat Cash, a fellow Wimbledon champion, Sampras quickly qualified his remarks.
"I loved Wimbledon and what it meant, but the surface felt uncomfortable. I just didn't like it, I was a hard-court guy, a Californian kid.
"On hard courts the ball is going to be just there, but with grass you have to adjust, so the first two, three years I had to adjust and came out with a bad attitude."
Sampras paid tribute to his former coach Tim Gullikson, who tragically lost his life to brain cancer in 1996.
The 'owner' of Wimbledon
"He helped me. I had these long swings, and he shortened them up and told me my attitude had to be more positive at Wimbledon," the 40-year-old recalled.
The fruits of their labors came in 1992 when Sampras advanced to the semifinals before being beaten by big-serving Croatian Goran Ivanisevic, who subsequently lost to Andre Agassi in the final .
Success was just around the corner the following year.
"Mentally I felt better. By '92 I felt really comfortable, I was the owner of the place for the next seven years."
Only a quarterfinal defeat to eventual winner Richard Kracijek in 1996 interrupted an incredible run which saw Sampras claim seven of the next eight Wimbledon crowns.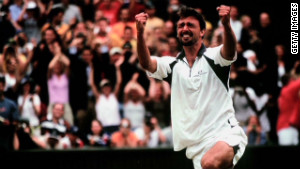 Goran Ivanisevic: Wimbledon good and bad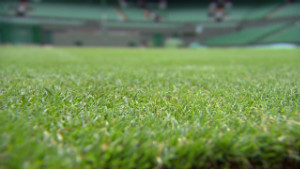 Keeping Wimbledon's grass green
His 1999 victory in the final over Agassi in straight sets was rated one of his best performances as he demolished his arch-rival.
"That sixth Wimbledon (title) against Andre I got in the zone," he said.
"I felt if I was serving well, I would do well, get into the net, be aggressive. It was bit more high risk, I was okay with that."
In 2001, Sampras was beaten in the fourth round by a youthful Roger Federer as he sought an eighth Wimbledon title, and he retired the following year after winning the U.S. Open in fairytale fashion.
He is still involved in tennis and plays the occasional exhibition or seniors Champions Tour event, but spends most of his time with his wife Bridgette Wilson and their two children at his home in California.
Federer domination
Federer began his era of domination in 2003, but the 16-time grand slam champion is still one short of the Wimbledon record held by Sampras -- whose tally is matched only by the seven won by Britain's William Renshaw in the tournament's formative years of the 1880s.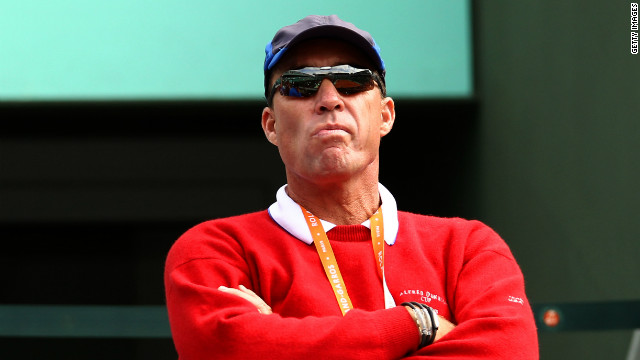 Ivan Lendl, twice Wimbledon runner-up and now Andy Murray's coach, believes serve and volley is a dying art in tennis.
Boris Becker, Wimbledon's youngest men's champion at the age of 17 in 1985, was renowned for his trademark diving volleys. The German was powerful in the serve and wonderfully athletic at the net.
Feisty New Yorker John McEnroe was not blessed with great serving power but his speed, aggression and razor-sharp reflexes enabled him to finish off many a rally with a perfectly executed volley.
Australian Ken Rosewall adopted serve and volley during his career as a way of shortening rallies and therefore boosting his longevity. It was no coincidence that he played in his last Wimbledon final at the age of 39.
Sweden's Stefan Edberg could not match the serve of his rival Becker, but his sublime volleying ability helped him to several notable wins over the German. He sometimes employed slower serves to afford himself more time to get to the net.
One of the most naturally gifted serve and volley players, Pat Rafter combined pinpoint placement with silky work at the net. The Australian twice fell short in the Wimbledon final but won two U.S. Opens in the late 1990s.
Australian legend Rod Laver, four times a Wimbledon champion during the 1960s, played serve and volley better than anyone in an era where the technique was more common.
Martina Navratilova was one of the few serve-volleyers in the women's game, and the style helped the Czech-American star win a record nine Wimbledon titles.
Big-serving Richard Krajicek's 1996 success is testament to Wimbledon's benefits for serve and volley players. The Dutchman's triumph at the All England Club was his solitary grand slam title.
Wimbledon's most successful male player, Pete Sampras, had a phenomenal all-round game, and the American's serve and volley expertise was one of his most potent weapons as he won seven titles and 14 grand slams overall.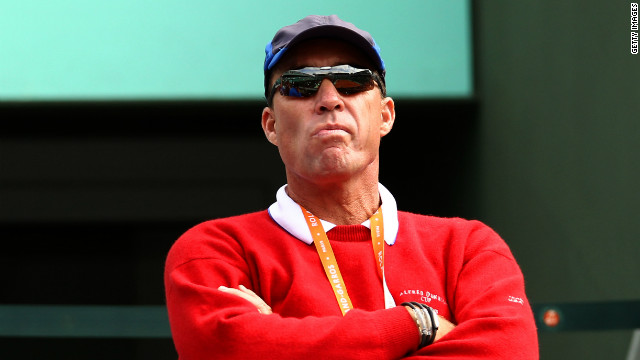 Wimbledon's great serve and volley players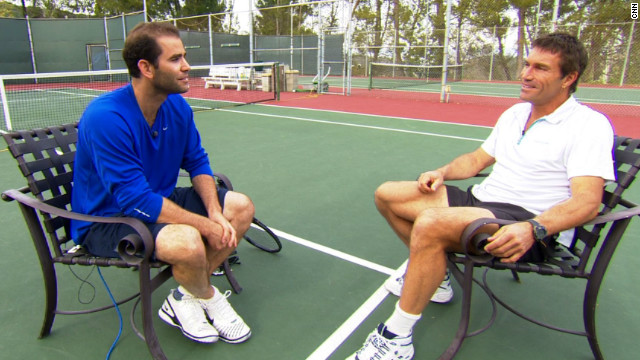 Tennis legend Pete Sampras met with his fellow Wimbledon champion Pat Cash, who is the host of CNN's Open Court show.
The American gave an exclusive interview about his life, career and the state of tennis.
Now 40, Sampras has been retired for almost a decade and spends most of his time with his family and playing golf.
He came out of retirement in 2006 to play in exhibition matches, setting the scene for high-profile clashes with Roger Federer the following year and in 2008. Federer would go on to break Sampras' record of 14 grand slam titles.
"Pistol Pete" was the king of the serve and volley game, and is disappointed that it has gone out of style.
Big-serving young Canadian Milos Raonic has been widely tipped as the closest thing to the next Sampras, having won three titles already in less than two years on the ATP Tour.
Sampras won his 14th grand slam in front of his home crowd, in his final tournament -- the 2002 U.S. Open.
He won his 13th major title at Wimbledon in 2000, passing the previous leading total held by Australia's Roy Emerson.
Samparas says he is a "big fan" of the modern game's top men's players -- Novak Djokovic, Rafael Nadal, Federer and Andy Murray.
Federer won his 15th grand slam title at Wimbledon in 2009, and is only one away from matching Sampras' Open-era record of seven crowns at the grass-court major.
Sampras has two boys, aged nine and six, with his actress wife Bridgette Wilson. He is encouraging his sons to play both golf and tennis.
The Sampras clan: (L-R) sisters Marion and Stella, father Sammy, mother Georgia, son Ryan, wife Bridgette, son Christian and brother Gus. Pete was honored at the LA Tennis Open in 2009.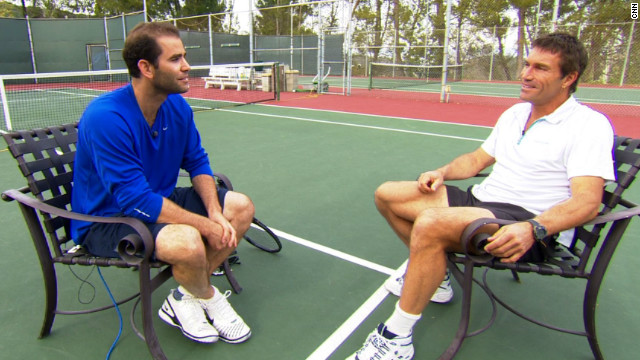 Pete Sampras on tennis
Sampras believes that the Swiss maestro can still claim another, but he may struggle with world No. 1 Novak Djokovic -- who he was to face in Friday's semifinals -- and Rafael Nadal in their prime.
"Roger needs to find a way to be creative, stick to his game and serve and volley now and again," Sampras said.
"He's won 16 majors in a certain way, he's not going to change now."
The task of giving Federer advice falls to his current coach Paul Annacone, who also guided Sampras in the latter part of his career.
The American acknowledges the difference in their playing styles but told CNN that both shared a key ingredient to success.
"Both these guys are superstars in regards to handling pressure," Annacone said.
Sampras accepts that his style of big serving and volleying at Wimbledon is from a bygone era, and he regrets its passing.
"It's sad to see Wimbledon today with the players staying back, with the balls being different, but grass is grass -- you can still get into the net but it's a lost art, and it's unfortunate."