Art on the fly: Airport galleries take off
July 4, 2012 -- Updated 1000 GMT (1800 HKT)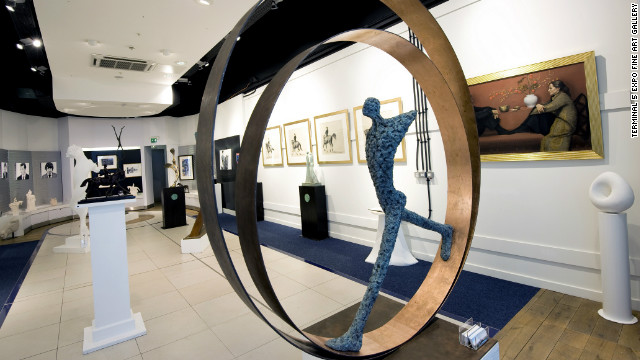 Heathrow Airport in London hosts the Terminal 5 Expo Fine Art Gallery, which aims to exhibit the very best British art during the forthcoming 2012 Olympic Games as well as providing a quiet, contemplative space for travelers.
The Fashion Gallery at Helsinki Vantaa Airport exhibits Finnish clothing brands via an array of detailed photo exhibits. A catwalk installation meanwhile enables travelers to envision a life of glamour on the runway.
A 950 foot long installation by the artist Amy Landesberg is part of the new international terminal at Atlanta's Hartsfield-Jackson Airport. Reported to have cost $1.5 million, the mammoth artwork is one of four pieces designed to ensure the building embodies a bespoke aesthetic style.
Rijksmuseum Schipol is a joint initiative between Rijksmuseum Amsterdam and Schiphol Airport to display the best and most historic Dutch artwork for free. The terminal gallery has housed temporary exhibitions of some of the Rijksmuseum's most illustrious works, including famed pieces by the likes of Rembrandt, d'Hondecoeter and Van Gogh.
Sculptures by Belgian artist William Sweetlove are displayed at Carrasco airport in Montevideo as part of a temporary exhibition in November 2011.
Passengers take in an exhibition by artist Kirsten Thiele as they await their flight at Miami International Airport. The Division of Fine Arts & Cultural Affairs at MIA says its mission is to "humanize and enrich the airport environment" through exhibitions that "communicate culture, environment and art resources of an international scope."
An elaborate Thai sculpture inside the departure area of Bangkok's Suvarnabhumi Airport.
San Francisco International Airport boasts its own museum. An ever-changing schedule (recent exhibitions have displayed Scandinavian ceramics, sewing machines of the 20th century and Vietnamese photography) aims to provide an educational and cultural experience for the 40 million passengers who use the airport annually.
A human-shaped plastic balloon floats in the air above the concourse of Tokyo's Haneda Airport as part of a temporary public art installation in March 2009.
Heathrow Airport, London
Helsinki Vantaa Airport
Hartsfield-Jackson Airport, Atlanta
Schiphol Airport, Amsterdam
Carrasco Airport, Montevideo
Miami International Airport
Suvarnabhumi Airport, Bangkok
San Francisco International Airport
Haneda Airport, Tokyo
STORY HIGHLIGHTS
Galleries and art installations are a common feature of modern terminal buildings
Some airports have art budgets of millions of dollars
Items on display vary from works by local artists to priceless masterpieces
(CNN) -- Busy travelers don't always have time to visit the artistic hotspots in the cities they pass through. But for culture vultures in a hurry, there is another way to experience quality artwork on the fly -- by sampling airport galleries and art installations.
Prominent displays of priceless masterpieces and contemporary craftsmanship are now a common feature of many modern airports.
The new international terminal at Atlanta's Hartsfield-Jackson Airport opened in May this year kitted out with a cool $5 million-worth of artwork and sculptures.
San Francisco International Airport, meanwhile, cooperates with the city's arts council to put on exhibits by artists of local, national and international acclaim in its very own on-site museum.
See also: Airports with art worth seeing
But it's not only U.S. airports that are doubling up as a home for elaborate and extensive exhibits. Locations in Europe and Asia are getting in on the act as well. London's Heathrow Airport hosts the Terminal 5 Expo Fine Art Gallery, which aims to provide a "contemplative space" amidst the bustle of one of the world's busiest airports.
See also: World's best airport restaurants
The departures lounge of Schipol International Airport in Amsterdam meanwhile contains a permanent exhibition by the city's Rijksmuseum, including classic works by the famed Dutch masters of the 17th century "Golden Age," such as Rembrandt.
With the refined sensibilities of the cultured traveler in mind, in the picture gallery above we've compiled a list of airports that have embraced the arts.
Did we miss out your favorite airport galleries or museums? Let us know in the comments section below.

Today's five most popular stories
November 26, 2014 -- Updated 1110 GMT (1910 HKT)

Don't surprise Germans and stick to the agenda in Japan. What international road warriors need to know.
November 14, 2014 -- Updated 0633 GMT (1433 HKT)

Eurostar, the high-speed train company connecting London with Brussels and Paris, has just upped its game.
October 20, 2014 -- Updated 1407 GMT (2207 HKT)

Japan is set to make its mark in the skies with its first new commercial jet for over 50 years, the Mitsubishi Regional Jet, aka the MRJ.
October 4, 2014 -- Updated 0516 GMT (1316 HKT)

Think hotels are deliberately blocking your personal Wi-Fi networks so you'll buy theirs?
October 31, 2014 -- Updated 1749 GMT (0149 HKT)

How would you like to trim three hours off the current commercial jet flight time between Paris and Washington, D.C.?
October 3, 2014 -- Updated 1443 GMT (2243 HKT)

It's been a big week for makeovers in the world of aviation.
August 29, 2014 -- Updated 1525 GMT (2325 HKT)

Aviation isn't known as the most eco-friendly industry; running an airline produces an incredible amount of waste. But some are doing something about it.
August 19, 2014 -- Updated 1514 GMT (2314 HKT)

Airports aren't exactly stress-free zones, but drones, tracking and virtual reality could help make them better places.
August 12, 2014 -- Updated 0906 GMT (1706 HKT)

In many ways, airplanes are a retailer's dream come true. They serve a captive -- often bored -- audience with a disposable income.
July 30, 2014 -- Updated 1835 GMT (0235 HKT)

Takeoff on one of Airbus' new A350WXB test planes is a strangely quiet experience.