STORY HIGHLIGHTS
Silverstone hosts this weekend's British Grand Prix
Circuit has had major changes since its debut in 1948
Its owners had to battle to stay part of Formula One calendar
Major development work has helped secure its future
(CNN) -- Built on a disused World War II airfield, Silverstone has come a long way since Stirling Moss first raced there around oil drums and hay bales more than 60 years ago.
The iconic English circuit has become more than just a venue -- it represents the rich past of British motor racing and is the key to its Formula One future -- though Moss still hankers over the track's old curves and straights which have now been revamped.
"I liked it as an airfield, I must be honest," Moss, who made his Silverstone debut in 1948, told CNN.
Britain has had a race on the Formula One calendar since the championship began in 1950.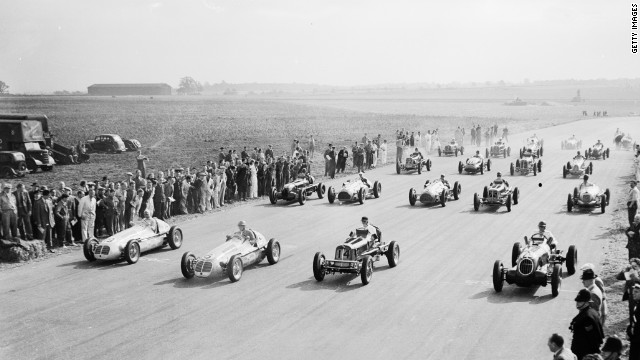 After a gap of 21 years, the British Grand Prix returned to the motor racing calendar in October 1948 at Silverstone, which had recently been built on a disused World War II airfield.
UK racing legend Stirling Moss, seen here talking to his father Alfred, competed at Silverstone as a 19-year-old that month.
Moss did not have much success in Formula One at the English circuit, but won a 500cc race there in July 1952.
Moss' two British Grand Prix successes both came at Aintree near Liverpool. His 1957 win was in tandem with teammate Tony Brooks.
Australian racing driver Jack Brabham rounds a bend at Silverstone, featuring new raised earth banks, during the Silver City Trophy race for Formula 1 cars in August 1960.
Safety standards were lower in the circuit's early years. Spectators erected their own viewing stand for the F1 international trophy race in May 1966.
F1 legend Ayrton Senna leads the field during the first lap of the British Grand Prix in 1990, a year that major revisions were made to the circuit.
The following year Senna was famously given a ride by race winner Nigel Mansell after he ran out of fuel on the final lap at Silverstone.
The future of the British Grand Prix, and Silverstone itself, came under threat following arguments with F1 chief Bernie Ecclestone over a lack of development at the Northampton venue.
Subsequent changes to Silverstone meant that the circuit could host motorcycling's elite division of racing, MotoGP.
In 2011, Silverstone unveiled a new $44 million pit complex and paddock called the Silverstone Wing.
Ferrari's Fernando Alonso won last July's race and the 2012 championship leader will once again be one of the contenders this weekend.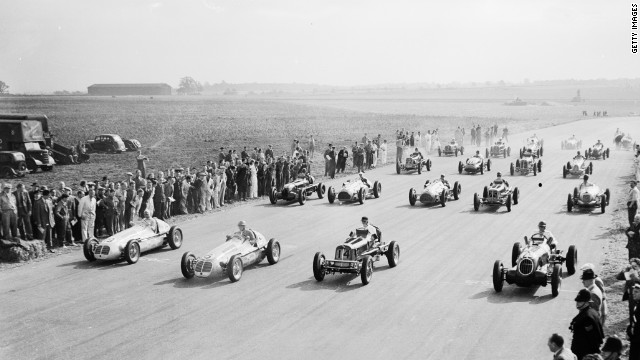 Silverstone: Home of the British Grand Prix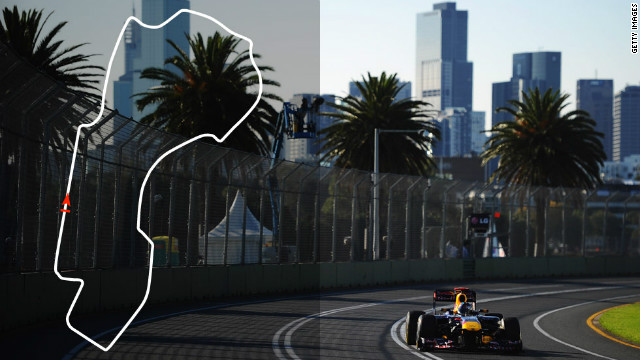 Australian Grand Prix: March 18, Melbourne
2012 champion: Jenson Button, McLaren


2012 champion: Fernando Alonso, Ferrari
Malaysian Grand Prix: March 25, Kuala Lumpur


Defending champion: Lewis Hamilton, McLaren
Chinese Grand Prix: April 15, Shanghai


2012 champion: Sebastian Vettel, Red Bull
Bahrain Grand Prix: April 22, Sakhir


2012 champion: Pastor Maldonado, Williams
Spanish Grand Prix: May 13, Catalunya


2012 champion: Mark Webber, Red Bull
Monaco Grand Prix: May 27, Monte Carlo


2012 champion: Lewis Hamilton, McLaren
Canadian Grand Prix: June 10, Montreal


2012 champion: Fernando Alonso, Ferrari
European Grand Prix: June 24, Valencia


2012 champion: Mark Webber, Red Bull
British Grand Prix: July 8, Silverstone


Defending champion: Lewis Hamilton, McLaren
German Grand Prix: July 22, Hockenheim


2012 champion: Lewis Hamilton, McLaren
Hungarian Grand Prix: July 29, Budapest


2012 champion: Jenson Button, McLaren
Belgian Grand Prix: September 2, Spa


2012 champion: Lewis Hamilton, McLaren
Italian Grand Prix: September 9, Monza


2012 champion: Sebastian Vettel, Red Bull
Singapore Grand Prix: September 23, Singapore


2012 champion: Sebastian Vettel, Red Bull
Japanese Grand Prix: October 7, Suzuka


2012 champion: Sebastian Vettel, Red Bull
Korean Grand Prix: October 14, Yeongam


2012 champion: Sebastian Vettel, Red Bull
Indian Grand Prix: October 28, New Delhi


2012 champion: Kimi Raikkonen, Lotus


Abu Dhabi Grand Prix: November 4, Yas Marina


2012 champion: Lewis Hamilton, McLaren
United States Grand Prix: November 18, Austin


2012 champion: Jenson Button, McLaren
Brazilian Grand Prix: Sao Paulo, November 25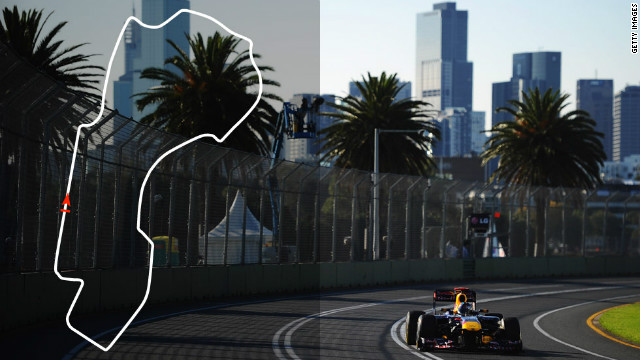 Formula One 2012: The circuits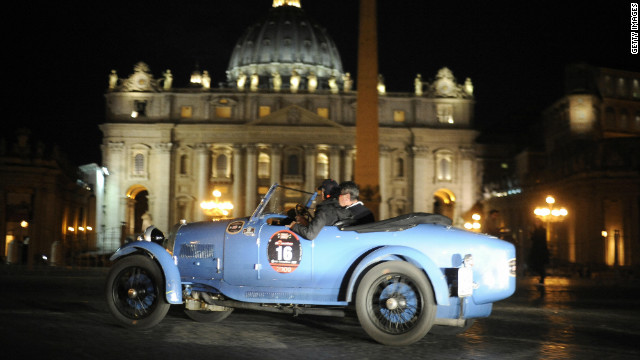 The Mille Miglia, or "Thousand Miles," is a grand tour from Brescia in northern Italy, down to the capital city of Rome, and back again. Today, it is a leisurely classic car event. But it has a far racier history...
The race began in 1927, with entrants of varying levels of ability taking up the challenge in pursuit of glory. This picture shows British driver Geoffrey Healey taking victory at Brescia in 1949.
British motorsport legend Stirling Moss set the record for the highest average speed recorded throughout an edition of the race when he romped to victory in 1955.
Moss returned to Brescia this week with Jaguar for the start of the 2012 event. The 82-year-old described his experiences in the Mille Miglia as "frightening."
Finland's Mika Hakkinen, a double Formula One world champion, competed in the 2008 event.
The Mille Miglia's existence as a pure road race was ended in 1957, when Spanish driver Alfonso de Portago's Ferrari left the track, killing him, his co-driver and nine spectators.
The wreckage of De Portago's car after his fatal crash in the Italian village of Guidizzolo.
Enzo Ferrari, the founder of the legendary Italian manufacturer, was present at De Portago's funeral.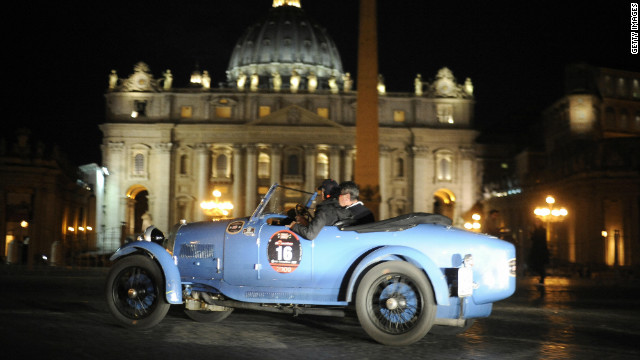 Mille Miglia - Classic car race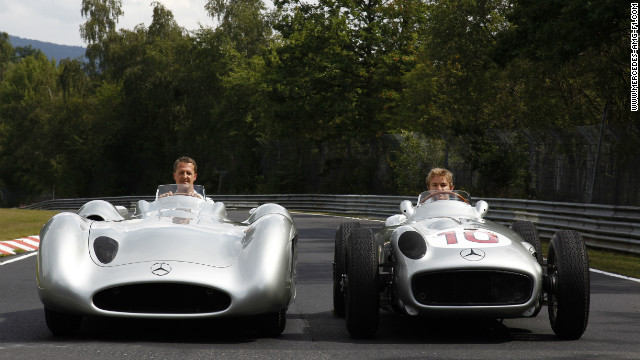 Michael Schumacher in the modern Silver Arrow while Mercedes teammate Nico Rosberg takes the wheel of the 1955 model.
China Grand Prix champion Nico Rosberg is the first Mercedes driver to win a Formula One race since Juan Manuel Fangio in Italy in 1955.
The two Germans will return home this weekend and help launch the new season of the DTM touring car series at Hockenheim.
Fangio, pictured in second place, races the original Silver Arrow at the Buenos Aires track in 1955. The Argentine didn't disappoint his home crowd, later taking the title.
Fangio is mobbed by fans after winning the 1955 Italian Grand Prix. The racing legend had 24 wins and five world championships in a career spanning almost 20 years.
Fangio and Schumacher are the only drivers to have won three successive world championships, a feat Sebastain Vettel is hoping to match this year.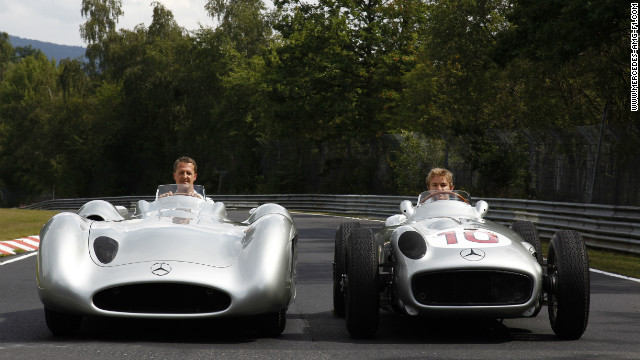 The Silver Arrow rises again
Silverstone staged it along with Brands Hatch and Aintree before taking it on fulltime from 1987. In the past decade, however, there has been a real danger that the event would be dropped amid public wrangles over money and accusations of a lack of development by F1 chief Bernie Ecclestone.
In 2008 he announced that English rival Donington would take over the race in a decade-long deal, but that collapsed a year later due to lack of funding.
Silverstone stepped back into the breach to secure a 17-year contract from 2010, as its owner -- the British Racing Drivers' Club -- announced a new layout that would welcome motorcycling's elite division, MotoGP.
Last year the new Silverstone Wing was unveiled, a £28 million ($44 million) pit and paddock complex.
"I think now it's a very sophisticated one, but what was essential was getting Bernie Ecclestone's agreement that we could have a long license so we can be sure of keeping the British Grand Prix where it really belongs, at the heart of Silverstone," said Moss, who competed in F1 from 1951-61.
His only two victories in his home race both came at Aintree, while he frequently failed to complete the distance at Silverstone.
"One of the reasons I entered motor racing was because it was dangerous," said the 82-year-old, whose competitive career ended after an accident before the start of the 1962 F1 season.
"Silverstone was one of the really fast circuits. You didn't get hairpins and all that stuff to mess around with. To win the British Grand Prix -- and for so many years the European Grand Prix -- it carries quite a lot of kudos."
Moss' 1957 win, shared with Tony Brooks, was the second occasion the British race had the honorary "European" title. James Hunt's 1977 victory was the last before it became a standalone event, which is now staged in Valencia.
Cars these days are slick, safe machines which still top 200 mph despite speed restrictions. Driver safety is now paramount, following years of driver deaths before improvements were made in the 1970s.
But back In 1948, motorsport was altogether scarier as the drivers raced around part of the perimeter track, up the two former runways head-on and then back to the perimeter.
"You were sitting very, very low, and seeing where the circuit went wasn't that easy at the time," added Moss.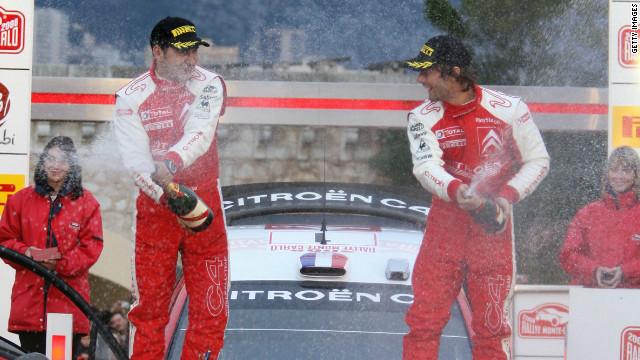 Sebastien Loeb is the king of the World Rally Championship. The Frenchman has won an unrivaled eight world titles and has claimed victory at the Monte Carlo Rally on five occasions.
Competitors gather at the control center ahead of the 1937 Monte Carlo Rally. The race has existed in one form or another since 1911.
French driver Paul Coltelloni guides his Citroen around Monte Carlo's narrow twists and turns en route to winning the 1959 race.
Mini has a rich rally driving history, with the iconic car enjoying success in the elite division of motorsport in the 1960s. During its golden era, Mini won the Monte Carlo Rally three times in four years between 1964 and 1967.
In April 2010, Mini announced it would return to the World Rally Championship for 2011. Spanish driver Dani Sordo is pictured here driving for the team in this year's race.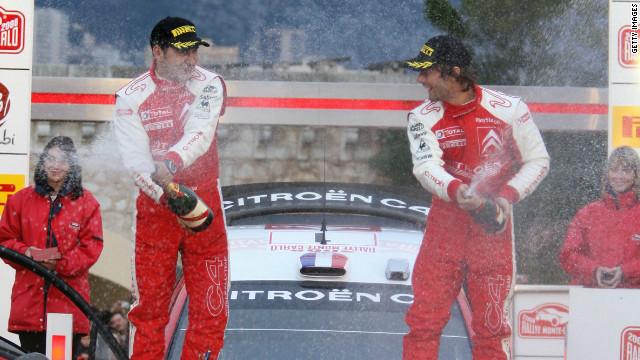 The Monte Carlo Rally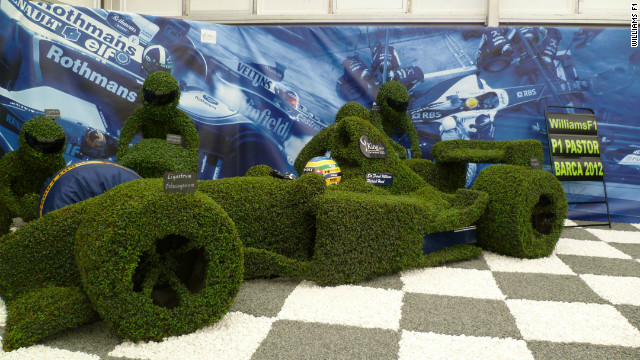 Williams F1 teamed up with the King and Co. tree nursery to produce "The Williams Story" -- a display depicting the history of the nine-time constructors' champions.
The display at London's Chelsea Flower Show was awarded the prestigious gold medal. The topiary features a life-size F1 car and pit crew.
Williams co-founder and team principal Frank Williams alongside Paul King, the owner of the King and Co nursery.
Williams celebrated a first grand prix victory since 2004 in Spain earlier this month, when Pastor Maldonado became the first driver from Venezuela to win a Formula One race.
The team's post-race celebrations were cut short by a fire in their garage, and smoke from the blaze engulfed the pit lane at the circuit in Catalunya.
Seven people were hospitalized, while Williams also lost valuable parts and equipment. The British team thanked F1's other manufacturers for their support in helping prepare for this weekend's Monaco Grand Prix.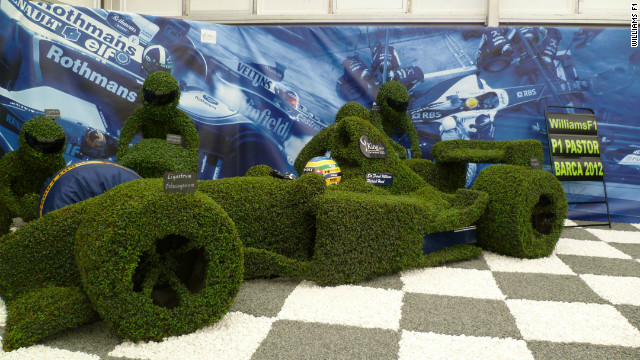 Williams' green machine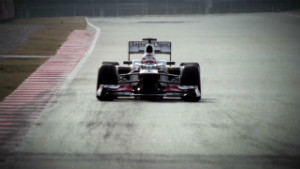 The most powerful woman in Formula One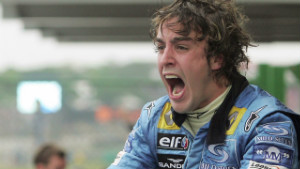 Fernando Alonso's drive to the top
"You had to designate where the circuit was or what part of the circuit you should be on, therefore there were oil drums and straw bales put around -- which, of course, then people would occasionally hit and spin off!"
Watch Stirling Moss recall Silverstone's past
In the 1950s and '60s, raised earth banks were built up to give spectators a better and safer view as the straw bales and drums were packed away.
"In 1990 they did a tremendous amount of revision to the circuit, to make it a bit more sophisticated, a more technical circuit," Moss said.
"I'm not sure I would have liked it, but I'd stopped by then so it didn't matter to me too much!"
In 1991, British driver Nigel Mansell won the race, from pole position, for the third of four times. He famously gave rival Ayrton Senna a ride back to the pits after the Brazilian ran out of fuel on the final lap.
That year Mansell was second in the championship for the third occasion, but went one better in 1992 as he again triumphed at Silverstone for Williams.
"Nigel Mansell's success there was quite a step forward," Moss said. "Nigel's quite a showman as well -- didn't he get off from his lap and kiss the ground or something? -- which all adds a bit of a glow to the place."
This weekend Britain's hopes lay with McLaren's former world champions Lewis Hamilton and Jenson Button, while Paul Di Resta is an outsider with Force India.
"The British Grand Prix is special because I get a massive boost from all the fans," Hamilton told reporters.
"To me, winning at Silverstone is right up there with winning at Monaco. Standing on the top step of the podium in 2008 was among the sweetest moments of my career."
Button's best finish in his home race is fourth, but the Englishman is struggling to regain the form that won him the world title in 2009 and saw him finish second overall last year.
"I always enjoy racing at home because the atmosphere is unbeatable, and while the race itself hasn't always been too kind to me, I come here every year knowing I can count on the support of the many thousands of fans," he said.