STORY HIGHLIGHTS
Australian swimmer Stephanie Rice was criticized for recent Twitter photos
Other athletes have drawn fire for posts and photos that have popped up online
Social media has given Olympic athletes direct access to the public, leading to controversy
The U.S. Olympic Committee encourages athletes to use social media, with restrictions
(CNN) -- Did you know that Olympic track hopeful Lolo Jones is a virgin on the prowl for a date? Or that British swimmer Rebecca Adlington quit Twitter because meanies kept insulting her looks? The dirt that years ago would have been lost in the fray of the Olympic Games is now at the top of your Facebook feed.
In the lead-up to major sporting events, media have traditionally churned out human interest stories highlighting a softer side of the people we put on pedestals for their athletic prowess. We learn about their families, the obstacles they've overcome, their grueling diet and training regimen.
In the last few years however, with the rise of tabloid and citizen journalism, and of course social media, the story lines have changed. Now we read anecdotes about athletes deemed "too fat" for competition by Olympic bosses, no less. The human interest stories are still there, but as an information-obsessed population, our interests seem to have changed.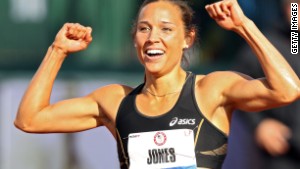 U.S. track and field star Lolo Jones.
As the lines of communication open up, the pressure to maintain a squeaky clean code of conduct increases, says professor David Rowe of the Institute for Culture and Society at the University of Western Sydney. Athletes unfamiliar with this pressure may find themselves under the microscope for what seems like a harmless joke.
Australian swimmer Stephanie Rice is no stranger to social media controversies. Last week, she tweeted a photo of herself wearing a low-cut bikini, a birthday gift from designer Ellie Gonsalves. The risqué shot drew instant criticism in the Twitterverse; one follower even called for her to be dropped from the Olympic team.
This isn't the first time the gold medalist has found herself in hot water. In 2008, the then-20-year-old posted a picture of herself in a skin-tight navy blue police uniform to her Facebook account. And in 2010, she called the South African rugby team a homophobic slur on Twitter after they lost to Australia.
Representatives for Rice declined to comment for this report.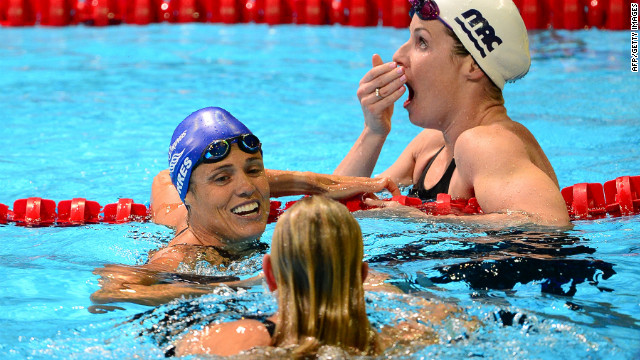 After her fourth-place finish in the women's 50-meter freestyle final, Dara Torres, center, turns to winner Jessica Hardy on the last day of the 2012 U.S. Olympic Swimming Team Trials in Omaha, Nebraska, on Monday. Kara Lynn Joyce, top, reacts to finishing second, which secures her slot to compete in London.
Dara Torres, the 45-year-old 12-time Olympic medalist, waves to the crowd after failing to qualify for what would have been her sixth Olympics.
Torres, 45, dives off of the starting block as she competes in the second semifinal heat of the Women's 50-meter Freestyle during Day Seven of the 2012 U.S. Olympic Swimming Team Trials on Sunday, July 1.
Ryan Lochte, left, and Michael Phelps prepare to swim in the championship final of the Men's 200-meter Backstroke during Day Six of the 2012 U.S. Olympic Swimming Team Trials.
Michael Phelps competes in the championship final of the Men's 200-meter Individual Medley during Day Six of the 2012 U.S. Olympic Swimming Team Trials.
John Orozco competes on the rings during Day Three of the 2012 U.S. Olympic Gymnastics Team Trials on Saturday, June 30, in San Jose, California.
John Orozco celebrates in the confetti after being named to the U.S. Gymnastic team that will go to the 2012 London Olympics.
Gabrielle Douglas competes on the beam during Day Four of the 2012 U.S. Olympic Gymnastics Team Trials in San Jose, California.
Gabrielle Douglas reacts after being named to the U.S. gymnastics team going to the 2012 London Olympics.
Nastia Liukin falls off the uneven bars in front of coach and dad Valeri Liukin during Day Four of the 2012 U.S. Olympic Gymnastics Team Trials.
Nastia Liukin waves to the crowd after competing on the beam during Day Four of the 2012 U.S. Olympic Gymnastics Team Trials.
Jordyn Wieber competes on the beam during Day Four of the 2012 U.S. Olympic Gymnastics Team Trials.
Missy Franklin celebrates during the medal ceremony for the Women's 200-meter Backstroke during Day Seven of the 2012 U.S. Olympic Swimming Team Trials.
The U.S. women's gymnastics team -- from left, Gabrielle Douglas, Alexandra Raisman, McKayla Maroney, Jordyn Wieber, Kyla Ross, Elizabeth Price, Anna Li and Sarah Finnegan -- is announced for the 2012 London Olympics.
The U.S. men's gymnastics team -- from left, Jacob Dalton, Jonathan Horton, Danell Leyva, Sam Mikulak, John Orozco, Chris Brooks, Steven Legendre and Alexander Naddour -- is announced for the 2012 London Olympics.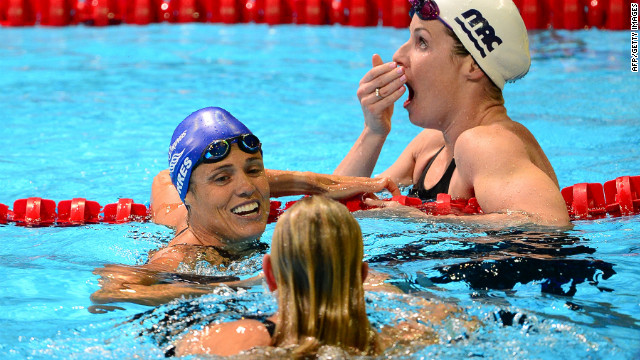 Photos: U.S. Olympic trials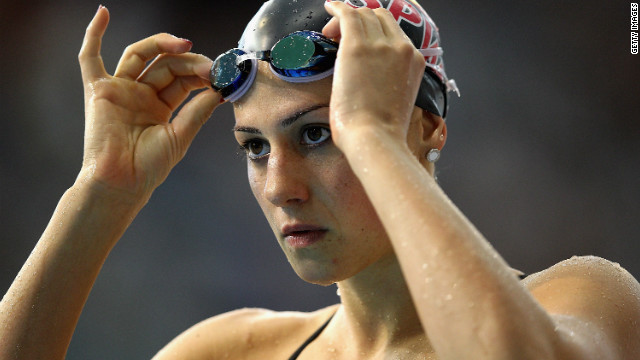 Stephanie Rice, who has made an art of her pre-race rituals, was under big pressure to perform at the Australian 2012 Olympic trials in Adelaide in March.
But she celebrated victory in the women's 200 meter individual medley final on March 18.
Rice, who was voted Australia's most popular Olympic athlete in a newspaper poll ahead of London 2012, waves to the crowd during the official swimming team announcement on March 22. She will also defend her 400m IM title.
A three-time gold medal winner at the 2008 Beijing Olympics, Rice had to battle back into selection contention after needing surgery to correct shoulder problems.
Rice missed out on defending her titles at the 2010 Commonwealth Games, but won both her events at the Australian trials.
She set world records at the 2008 Olympics -- her 200m IM time has since been beaten, but Rice retains the 400m IM landmark.
The omens were good for Rice ahead of the Beijing Games, as she broke the 400m IM world record at the Australian Championships in March 2008.
Rice's exploits in China made her a national hero and catapulted her into a world of celebrity.
Having been named Australia's swimmer of the year, the Queenslander was in demand for events such as the 2009 GQ Men Of The Year Awards.
However, she lost a major sponsorship deal in 2010 after making a homophobic comment about South Africa's rugby team on her Twitter account. Seen here during her public apology, Rice's shoulder bears the scars of her surgery.
Rice embraces her former boyfriend, rugby star Quade Cooper, after his Queensland Reds won the 2011 Super Rugby Grand Final in July 2011. She was earlier in a relationship with fellow swimmer Eamon Sullivan, but split with both ahead of successive Olympics.
Later in 2011 she began her swimming rehabilitation by winning bronze in the 400m IM at the world championships in Shanghai.
Rice first came to prominence as an 17-year-old when she won two gold medals at the 2006 Commonwealth Games in Melbourne.
Born in Brisbane, she has been a successful swimmer from a young age.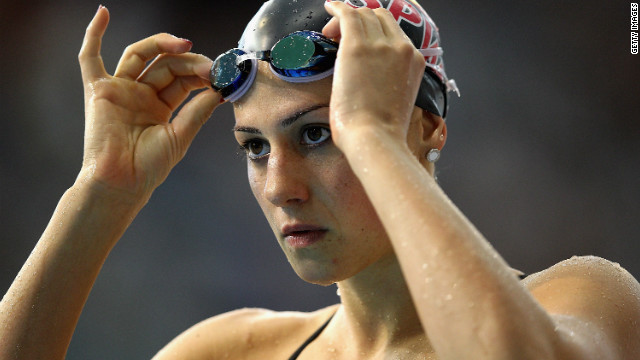 Australian swimming's golden girl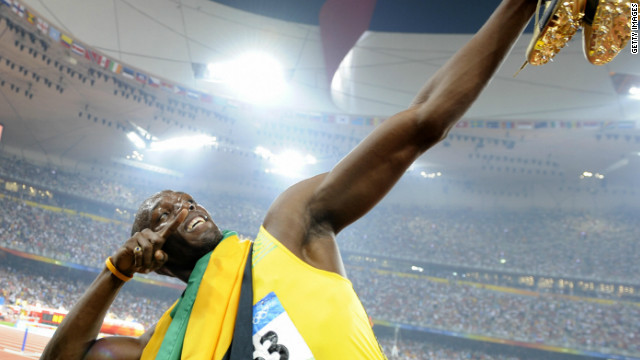 Usain Bolt strikes his trademark pose after claiming gold in the 100 meters at the 2008 Beijing Olympics.
Bolt claimed his second gold in China with an emphatic victory in the 200m, setting another world record.
Bolt completed a gold medal treble as Jamaica's sprint relay quartet also triumphed in Beijing.
Bolt greets his inspiration, 1976 Olympic 200m champion Don Quarrie.
Quarrie also won 100m silver at Montreal, and six gold medals at the Commonweath Games.
Jamaica has a strong running tradition. Here Arthur Wint pips compatriot Herb McKenley to win gold over 400m at the 1948 London Olympics.
Merlene Ottey shows off the Jamaican flag after her gold medal success at the 1993 World Championships in Stuttgart.
The remarkable Ottey was still competing for Slovenia at a Diamond League Athletics meeting in London in 2011. Now 52, she still has hopes of qualifying for London 2012.
Jamaica-born Linford Christie claimed gold for Britain in the 100m at the 1992 Barcelona Olympics.
Donovan Bailey, who left Jamaica at the age of 13, won gold representing Canada in the Olympic 100m at Atlanta in 1996.
Jamaica's Olympic 100m women's champion Shelly-Ann Fraser-Pryce also won the world title the following year in Berlin.
Veronica Campbell-Brown is bidding for a hat-trick of 200m gold medals at the London Olympics following her triumphs in Beijing and Athens.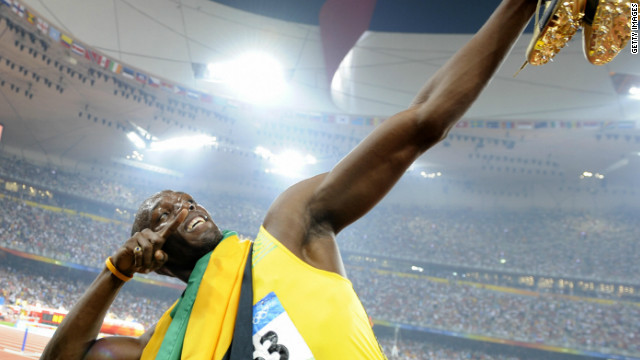 Gold running: Jamaican sprinters on top
Rice's Twitter photos, along with shots that surfaced last month of male swimmers Nick D'Arcy and Kenrick Monk brandishing firearms at a gun shop, led Swimming Australia to release a statement asserting that it does not condone "the posting of inappropriate content on Facebook, Twitter or any social media platform."
Other Olympic athletes have gotten into trouble for compromising photos. Three years ago, eight-time gold medalist Michael Phelps acknowledged he'd engaged in some "inappropriate" behavior at a University of South Carolina party in 2008. Now-shuttered British tabloid News of the World published what it called exclusive photos of Phelps allegedly smoking marijuana from a bong.
In 2010, 22-year-old snowboarder Scotty Lago earned a bronze medal on the half-pipe in the Winter Games. Days later, TMZ.com posted photos of Lago in a bar, with his medal around his waist as a woman knelt in front of him with the medal in her mouth.
Team USA and the IOC were not impressed. Lago left the Olympic Village in Vancouver voluntarily.
Sports agent Evan Morgenstein, whose company has represented 150 Olympic athletes, is all too familiar with the pressures of social media and how a seemingly innocent prank or a private moment can turn into a scandal in seconds. It's all about how you control the damage, Morgenstein says.
A champion falls from grace, new contenders emerge for London at U.S. Olympic trials
"You have to understand how to handle the realities that come along with representing young athletes," he said. "Sometimes you don't address [the scandal] because there's always another news cycle, sometimes you have to."
Ten years ago, without TMZ or iPhones, the photos of Rice, Lago and Phelps probably wouldn't have seen a computer screen. That doesn't mean that scandals didn't exist back then, but now the evidence lives on in perpetuity.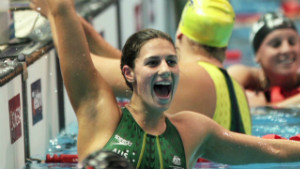 Human to Hero: Stephanie Rice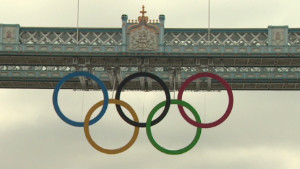 Olympic rings on London's Tower Bridge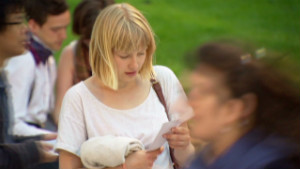 Poems rain down on London
To help keep athletes focused on the Games and avoid social media controversies, the International Olympic Committee distributed a social media handbook for athletes late last year. Athletes are limited in what they can share electronically.
Competitors can't post video of competition or from the Olympic Village; mention any corporate sponsorship or promotion (unless authorized by the IOC); or use any Olympic symbols such as the 5 interlocking rings or the word "Olympic."
Swimmer Mark Spitz, who in 1972 won a record-setting seven gold medals, recognizes that media attention can be overwhelming. "I found the best way to deal with the media was to keep everything in perspective and stay focused on your priorities," he says. His advice for young athletes is simple: "Make good decisions. .... It's easier said than done given the pressures that come with increased fame, but maintaining focus on the sport should do the trick."
The United States Olympic Committee sees social media as a positive, according to a statement the body released to CNN: "Social media is a fantastic opportunity for U.S. Olympic and Paralympic athletes to engage fans, expose new people to their sport and truly showcase the unique personalities that make up Team USA. ... We encourage athletes to participate in whatever way makes the most sense for them. At the end of the day, the more people that get to know America's finest athletes and the kind of people they are, the better."
Rowe, the University of Western Sydney professor, isn't surprised that the media can switch from deifying these athletes to reveling in their social media downfall: "There's no doubt there is a fantastic interest in the non-athletic performing aspects of sport," he said. "International media would rather dig the dirt on athletes who are celebrities."
He said that a lot of an athlete's life is about controlling image. But who holds the reins is changing: "Increasingly it's social media and tabloid media. Athletes and sports organizations are finding it more difficult to control the image than they used to. It used to be reasonably easier with a more compliant media."
Social media training is now a routine part of an athlete's preparations for the Games. Morgenstein, the sports agent, points out that a single tweet can "stick with an athlete for a very long time."
Racy photos and ill-advised comments can give the public the impression that, for athletes, the Games are all about "sex and McDonalds," he said. "There's a perception that once you get into the hallowed halls of the Olympic Village that all hell breaks loose." That's simply not true, he said.
Some spectators tune into Olympic coverage only for the drama, Rowe finds, which he likens to the German concept of "schadenfreude," or taking pleasure from another person's misfortune. "The bigger the celebrity, the bigger the scandal ... build 'em up and knock 'em down. Some people do take pleasure in watching an athlete fall from grace."
The Olympics were originally an amateur movement, Rowe said, and in the past, competitors didn't necessarily expect to get rich and famous. "Over the last 10 years, we've seen some Olympic athletes move up to that level. They're revered and reviled sometimes in equal measure because of their celebrity."
Do you think Olympic athletes should be held to a higher standard than other social media users? Share your opinion in the comments section below.