STORY HIGHLIGHTS
Camelot is aiming to become only the 16th horse to win Irish and Epsom Derbies
The colt won the English 2,000 Guineas at Epsom earlier this month
If Camelot wins on Saturday, the next target will be September's St. Ledger Stakes
No horse has won the "Triple Crown" since Nijinsky in 1970
(CNN) -- This Saturday, Aiden O'Brien's unbeaten colt Camelot will be aiming to add the Irish Derby to his Epsom Derby victory from earlier this month. It's a neat double, achieved by only 15 horses before him. But his trainer has his eye on another prize.
Camelot has already captured the English 2,000 Guineas and the Epsom Derby. Assuming everything goes to plan this weekend, his next target will be the St. Ledger Stakes at Doncaster in September -- and racing immortality.
For Camelot stands on the brink of that rarest of achievements, the English "Triple Crown" of thoroughbred racing.
Royal regulations for Ascot's fashionistas
Only 15 horses have ever done the treble in the century and a half in which the 2,000 Guineas, Epsom Derby and St. Ledger Stakes have been run.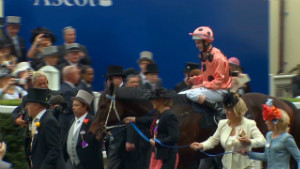 Black Caviar extends winning streak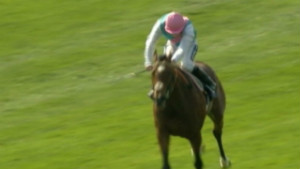 Is Frankel the greatest racehorse ever?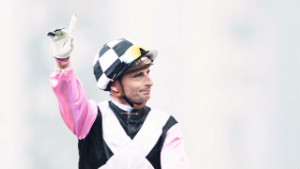 Gerald Mosse at the Prix de Diane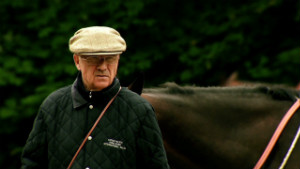 France's greatest horse trainer?
Three of those, wartime winners Pommern, Gay Crusader and Gainsborough will forever have an asterisk next to their names as racing was considered too disrupted in that period for their achievements to stand, making the "official" figure as low as 12.
The last Triple Crown winner was the great Nijinsky, way back in 1970 (although the brilliant filly Oh So Sharp did win the "Fillies' Triple Crown" -- the 1,000 Guineas, the Epsom Oaks and the St. Ledger -- in 1985).
Few horses these days even attempt the full set. Since Nijinsky (who, incidentally, also won the Irish Derby en route to his treble), only two other horses have won both the 2,000 Guineas and the Derby, and both of those -- Nashwan (1989) and Sea The Stars (2009) -- opted for a tilt at the Prix de l'Arc de Triomphe instead of the St. Ledger.
For many years it was considered so unlikely that a horse would ever win the Triple Crown again that the soubriquet itself fell into disuse.
It is now more commonly associated with American racing, so it is perhaps fitting that -- in the year that the U.S. came so close to ending its 34-year Triple Crown drought with I'll Have Another only for the colt to be scratched before the starter's bell had even sounded for the Belmont Stakes -- England could yet be celebrating a Triple Crown of its own.
First, of course, Camelot must get through the Irish Derby unscathed. He spearheads a three-strong O'Brien challenge that also includes Astrology and Imperial Monarch.
He will be ridden, as in all his starts to date, by his trainer's son Joseph O'Brien. At six foot, Joseph cuts a distinctive figure in the paddock. Just 19 years old, the precociously talented rider has already won more Classic races than most jockeys will in their entire careers.
He rode his first winner for his father at 16 and bagged his first Classic a year later on Roderic O'Connor in the Irish 2,000 Guineas. Last year he became the youngest jockey to ride a winner in the Breeders' Cup on St. Nicholas Abbey.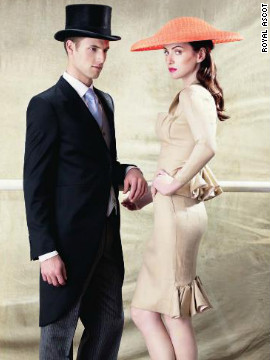 For Royal Ascot 2012, organizers have issued a style guide to advise race goers on how to dress for the annual meeting. Gentlemen in the Royal Enclosure must wear black or grey morning dress.
Ladies invited into the Royal Enclosure have a long list of rules to follow. Dresses must be of "modest" length, falling just below the knee. Strapless dresses are banned, while a hat with a diameter of at least four inches must be worn.
If the lady does not wish to wear a dress, a pant suit is acceptable. But the material and color of the trousers must match what is on show above the waist.
There is a more relaxed guide for those taking in the race action from the Grandstand. The gentlemen are required to wear a suit, with a shirt and tie, at all times.
Ladies in the Grandstand must wear a hat, or fascinator, at all times. As with the Royal Enclosure, strapless dresses are not allowed.
Shorts are banned and a lady's midriff must be covered at all times. Any tops worn must not be strapless.
Any fans of fancy dress will be left disappointed as it is outlawed at Royal Ascot. So these two equine gentlemen will be left long-faced.
It is not just the fashion police who are kept busy across the meeting. A total of 43 people were arrested throughout Royal Ascot in 2011.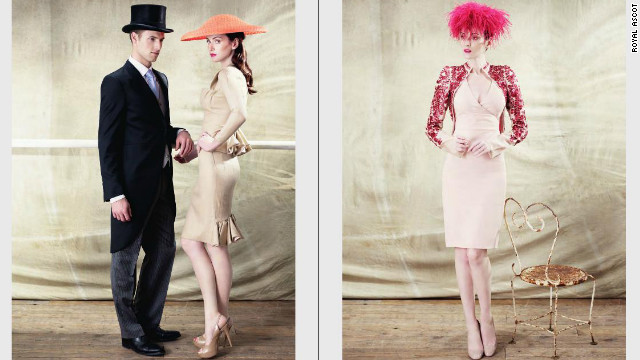 A Royal Ascot style guide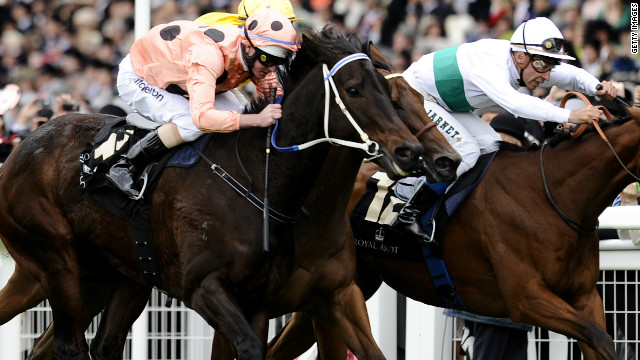 Australian "supermare" Black Caviar made it 22 wins from 22 races at Royal Ascot on Saturday, but only just. It took a photo finish to seperate Black Caviar and second-placed horse Moonlight Cloud.
Australian fans flocked to the British meeting to back Black Caviar in her first race on foreign soil.
Jockey Luke Nolen is congratulated by Queen Elizabeth II after riding Black Caviar to a narrow win in the Diamond Jubilee Stakes.
Trainer Peter Moody also met the British monarch following the horse's dramatic triumph.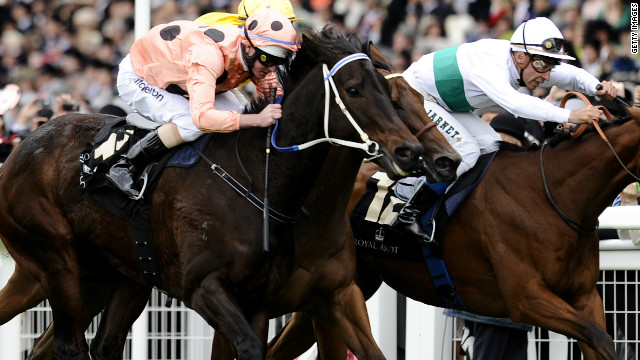 Black Caviar makes it 22 out of 22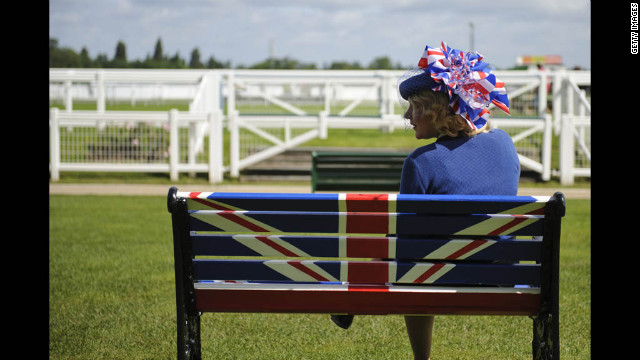 A race-goer attends day five of the Royal Ascot races in Ascot, England, on Saturday, June 23.
Queen Elizabeth II and Prince Philip, Duke of Edinburgh, arrive at the course on day four of the races.
A sign and flags hang in the air.
Attendees escape the rain under their umbrellas on day four.
An attendee examines a booklet with descriptions of the racers.
Riders race during the Diamond Jubilee Stakes on day five of Royal Ascot races Saturday.
Two onlookers congratulate each other with a high-five.
A large hat resembling the British flag sits atop a woman's head.
Racehorse Black Caviar neighs after carrying his rider across the finish line for the win on Saturday.
Racegoers sit at a table and study the form on Friday.
Queen Elizabeth II and Prince Philip, Duke of Edinburgh, and other members of the royal familly arrive in the Parade Ring at the Royal Ascot on Ladies Day on Thursday, June 21. Ladies Day is traditionally the fashion highlight of the five-day race meeting.
Rain falls on the race-goers attending the Royal Ascot.
A couple stand in a puddle at Royal Ascot.
Frankie Dettori celebrates riding Colour Vision to win The Gold Cup during Ladies Day at Royal Ascot.
A woman shows off her unusual hat.
Race-goers wear plastic rain covers over their dresses during some showers.
Frankie Dettori riding Colour Vision, center, to win the Gold Cup.
Larisa Katz shows off an umbrella hat design at Royal Ascot.
A visitor to Royal Ascot photographs her friends.
A woman poses with a striking hat and equine-themed umbrella.
A group of women in striking hats poses for a photo.
It's the end of the day in the silver ring during Ladies Day at Royal Ascot .
A race-goer poses on day three of the Royal Ascot.
Princess Anne and Princess Beatrice attends Ladies Day.
A worker checks benches in the grandstand.
Pat Smullen riding Princess Highway wins The Ribblesdale Stakes during Ladies Day at Royal Ascot at Ascot racecourse.
A worker attempts to dry tables and chairs at a Champagne bar on Ladies Day at Royal Ascot.
A bench is decorated with a Union Jack flag in the Grandstand on Ladies Day at Royal Ascot.
Top hats are worn by race-goers at the Royal Ascot in England on Wednesday, June 20. The five-day meeting is one of the highlights of the horse racing calendar and the season. Thousands of race fans are expected to attend.
Runners take the bend away from the grandstand at Ascot racecourse.
A visitor to Royal Ascot holds a race guide and a glass of Champagne.
Race-goers from The Royal Enclosure watch the arrival of the royal family.
Two women chit-chat on day one of the races.
Lisa Scott Lee attends day two of Royal Ascot.
Photographers in top hats snap photos of Royal Ascot attendees.
Queen Elizabeth II smiles as she arrives.
A dress code assistant holds a basket of pashminas at the main entrance to Royal Ascot. Visitors are expected to keep to a strict dress code.
Visitors to Royal Ascot enjoy a picnic before the start of racing.
A race-goer wearing a flamboyant hat poses for the media.
Race-goers sit together on a bench.
A woman in a striking hat attends day one of the races.
A woman wearing an elaborate hat designed to look like a bird cage attends day one of the races.
The Tootsie Rollers retro girl-band entertains visitors.
A race-goer poses for photographers at the races.
Race-goers ride an escalator down from the private boxes of the Royal Enclosure.
Jackie St. Clair attends day two of Royal Ascot.
Black Caviar, ridden by Paddy Bell, gallops before the Royal Ascot race meeting on June 14.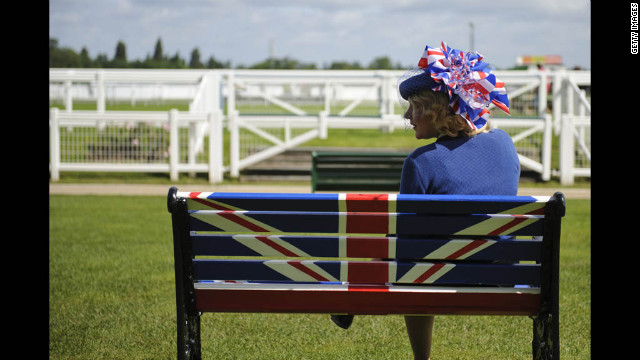 Photos: Royal Ascot 2012
But the lanky teenager is surely riding on borrowed time as far as his flat racing career is concerned, lending Camelot's tilt at the treble even greater poignancy.
The O'Briens' Ballydoyle operation has already won this year's 2,000 Guineas, 1,000 Guineas, Epsom Derby and Oaks, making their domination of the English Classics complete. Last week they notched up another important win at Royal Ascot when New Zealand-bred So You Think -- the horse with arguably the biggest carbon footprint in racing due to his worldwide travels -- captured the Prince of Wales Stakes.
But even in such distinguished company, the bay with the irregular white blaze stands out. Reared in the same Highclere paddock as his vanquished Epsom Derby rival Bonfire, Camelot was sent to the sales as a yearling, where he was snapped up for 525,000 guineas ($875,000). His earnings from his four races to date now exceed $1.5 million.
Camelot's impressive performances in the 2,000 Guineas and Epsom Derby this season have raised hopes that the son of Montjeu will have sufficient staying power to land the St. Ledger Stakes, run over the longer distance of one mile and six furlongs.
If successful, there will be more than a hint of a sense of destiny being fulfilled: the last horse to win the Triple Crown, the legendary Nijinsky, was trained by the great Vincent O'Brien.
Although not related, Aiden O'Brien now trains out of the same Ballydoyle stables where Vincent O'Brien trained Nijinsky. The great colt's life-sized statue now watches over the gallops where Camelot does his daily workouts.
The stage seems to be set for a fairytale ending. In Camelot, English racing may have found its own Arthurian legend.