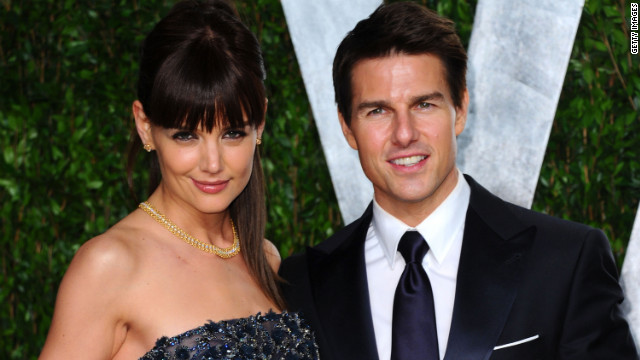 A lot has changed since Tom Cruise made headlines for jumping up and down and
declaring
, "I'm in love" on "The Oprah Winfrey Show" in 2005. Married for nearly six years, Cruise and Katie Holmes are calling it quits. Here's a look back at their years together.
The couple attend the premiere of Holmes' miniseries "The Kennedys" in March 2011.
Holmes and Cruise catch a basketball game at the Staples Center in Los Angeles in March 2010.
They pose for photos on the red carpet at the London premiere of his film "Valkyrie" in January 2009.
Cruise and daughter Suri cheer Holmes on when she ran the New York City Marathon in November 2007.
The pair walk the red carpet at an October 2007 screening of Cruise's film "Lions for Lambs" in Berlin.
The new family explored Italy before Cruise and Holmes tied the knot at a Bracciano castle in November 2006. Holmes gave birth to Suri earlier that year on April 18.
In April 2005, Cruise and Holmes attend an awards ceremony in Rome.
The couple mug for the cameras at the "Batman Begins" premiere in June 2005.
Cruise and Holmes through the years
Cruise and Holmes through the years
Cruise and Holmes through the years
Cruise and Holmes through the years
Cruise and Holmes through the years
Cruise and Holmes through the years
Cruise and Holmes through the years
Cruise and Holmes through the years
Cruise and Holmes through the years