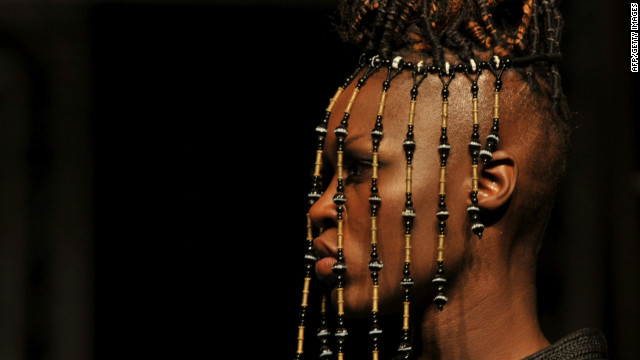 African designers presented their creations during the 10th annual Dakar Fashion Week in the Senegal capital. Here, a model displays a tribal-inspired head piece by Moroccan designer Jamila Lafqir.
A model takes to the catwalk in an outfit by Lebanese-Ivorian designer Elien Kuame.
Another Elien Kuame design on display at the Radisson Blu hotel in Dakar.
An intricate wedding dress by Moroccan designer Meireym Boussiko.
Models applaud Niger fashion designer Alphadi -- shown holding the Senegalese flag -- at the end of the opening day on June 12.
Benin designer Dasha Nicou adds a modern twist to traditional African styles.
Bright colors dominated the week, such as these playful outfits from Senegalese designer Mamta Lopy.
Old Hollywood glamor met traditional African fashion in this piece from Benin designer by Dasha Nicoue.
Colorful creations from Senegalese designer Adama Amanda Ndiaye -- the name behind the Adama Paris label -- during the opening day.
Senegalese designer Amdou Diop, center, thanks the crowd following his show.
A model presents a creation from Senegalese designer Mamta Lopy.
Senegalese designer Maguette Gueye reimagines traditional African fashion.
Fashion forward
Golden show
Stripped back
Wedding wonder
Crowd pleaser
Pretty pair
Rainbow bright
Elegant evening wear
Senegal to Paris
National trends
Sultry silhouette
Back to basics
STORY HIGHLIGHTS
Dakar's annual fashion week carving name as international draw
First launched by Senegalese designer Adama Ndiaye, founder of label Adama Paris
Organizers hope to one day reach heights of Paris and New York
Majority of designers and models hail from across Africa
(CNN) -- It may not have the allure of Paris or New York but Dakar in Senegal is quickly making a name for itself as a force to be reckoned with in the fashion stakes.
The 10th annual Dakar Fashion Week wrapped on Sunday, attracting an international audience to its showcase of African collections.
A decade after Senegalese designer Adama Ndiaye launched the first show, Dakar has now earned itself the unique title of being the capital of Franco-African fashion.
It's an important milestone for a country few would associate with high-end fashion.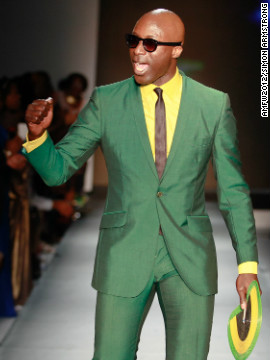 Ozwald Boateng, a British designer of Ghanaian descent, takes to the runway in one of his distinctive creations. Boateng was presented the "Lifetime Achievement Award" at the event.
A model wears Ozwald Boateng.
Nigerian designer Amaka Osakwe of Maki Oh was jointly named "Designer of the Year," alongside Kluk CGDT.
South African label Kluk CGDT, named "Designer of the Year," alongside Maki Oh.
A model takes to the catwalk wearing a creation of South African designer Gavin Rajah.
A model wears Gavin Rajah.
A model wears Amrapali, an Indian label showing in Lagos.
Nigerian luxury label House of Farrah, headed by Fatima Aliyu Garba creates designs for men and women.
A model wears Nigerian label Phunk Afrique.
Models wear Nigerian-Italian label Kinabuti on the runway.
Caterina Bortolussi (center), designer for Kinabuti, joins the models on stage at the end of her show.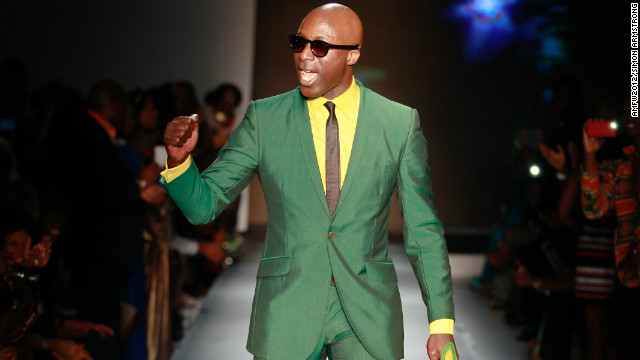 Arise Magazine Fashion Week 2012 comes to Lagos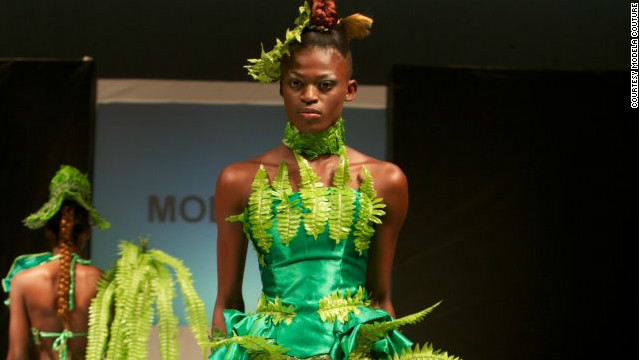 This year's Nigeria Fashion Week showcased a "Going Green" collection to create awareness of environmental issues. Dress by Modela Couture.
This dress, by Modela Couture, was inspired by mermaids and made from real fish scales.
Modela Couture designer Bayo Adegbe said: "This looks like the forest ... I have these kind of ideas that are unusual but I love them, I believe in them."
This dress was created by fashion label Chrystallix.
This design by Monu and Monu used plastic bags and bin bags. "We have a natural way of recycling in Africa but what we don't do is commercialize it, which is necessary -- taking things and making sure they are reused or remade into something that can be used again," said designer Nick Monu.
Designer Boma Inko-Tariah, from fashion house Beldie's La Mode, created this fascinator from recycled materials. "I cut up some damaged compact discs and then I used them," she said.
Menswear was also on show, including this design by Modela Couture.
Design by Charvid Fashion & Style.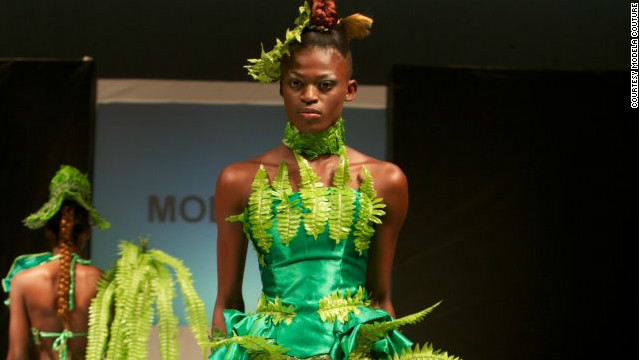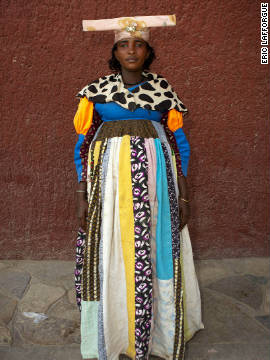 Photographer Eric Lafforgue says that the Herero women can be shy about getting their photographs taken and some will refuse.
The traditional hat that the Herero wear represents the horns of cattle, an animal of significant importance to them.
The long Victorian-period dresses are worn with numerous petticoats to add fullness to their skirts.
The Herero used to belong to the same group as the Himba (pictured) but German missionaries influenced their style of clothing. The Herero worked for the Germans and were forced to cover up to fit in with their modest Victorian attitudes.
The Herero festival on Maherero Day falls on the last weekend in August. Each year the various units of parliamentary groups parade through the streets in full traditional dress in celebration of their history.
Many Herero women make their own clothing but there is usually a dress-maker within each community.
The style of dress continues to be passed down through generations because of its cultural importance.
It is traditional that matching fabrics are used for the hat and dress.
Herero can be found living in the north of Namibia, in the Kunene region and the Damaraland area.
There are some Herero living in Botswana and Angola.
The women have also made dolls wearing exact replicas of the dresses to sell to tourists.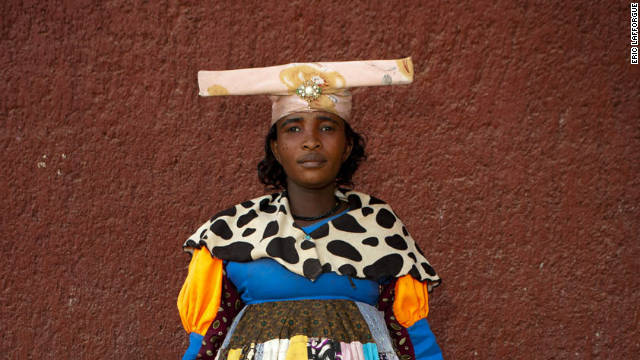 Africa's Victorian ladies
Fashion analyst Helen Jennings says this year's event, attended by the "godfather of African fashion" Alphadi, cemented Dakar's reputation.
Jennings, the editor of Arise, a London-based African fashion magazine, pointed to the important differences between English and French-inspired fashion on the continent.
"Anglophone Africa is much more westernized on the whole and therefore gets more international attention. While Francophone designers, although still very contemporary, do veer toward more traditional styles, especially the Senegalese boubou and north African kaftan.
"It made for a refreshing change to see these influences on the catwalk."
However, she added that Dakar was by no means the capital of African fashion: "Without a doubt those capitals are Nigeria (host of Arise Magazine Fashion week) and South Africa (which runs Africa Fashion Week)."
Watch: African street fashion
The African fashion industry's growth in recent years is part of a wider economic boom on the continent, says Jennings.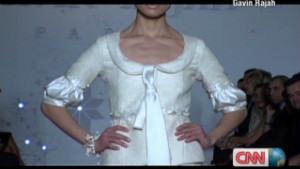 Africa's feathered fashion export
"Whereas previously Africa was only seen as a source of anthropological inspiration for international brands, now its homegrown talents are standing up and being counted too and riding the wave of interest in Africa's broader cultural and economic ascension," she said.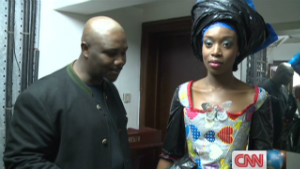 Nigerian fashion goes 'green'
"Established names such as Duro Olowu in London, Xuly Bët in Paris, Kofi Ansah in Ghana, Jewel By Lisa in Lagos and Marianne Fassler in Johannesburg are inspiring younger talents while more and more African fashion weeks, magazines, websites, boutiques and schools are blossoming."
Web boutiques bring African fashion to global market
While the global economic downturn has hit Europe hard, African countries have remained fairly resilient since the 2008 financial crisis, according to a recent joint report from researchers McKinsey & Company and advertising agency TBWA.
The report - The Changing Face of the African consumer - surveyed 15,000 people across 10 countries. It claims the growth of Africa's population, expansion of the middle class and rising optimism about the continent's future will play a crucial role in the development of its retail industry.
"Africa's economic growth is creating substantial new business opportunities that are often overlooked by global companies," it said.
The boom is good news for Dakar Fashion Week founder Ndiaye, who hopes the show will one day reach the heights of Paris and New York -- yet with a distinctly African style.
Watch: Traditional dress of Senegal
Bright colors, bold traditional African prints and a touch of old Hollywood glamor dominated the catwalks throughout the week, held from June 12 to 17.
Designers hailed from across the continent, such as Lebanese-Ivorian Elien Kuame, whose elegant cocktail dresses blended both western and African traditional styles.Senegalese designer Maguette Gueye utilized traditional African prints, while compatriot Mamta Lopy concentrated on a more sultry, western style.