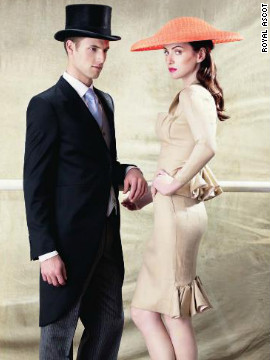 For Royal Ascot 2012, organizers have issued a style guide to advise race goers on how to dress for the annual meeting. Gentlemen in the Royal Enclosure must wear black or grey morning dress.
Ladies invited into the Royal Enclosure have a long list of rules to follow. Dresses must be of "modest" length, falling just below the knee. Strapless dresses are banned, while a hat with a diameter of at least four inches must be worn.
If the lady does not wish to wear a dress, a pant suit is acceptable. But the material and color of the trousers must match what is on show above the waist.
There is a more relaxed guide for those taking in the race action from the Grandstand. The gentlemen are required to wear a suit, with a shirt and tie, at all times.
Ladies in the Grandstand must wear a hat, or fascinator, at all times. As with the Royal Enclosure, strapless dresses are not allowed.
Shorts are banned and a lady's midriff must be covered at all times. Any tops worn must not be strapless.
Any fans of fancy dress will be left disappointed as it is outlawed at Royal Ascot. So these two equine gentlemen will be left long-faced.
It is not just the fashion police who are kept busy across the meeting. A total of 43 people were arrested throughout Royal Ascot in 2011.
A royal rulebook
Strict on straps
Pant suits permitted
Grandstand style
A tip of the hat
Keep covered up
No horse play
Bobbies on the beat
STORY HIGHLIGHTS
Royal Ascot 2012 has a strict dress code which race goers must follow
Dress code administrators will be on hand to make sure standards are maintained
The Berkshire venue's Royal Enclosure has the strictest dress code
Ascot racecourse was founded by Queen Anne in 1711
(CNN) -- Finery and high fashion have long been synonymous with the Royal Ascot race meeting, and this year patrons are being scrutinized to a level which is almost unparalleled in the world of sport.
Ascot takes fashion so seriously there are even dress code administrators on hand to assess the thousands of people who descend upon the Berkshire venue, with a strict list of dos and don'ts issued to prevent standards slipping.
The Royal Enclosure, where Queen Elizabeth II watches all five days of the meeting, is where the most stringent regulations are enforced -- including a ban on the ever-popular fascinator.
No fairytale ending for Queen and Carlton House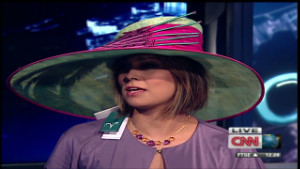 What not to wear at Royal Ascot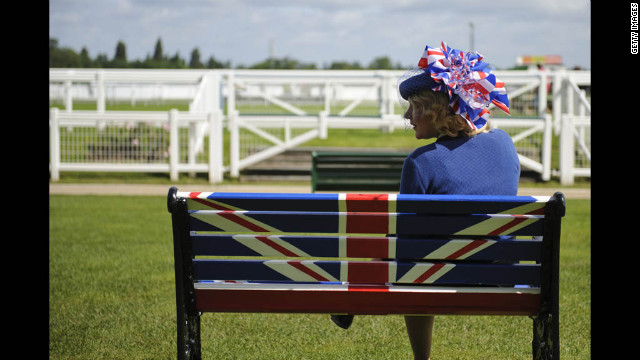 A race-goer attends day five of the Royal Ascot races in Ascot, England, on Saturday, June 23.
Queen Elizabeth II and Prince Philip, Duke of Edinburgh, arrive at the course on day four of the races.
A sign and flags hang in the air.
Attendees escape the rain under their umbrellas on day four.
An attendee examines a booklet with descriptions of the racers.
Riders race during the Diamond Jubilee Stakes on day five of Royal Ascot races Saturday.
Two onlookers congratulate each other with a high-five.
A large hat resembling the British flag sits atop a woman's head.
Racehorse Black Caviar neighs after carrying his rider across the finish line for the win on Saturday.
Racegoers sit at a table and study the form on Friday.
Queen Elizabeth II and Prince Philip, Duke of Edinburgh, and other members of the royal familly arrive in the Parade Ring at the Royal Ascot on Ladies Day on Thursday, June 21. Ladies Day is traditionally the fashion highlight of the five-day race meeting.
Rain falls on the race-goers attending the Royal Ascot.
A couple stand in a puddle at Royal Ascot.
Frankie Dettori celebrates riding Colour Vision to win The Gold Cup during Ladies Day at Royal Ascot.
A woman shows off her unusual hat.
Race-goers wear plastic rain covers over their dresses during some showers.
Frankie Dettori riding Colour Vision, center, to win the Gold Cup.
Larisa Katz shows off an umbrella hat design at Royal Ascot.
A visitor to Royal Ascot photographs her friends.
A woman poses with a striking hat and equine-themed umbrella.
A group of women in striking hats poses for a photo.
It's the end of the day in the silver ring during Ladies Day at Royal Ascot .
A race-goer poses on day three of the Royal Ascot.
Princess Anne and Princess Beatrice attends Ladies Day.
A worker checks benches in the grandstand.
Pat Smullen riding Princess Highway wins The Ribblesdale Stakes during Ladies Day at Royal Ascot at Ascot racecourse.
A worker attempts to dry tables and chairs at a Champagne bar on Ladies Day at Royal Ascot.
A bench is decorated with a Union Jack flag in the Grandstand on Ladies Day at Royal Ascot.
Top hats are worn by race-goers at the Royal Ascot in England on Wednesday, June 20. The five-day meeting is one of the highlights of the horse racing calendar and the season. Thousands of race fans are expected to attend.
Runners take the bend away from the grandstand at Ascot racecourse.
A visitor to Royal Ascot holds a race guide and a glass of Champagne.
Race-goers from The Royal Enclosure watch the arrival of the royal family.
Two women chit-chat on day one of the races.
Lisa Scott Lee attends day two of Royal Ascot.
Photographers in top hats snap photos of Royal Ascot attendees.
Queen Elizabeth II smiles as she arrives.
A dress code assistant holds a basket of pashminas at the main entrance to Royal Ascot. Visitors are expected to keep to a strict dress code.
Visitors to Royal Ascot enjoy a picnic before the start of racing.
A race-goer wearing a flamboyant hat poses for the media.
Race-goers sit together on a bench.
A woman in a striking hat attends day one of the races.
A woman wearing an elaborate hat designed to look like a bird cage attends day one of the races.
The Tootsie Rollers retro girl-band entertains visitors.
A race-goer poses for photographers at the races.
Race-goers ride an escalator down from the private boxes of the Royal Enclosure.
Jackie St. Clair attends day two of Royal Ascot.
Black Caviar, ridden by Paddy Bell, gallops before the Royal Ascot race meeting on June 14.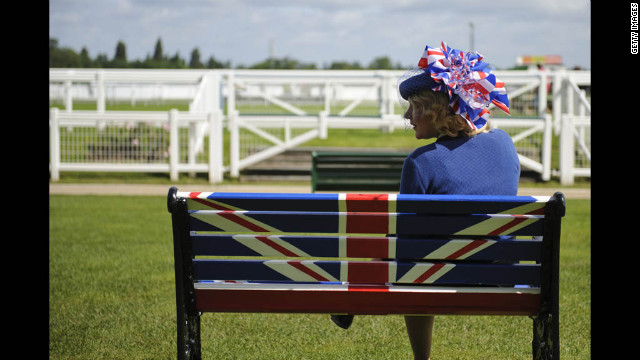 Photos: Royal Ascot 2012
To ensure fashion decorum, Royal Ascot's organizers have gone as far as to publish style guides for race goers who will be mingling with British high society at one of the social calendar's most prestigious events.
With all eyes fixed on female visitors during Thursday's Ladies' Day, the women's checklist for the Royal Enclosure is detailed.
All dresses must be of "modest" length -- defined as "falling just above the knee or longer."
Shorts are a no-no, as are shoulderless dresses. Women are permitted to wear pants, providing the color and material of them matches what is on display above the waistline.
Horse racing is known as the sport of kings, but the showpiece Royal Ascot event has a British queen to thank for its illustrious reputation.

Queen Elizabeth II will be present for the entire five-day meeting, but it was her predecessor Queen Anne who founded Ascot racecourse in 1711. The venue's links with high society have remained intact ever since.


The dress code administrators will also be on hand to offer pashminas to any woman who may have misunderstood the regulations.
If you are belly dancer it is probably best to give Ascot a wide berth as midriffs must be covered at all times. And if you like to attend sporting events in fancy dress forget it -- pantomime horses are banned.
For the gentlemen who enter Royal Ascot's inner sanctum, black or gray morning wear is de rigueur -- shoes, a waistcoat and tie and, of course, a top hat. In the more relaxed grandstand, a suit will ease you past the fashion police.
However, if you thought dusting off your cravat for a day at the races was acceptable think again -- such neckwear is strictly verboten.
Unbeaten Frankel cruises to Ascot success
"Horse racing's roots as the 'sport of kings' obviously suggest a pleasure pastime for the elite," Willie Walters, the fashion course director at London's Central Saint Martins college of art and design, told CNN.
Our dress is a key signifier of class or our clan, very much so in the UK
Willie Walters
"In the past this would have been, depending on the monarch, an opportunity for either ostentatious displays or relatively tasteful, yet expensive, modesty.
"The code would denote respect for the monarchy, particularly when they were actually present."
The dress code also helps to define the class superiority of the crowd and keep out the great unwashed.
"Any prestigious occasion will have a code to reflect the status of the racegoers regardless of which country it is held," said Walters.
"All codes are aimed at excluding someone. Our dress is a key signifier of class or our clan, very much so in the UK."
Walters also argued Royal Ascot's 2012 dress code could be a not-so-subtle hint aimed at encouraging certain punters to cover up.
"I don't think that the wish here is to exclude them but to oblige them to cover up by setting strict parameters," he said.
"However the fun of strict rules is seeing how far you can bend them -- anyone who ever wore a school uniform can tell you that!"