STORY HIGHLIGHTS
Michael Schumacher tipped for success at Sunday's European Grand Prix
The Mercedes driver has not won a race since coming out of retirement in 2010
The seven-time world champion has retired from five of seven races in 2012
Schumacher's teammate Nico Rosberg collected his first ever win in China
(CNN) -- Michael Schumacher has been one of Pirelli's biggest critics this season, but Formula One's tire supplier has backed the seven-time world champion to end his long wait for a victory at Sunday's European Grand Prix.
The 43-year-old, who has not finished on the podium since coming out of retirement in 2010, told CNN that dealing with the rapidly degrading rubber this year was like "driving on raw eggs."
He has been outshone by Mercedes teammate Nico Rosberg, but Pirelli's motorsport director Paul Hembery believes the German can perform well in Valencia, where he has failed to make the top-10 in two previous attempts.
Schumacher did, however, top the qualifying times at another street circuit last month in Monaco, but started the race sixth due to a penalty and ended up retiring early -- as he did last time out in Canada.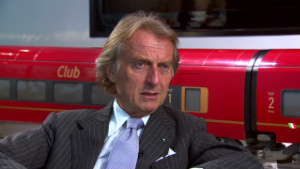 Ferrari president: F1 too expensive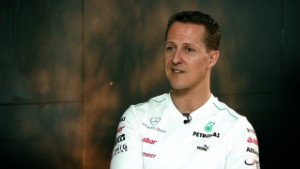 Schumacher proud of German drivers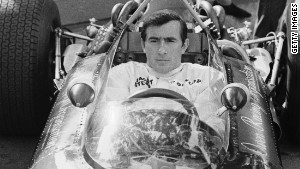 The magic of the Monaco Grand Prix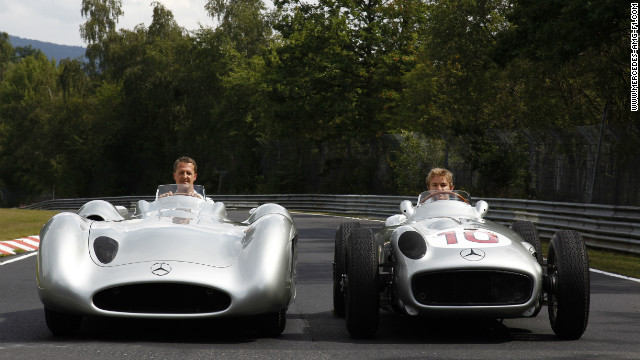 Michael Schumacher in the modern Silver Arrow while Mercedes teammate Nico Rosberg takes the wheel of the 1955 model.
China Grand Prix champion Nico Rosberg is the first Mercedes driver to win a Formula One race since Juan Manuel Fangio in Italy in 1955.
The two Germans will return home this weekend and help launch the new season of the DTM touring car series at Hockenheim.
Fangio, pictured in second place, races the original Silver Arrow at the Buenos Aires track in 1955. The Argentine didn't disappoint his home crowd, later taking the title.
Fangio is mobbed by fans after winning the 1955 Italian Grand Prix. The racing legend had 24 wins and five world championships in a career spanning almost 20 years.
Fangio and Schumacher are the only drivers to have won three successive world championships, a feat Sebastain Vettel is hoping to match this year.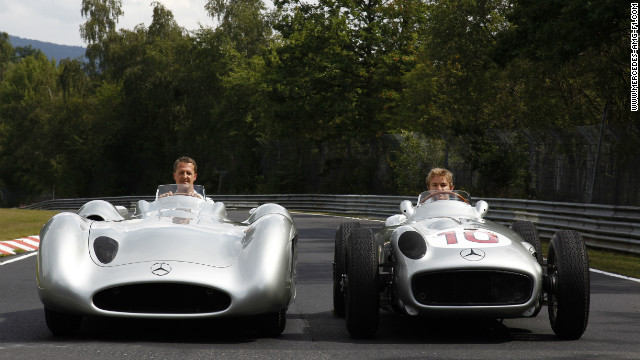 The Silver Arrow rises again
"I think you have to look at someone like, maybe Michael, getting the pole position," Hembery told F1's official website.
"He probably would have won Monaco if he hadn't been penalized, so why not here? Michael for Valencia, that's where the money should go."
Sauber chief: "F1 better than ever"
Schumacher, who won 91 grands prix between 1992 and 2006, was penalized in Monte Carlo due to a collision with Bruno Senna at the Spanish Grand Prix.
The former Ferrari driver has endured a miserable start to the 2012 season, collecting just two world championship points and retiring from five of the first seven races. Rosberg, meanwhile, is fifth on 67 points and clinched the first race win of his career in China.
But Schumacher, who has won the European Grand Prix a record six times at its former homes in Jerez and Nurburgring, is confident Mercedes can overcome the reliability issues which have dogged him.
"Our motto in the last few days has been to roll our sleeves up and focus on the job in hand," he said. "Everybody in the team has taken that approach to heart, so we can travel to Valencia in an optimistic mood."
Mercedes team principal Ross Brawn, who worked with Schumacher at Ferrari, conceded he has not provided him with an adequate car.
"The performance of our car and our tire management were generally good in Canada, however our competitiveness was compromised by reliability problems and mistakes," said Brawn.
"This is a disappointment that is deeply felt by everyone in our team, and we have been working hard to ensure we understand the reasons and deal with them.
"Achieving zero-defect reliability is our highest priority. The opportunities available if we can give both drivers a reliable car and a clean weekend are clear."
After this weekend's race in Valencia, the world championship will head to Silverstone for the British Grand Prix on July 8.