New coalition is clean political broom Greece needs
June 21, 2012 -- Updated 1133 GMT (1933 HKT)
STORY HIGHLIGHTS
New Greek government, formed after four days of horse-trading, is country's first coalition in 60 years
Old form of government has led to ossified political class and corruption, says Pavlos Tsimas
This system has led to financial crisis and made it almost impossible for Greece to reform, he says
Tsimas says presence of party that has not participated in corrupt party politics might be good news
Editor's note: Pavlos Tsimas is a journalist and presenter at Greece's MEGA Channel, and author of the book "Diary of the Crisis" about Greece's financial meltdown.
Athens (CNN) -- The new Greek government, formed after four days of horse-trading by three party leaders, is the country's first coalition in 60 years. Since 1952, a combination of electoral systems and political polarization produced a comfortable single party majority every time an election was held in Greece.
This glorified tradition was supposed to provide the country with stable governments and strong leadership, as two big parties were alternating in power. But after 60 years -- or at least 38, counting from the collapse of the military dictatorship in 1974 -- it has provided the country with an ossified political class, inept public service, deep-routed clientelism and omnipresent corruption.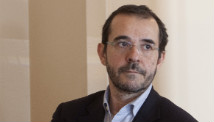 Pavlos Tsimas
A retired public servant once described to me the process: "When parties alternate in power after an election, what goes on in the public service is a hand over from one mafia organization to its rival."
Ministers walk into their fiefs, escorted by dozens of political counselors who take over from the counselors of the previous minister and do the job, instead of the top public servants, who are discarded, unless they are party loyalists. Public service has thus become gradually annexed to a party system, distributing the spoils of power. Parliament has been subdued to party leaders, as members of the majority usually express loyalty to the leader, waiting their turn for a ministerial post.
Justice has been also partly subdued: since the heads of the three supreme courts are chosen by the government, career judges learn that they have to have friends in politics, if they wish to have a chance at the top jobs. The result of decades of single party majorities was a special brand of democratic regime. Let's call it "partitocracy:" Two big parties running the country -- and killing it softly, by bribing it to its death.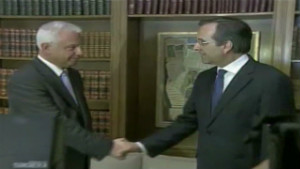 Is stability returning to Greece?
Does this explain Greece's present economic woes? In part, yes. Greece was the first victim of a euro-wide crisis, which would have hit its small, open, vulnerable economy even if the country were run by the wisest of men with the integrity of monks.
But partitocracy has certainly precipitated the crisis, made Greece the hardest hit among all peripheral economies and, most importantly, made it almost impossible for Greece to reform itself out of the crisis. Public service reform, tax collection reform, electoral law reform are made impossible, because an unreformed party system would always treat reform as a deadly threats.
So, yes! Forming a coalition government, with intra-party checks and balances and the presence of a newcomer, a party that has not participated as yet in corrupt party politics, might be good news for the country.
I am not sure the new government will prove able to negotiate a better deal with its European partners or lucky enough to live through a change in the core European policies that will address the fundamentals of the euro crisis. But I hope that at least it can rid Greece of its main plague: partitocracy.

Today's five most popular stories
Part of complete coverage on
Greece Election
June 19, 2012 -- Updated 0901 GMT (1701 HKT)

Questions are being raised in Greece around which party -- or parties -- will emerge as the country's dominant center-left force.
June 21, 2012 -- Updated 1018 GMT (1818 HKT)

Since Germany's emergence as an industrial economy, it has been too big to be one of many and too small to dominate, says Thomas Kleine-Brockhoff.

Now that the Greek people have voted and a government formed, we need to think about where this crisis will go, says CNN's Richard Quest.
June 16, 2012 -- Updated 1542 GMT (2342 HKT)

Greece is holding its second election in six weeks. Will this weekend's vote bring an end to the country's troubles?
June 17, 2012 -- Updated 1511 GMT (2311 HKT)

As Greek voters head to the polls, CNN talks to Athens cafe-goers about their voting intentions.
May 25, 2012 -- Updated 1149 GMT (1949 HKT)

Greece's membership of the eurozone is untenable under the current conditions and everyone knows it.

Greece is facing severe austerity measures; Greek citizens describe the effect the cuts are having on them.
June 16, 2012 -- Updated 2156 GMT (0556 HKT)

CNN's John Defterios visits Athens to take a look at the changes brought on by austerity.
June 16, 2012 -- Updated 1544 GMT (2344 HKT)

Imagine abandoning your own children because you can't afford to feed and clothe them. It's a nightmare becoming reality in Greece.
June 13, 2012 -- Updated 1913 GMT (0313 HKT)

The family of a woman killed in protests describe how her death sums up the country's plight as it prepared for the first election since the crisis.
April 6, 2012 -- Updated 1400 GMT (2200 HKT)

The suicide rate in Greece jumped 40% year-on-year in the first five months of 2011, as the Greek people face unprecedented hardship.
April 5, 2012 -- Updated 0948 GMT (1748 HKT)

Greece has introduced harsh austerity measures to access funding from its international creditors. But can it save the country from bankruptcy?
June 13, 2012 -- Updated 1907 GMT (0307 HKT)

Just one decade after the European single currency was launched amid fanfare and fireworks, its future is very much in doubt.