'Trash for food' at Mexico City barter market
June 19, 2012 -- Updated 1144 GMT (1944 HKT)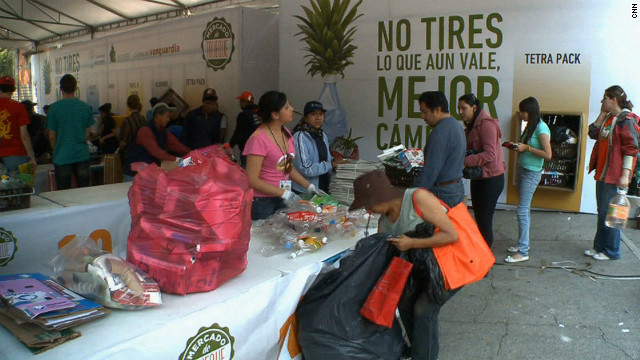 Residents of Mexico City are embracing a creative recycling program that is turning trash into food.
The Mexican capital is home to more than 20 million people ...
... who combined create a mountain of trash. An estimated 12,600 metric tons was being deposited daily in the Bordo Poniente landfill site before it closed late last year. Now, a new barter scheme called Mercado de Trueque is incentivizing residents to recycle more waste.
Jose Luis Aranda is one of thousands of locals embracing the government scheme.
Aranda and his housemates gather glass, plastic and cardboard and take it to the city's Chapultepec Park.
The items are separated, weighed and emptied into recycling bins.
In return, Aranda and his friends receive 300 "green points" between them.
The vouchers are exchanged for fresh food produced by local farmers, who are subsidized by the local government.
For Aranda it's not just about buying vegetables to eat. He also picked up baby lettuce plants which he says he will grow at home. "In a month, I'll have 14 big lettuces that I can come back and sell here," he says.
Aranda and a housemate leave the market with a haul of fresh vegetables and the satisfaction of knowing that recycling their unwanted waste has proved profitable for them and the local environment.
Mercado de Trueque
Mexico City
Mexico City
Mercado de Trueque
Mercado de Trueque
Mercado de Trueque
Mercado de Trueque
Mercado de Trueque
Mercado de Trueque
Mercado de Trueque
STORY HIGHLIGHTS
New bartering scheme in Mexico City helping residents exchange trash for fresh food
The Mercado de Trueque encourages people to recycle paper, glass and plastic
In return, residents receive vouchers that are exchanged for produce at a farmers' market
Mexico City (CNN) -- A new barter market in Mexico City is helping residents trade their trash for food in an effort to reduce the mountain of waste produced by the mega city.
Mexico City's huge, infamous Bordo Poniente landfill site was receiving 12,600 tons of waste a day -- one and a quarter times the weight of the Eiffel Tower -- before it was shut down in December last year. But although the landfill is is no longer in operation, the city keeps churning out trash.
That's why the local government has launched several measures to reduce the waste created by the 20 million people who call the city home.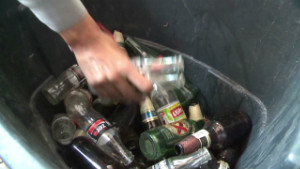 Trading waste for food
The Mercado de Trueque began in March this year and has proved an instant hit with residents.
Jose Luis Aranda is one of thousands of locals who are now making regular visits to the market held once a month in the city's Chapultepec Park. Along with his housemates, Aranda brings along glass, plastic and cardboard waste, which is separated and weighed. He is then given vouchers, which can be exchanged at a nearby farmers' market.
The vendors at the market hail from local farms, adding the benefit of attracting shoppers to locally produced food.
For Aranda, it's not just about buying vegetables to eat. He also picks up baby lettuce plants, which he plans to grow at home and sell at the market when he visits again.
If he does, it would bring the city's plan full circle, essentially turning trash into food.
Earth Summit: Can Rio +20 solve world's environmental problems?

Today's five most popular stories
July 16, 2013 -- Updated 1213 GMT (2013 HKT)

More than two million people are dying every year from the effects of outdoor air pollution, according to a new study.
July 12, 2013 -- Updated 1228 GMT (2028 HKT)

What's better than fresh, locally grown fruits and vegetables? How about fresh, locally-grown, free fruits and vegetables, all within an easy walk of your home or office?
July 8, 2013 -- Updated 1017 GMT (1817 HKT)

Living amid the garbage-strewn sewage canals, residents of Haiti's Cite Soleil endure a grim battle for survival every single day.
July 10, 2013 -- Updated 1335 GMT (2135 HKT)

In just 12 years Vietnam cut the country's malnutrition rate in half by investing in small scale farming. Now other countries are following suit.
July 4, 2013 -- Updated 1332 GMT (2132 HKT)

We're all familiar with the phrase "waste not, want not," but how well are we applying these words today?
June 27, 2013 -- Updated 1413 GMT (2213 HKT)

Take a look into CNN Special Correspondent Philippe Costeau's photo diary of how Haiti can break a vicious cycle of deforestation.
October 31, 2014 -- Updated 1610 GMT (0010 HKT)

Philippe Cousteau recalls his grandfather's advice and asks how you'd like to look at the ocean in 10 years' time -- with regret or awe.
March 27, 2013 -- Updated 1507 GMT (2307 HKT)

We need to rebuild the ocean's abundance, variety and vitality. Without such action, our own future is bleak, say marine scientists.
March 22, 2013 -- Updated 1027 GMT (1827 HKT)

Getting water to every person on the planet can and should be done by 2030, argues WaterAid's Chief Executive Barbara Frost.
March 20, 2013 -- Updated 1550 GMT (2350 HKT)

Oceans cover more than two-thirds of our planet producing half of the oxygen we breathe and helping regulate our climate.
March 8, 2013 -- Updated 1157 GMT (1957 HKT)

Global warming has propelled Earth's climate from one of its coldest decades since the last ice age to one of its hottest -- in just one century.
July 17, 2012 -- Updated 0807 GMT (1607 HKT)

Dressed in a wet suit, air tanks on his back is an image of Jacques Cousteau most people would recognize. But he was also an inventive genius.