Unbeaten Frankel cruises to Ascot success
June 21, 2012 -- Updated 0831 GMT (1631 HKT)
STORY HIGHLIGHTS
Unbeaten Frankel wins Queen Anne Stakes in opening race of Royal Ascot meeting
Henry Cenci's colt wins for the 11th time in succession
Frankel starts the race as hot favorite at odds of 1-10
Reasserts claims to be recognized as greatest racehorse of all time
(CNN) -- Frankel first, the rest nowhere. Astonishing Frankel won the Queen Anne Stakes, the opening race of Royal Ascot, in spectacular style on Tuesday, smashing a classy field by 11 lengths to reassert his claims to be recognized as the world's best racehorse.
The fans have come in their droves to Royal Ascot this week to see another wonder horse, Black Caviar, the Australian superstar who will make her appearance here on Saturday.
But the performance of the week - arguably the performance of the year - has already been seen here. It might just be the race to end all races as the unbeaten Frankel recorded his 11th successive victory.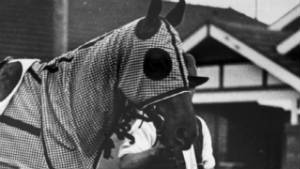 Australia's greatest racehorse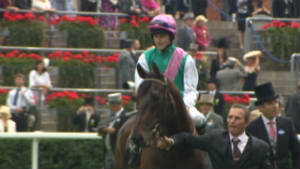 Racehorses get jet lag when traveling?
The Sir Henry Cecil-trained four-year-old was sent off at odds of 1-10 on Tuesday, meaning a $10 bet would earn you just $1 profit. In hindsight, those odds seemed like a good deal.
Long time rival Excelebration, whom Frankel beat by a comfortable five lengths at Newbury in May, had been given orders not to let Frankel open up ground. Despite the best efforts of Excelebration's jockey, Joseph O'Brien, those orders soon proved futile.
Once Tom Queally, Frankel's jockey, opened the tap there was no way any other horse was going to get close to Frankel, the giant bay increasing his lead with every one of his all-devouring strides.
Still in full flow as he passed the winning post, it is hard to recall a performance like his by any horse in recent memory.
"Breathtaking", "astonishing", "brilliant" were just some of the milder adjectives murmured by appreciative fans, even the inexperienced racegoers among them sensing they were witnessing something extraordinary.
Is Frankel the greatest racehorse of all time? Probably. Will we ever see his likes again? Don't bet on it.

Today's five most popular stories
September 1, 2014 -- Updated 1323 GMT (2123 HKT)

The going is always soft and the only permanent building is a toilet block. It's the antithesis to the pomp of Royal Ascot ... welcome to Irish beach racing.
August 13, 2014 -- Updated 1107 GMT (1907 HKT)

Each August, over a thousand tents and hundreds of horses converge on Little Big Horn River in Montana for the Crow Fair and Rodeo.
August 1, 2014 -- Updated 0957 GMT (1757 HKT)

Show me the money! Hollywood star Tom Cruise was a big hit when he visited the Glorious Goodwood festival.
July 21, 2014 -- Updated 1241 GMT (2041 HKT)

Little-known outside the tribes of the Rocky Mountains in the American northwest, Indian Relay is a "magical" horse-racing relay.
July 8, 2014 -- Updated 1325 GMT (2125 HKT)

Now in his 50s, one of the world's most successful jockeys explains why he gave up acting to return to the sport that nearly crippled him.

Winning Post's Francesca Cumani is impressed by the all-round multitasking skills of Ireland's champion trainer Aidan O'Brien.
June 7, 2014 -- Updated 0853 GMT (1653 HKT)

More people have walked on the moon than have won the fabled Triple Crown of U.S. horse racing. California Chrome is seeking to square that score.
June 5, 2014 -- Updated 1137 GMT (1937 HKT)

A long history of controversy made him the "enfant terrible" of horse racing, but veteran jockey Kieren Fallon is looking for redemption.
May 27, 2014 -- Updated 1131 GMT (1931 HKT)

With owners ranging from presidents to sheikhs and queens, horse racing is known as the "Sport of Kings" for good reason.
May 12, 2014 -- Updated 1320 GMT (2120 HKT)

Buy for the right price and you could make millions. Get it wrong and it could be one of the most expensive mistakes you ever make.
May 5, 2014 -- Updated 1207 GMT (2007 HKT)

Mine That Bird, the 2009 winner of the Kentucky Derby, is having his incredible story told on the silver screen.
April 4, 2014 -- Updated 1035 GMT (1835 HKT)

Amateur jockey Sam Waley-Cohen is perhaps best known for helping to resurrect Prince William's relationship with Kate Middleton.