'You cannot be serious!' Tennis' top tantrums
June 19, 2012 -- Updated 1033 GMT (1833 HKT)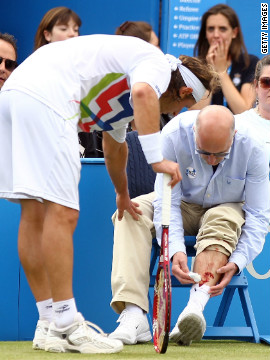 David Nalbandian was disqualified from the Queen's Club final on Sunday for inadvertently injuring a match official after kicking an advertising board. But the Argentine is not the first tennis star to lose their cool on court...
John McEnroe is as famous for his on-court histrionics as he is for the seven grand slam titles he won. In his second-round Wimbledon match in 1981, his "You cannot be serious!" catchphrase was coined after a rant at a line judge. Despite the outburst, the American went on to win the first of his three Wimbledon crowns that year.
Tim Henman may have enjoyed some of the finest moments of his career at Wimbledon, but he also had a nightmare experience at the All England Club in 1995. During a doubles match alongside fellow Briton Jeremy Bates, Henman hit a ball in frustration which struck ball girl Caroline Hall (left), resulting in the pair's disqualification.
While many players have taken their anger out on rackets and advertising boards, Mikhail Youzhny is one of the only tennis stars to physically attack themselves. The Russian drew blood after hitting himself in the head with his racket during a match with Nicolas Almagro in 2008.
Former world No. 1 Marat Safin lost his rag during a tempestuous Australian Open third-round defeat against Andy Roddick in 2007. The furious Russian, furious after a number of line calls were overruled, was warned for swearing and later fined $2,000.
At the same tournament in 2008, Roddick launched a tirade at the umpire. The 2003 U.S. Open winner told the chair official "do your job," while also demanding he "use his ears" and listen.
French Open champion Maria Sharapova is famous for her on-court shrieks. But at Roland Garros in 2008, the current world No. 1 aimed a verbal volley at the Paris crowd after being heckled during a clash with Dinara Safina.
Roger Federer is a calm and collected presence on the tennis court -- most of the time. In a rare moment of weakness, the former world No. 1 smashed his racket when things weren't going his way in a match with current top-ranked star Novak Djokovic in 2009.
During her 2009 U.S. Open semifinal against Kim Clijsters, Serena Williams unleashed a verbal assault on an official which result in a hefty fine and a two-year suspended ban. Williams repeated the episode in last year's New York final, calling the umpire "ugly on the inside" during her defeat to Samantha Stosur.
Djokovic suffered an unhappy defeat against Roland Garros king Rafael Nadal in this month's French Open final. The Serbian damaged an advertising board by whacking it with his racket.
Tennis tantrums
'You cannot be serious!'
Henman's hell
Mikhail's madness
Marat's misery
Roddick's rage
Sharapova's shriek
Federer's fury
Woe for Williams
Serbian slam
STORY HIGHLIGHTS
David Nalbandian disqualified and fined after kicking out in Queen's final
The Argentine could also face police action after an assault investigation was launched
John McEnroe launched his famous "You cannot be serious!" tirade at Wimbledon in 1981
Briton Tim Henman disqualified in 1995 for striking a ball girl with an angry shot
(CNN) -- David Nalbandian shocked the tennis world and prompted a police investigation with his act of frustration at Queen's Club on Sunday, inadvertently injuring a line judge by kicking out at an advertising board.
The Argentine was disqualified from the final against Marin Cilic, fined $12,500 and forfeited all the prize money he earned at the Wimbledon warmup event. He could face further punishment after London's Metropolitan Police Service announced it was investigating an alleged assault.
But Nalbandian is not the first tennis star to lose his cool on court, with a number of his peers also lashing out when the pressure is on.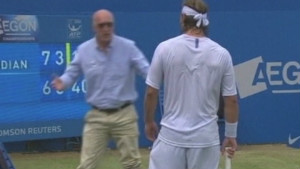 Tennis pro booted for hurting judge
In the gallery above, CNN looks back through the years to unearth the 10 most extreme examples of tennis tantrums.
From angry Americans, raging Russians, bolshy Brits and surly Serbians, on-court etiquette is not always what it should be in men's and women's professional ranks.
Post your favorite tennis indiscretions in the comments box below.