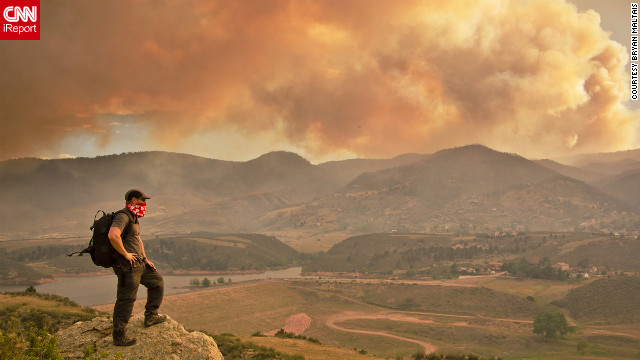 CNN iReporter Bryan Maltais of Fort Collins, Colorado, took this picture of the Colorado fire from the cliffs above Horsetooth Reservoir in Larimer County. He started documenting the situation on June 10. "Many people I know have been brought to tears for the people who have lost their homes, and for the destruction of so much forest," he said.
Jessie Couillard watches the High Park Fire a few miles from her house in Glacier View Meadows, northwest of Fort Collins, on Monday, June 18. The lightning-ignited wildfire that started June 9 has destroyed nearly 200 homes.
The High Park Fire rages west of Fort Collins on Monday. The blaze has ravaged more than 58,700 acres but is about 50% contained, authorities say.
A truck offers a message for firefighters west of Fort Collins on Monday. More than 1,700 personnel are battling the wildfire.
Smoke from the High Park Fire rises above the Colorado National Guard Readiness Center near Fort Collins on Sunday, June 17.
A view of the High Park and its large plume of smoke from Fort Collins on Wednesday, June 13.
Resident Bill Janz reunites with his dog Abby on Wednesday. Abby had been at Janz's home when the fire started. She jumped into a fire truck as it approached the house, escaping the fire.
Pat Wright hugs daughter Stephanie Lauger after finding out Wednesday the High Park Fire hasn't destroyed her house. She will be able to return home three days after evacuating.
A large smoke plume rises from the High Park Fire west of Fort Collins on Wednesday.
People watch smoke from the High Park Fire billow. The fire has consumed more than 50,000 acres and jumped Highway 14, prompting evacuations.
Steve Segin of the U.S. Forest Service shows a map of the size and location of the northern Colorado blaze Tuesday, June 12, in Laporte, Colorado.
Residents watch the approaching fire Tuesday in the Roosevelt National Forest west of Fort Collins.
iReporter Victor W. Schendel, a Fort Collins photographer, has been watching the fast-moving wildfire grow and took this photo Tuesday as firefighters attempted to control the blaze.
Colorado's High Park Fire engulfs trees in flames near Fort Collins on Monday, June 11.
A helicopter drops water on a hot spot burning close to homes on Monday near Laporte, Colorado.
Michelle Mellenthin and Chris Huizenga watch firefighting efforts Monday from a Jeep near Laporte.
Flames threaten houses on the eastern front of the High Park fire near Laporte on Sunday, June 10.
Robby Wood, left, of Denver and his 16-year-old nephew, Jacob Wood, watch the thick smoke rise over a hill near Laporte.
The High Park Fire -- about 15 miles west of Fort Collins -- doubled in size overnight to 36,930 acres, or more than 57 square miles, authorities said Monday.
An orange-tinted sky looms over a small barn near Laporte on Sunday.
The fire is behaving erratically, fueled by strong winds, low humidity, high temperatures and dry brush, an official says.
A firefighting helicopter surveys the High Park Fire for hot spots Sunday near Laporte as the wind-driven blaze spreads.
A satellite image from NASA shows a plume of smoke from the High Park Fire about 20 miles northwest of Fort Collins on June 9.
The sprawling wildfire lights up the night sky Saturday in a photo from CNN iReporter Randy S. Macht taken in Louisville, Colorado, south of the blaze.
Northern Colorado fire rages on
Northern Colorado fire rages on
Northern Colorado fire rages on
Northern Colorado fire rages on
Northern Colorado fire rages on
Northern Colorado fire rages on
Northern Colorado fire rages on
Northern Colorado fire rages on
Northern Colorado fire rages on
Northern Colorado fire rages on
Northern Colorado fire rages on
Northern Colorado fire rages on
Northern Colorado fire rages on
Northern Colorado fire rages on
Northern Colorado fire rages on
Northern Colorado fire rages on
Northern Colorado fire rages on
Northern Colorado fire rages on
Northern Colorado fire rages on
Northern Colorado fire rages on
Northern Colorado fire rages on
Northern Colorado fire rages on
Northern Colorado fire rages on
Northern Colorado fire rages on