(CNN) -- Roger Federer's clashes with Rafael Nadal and Novak Djokovic have become part of tennis legend, but the 16-time grand slam champion will renew one of his oldest rivalries on Sunday.
Seeking a record-extending sixth title at the Gerry Weber grass-court event in Germany, Federer will face the man who denied him a chance to play for an Olympic gold medal 12 years ago.
Former world No. 2 Tommy Haas continued his career rejuvenation on Saturday as he beat Nadal's conqueror and defending champion Philipp Kohlschreiber to reach the final in Halle.
The 34-year-old triumphed 7-6 (7-5) 7-5 against his younger, higher-ranked compatriot to set up his first clash with Federer since 2009.
The 30-year-old Swiss won both their meetings that season, in the fourth round at the French Open and then the semifinals at Wimbledon -- where Federer went on to win the grass grand slam for the sixth time. He holds a 10-2 career advantage over Haas.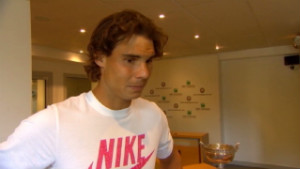 Rafael Nadal on French Open triumph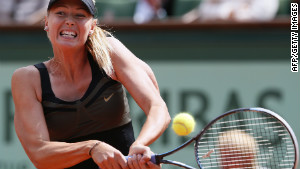 Sharapova: It's a special victory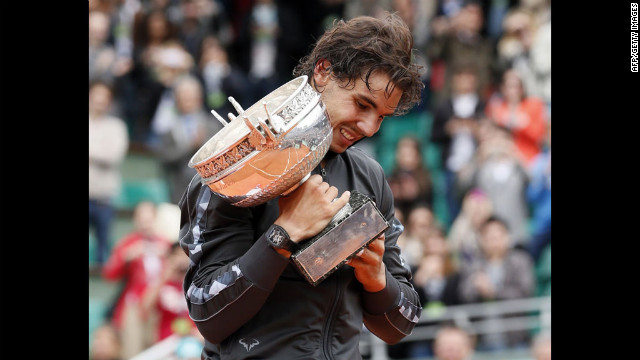 Rafael Nadal of Spain celebrates after beating Novak Djokovic of Serbia to win his seventh French Open title in Paris on Monday, June 11.
Djokovic and Nadal volley during Sunday's match, which was delayed twice because of rain and finished Monday.
Nadal returns to Djokovic, who is ranked No. 1 in the world.
Djokovic was going for the fourth and final entry in his Grand Slam, the first man in 43 years to do so.
Nadal dries his face during the third set of the match.
Djokovic leaves the court for a rain delay during the third set after officials haulted play during a downpour. The match was delayed a second time in the fourth set and finished Monday.
Nadal reaches and slides on the clay to return a ball from Djokovic.
Djokovic reacts in frustration late in the match against Nadal.
Nadal is embraced by friends and family in the stands after his victory.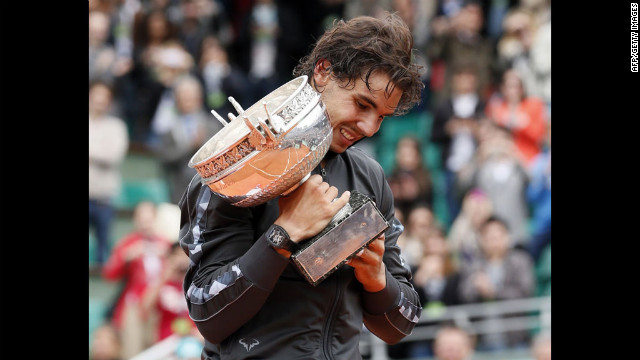 Rafael Nadal wins French Open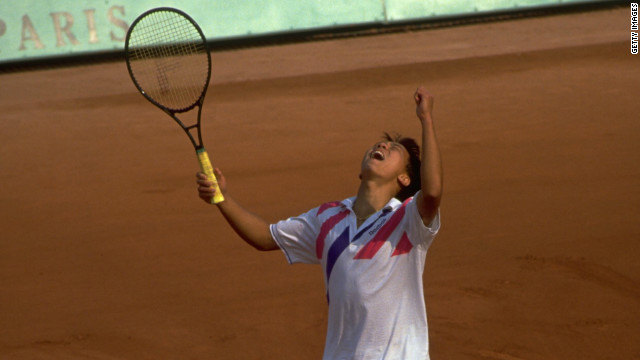 Michael Chang came through two epic five set wins over Ivan Lendl and Stefan Edberg to claim the 1989 French Open title.
World No.1 Ivan Lendl serves to Michael Chang during their extraordinary fourth round match at the French Open in 1989.
Michael Chang and Stefan Edberg contested a five-set final of the French Open at Roland Garros in 1989.
Michael Chang with winner Thomas Muster after the final of the French Open at Roland Garros in 1995.
Michael Chang with his wife of four years Amber Liu, herself a former Stanford University and collegiate tennis star. They have a young daughter.
Michael Chang remains the youngest grand slam winner in history as he claimed the French Open title in 1989 while still only 17.
Jeremy Lin has starred in the No.17 shirt for the New York Knicks this season before being hit by injury. The Chinese American has spoken with Michael Chang about their Christian beliefs and wider responsibilities.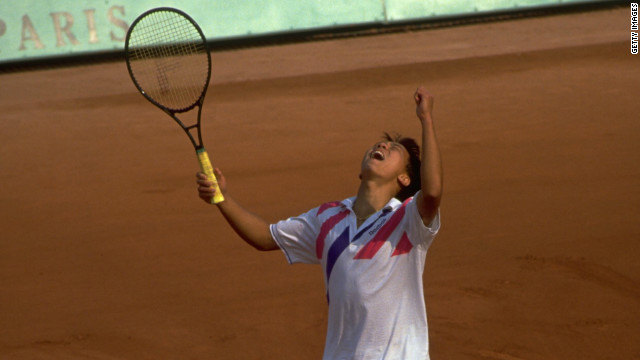 History man: Chang's 1989 French Open triumph
"Tommy and I share many years together on the tour and also our families are close," world No. 3 Federer said on the ATP Tour website after crushing Russia's Mikhail Youzhny 6-1 6-4 on Saturday to set up a chance of his 75th career title.
"I'm happy for him that he made it so far and beat such top players. I hoped that he'd find his way into the tournament and would have a good run. He's very dangerous on grass. So, it won't be an easy final for me."
Haas, who has struggled with injuries in recent years, won the event at Halle in 2009 -- the last of his 12 career titles. He has been runner-up in nine tournaments, including the 2000 Sydney Olympics -- where he beat a teenage Federer in the semis.
"To be in another final on German soil is fantastic for me," said Haas, now ranked 87th after reaching the third round at Roland Garros this month as a qualifier.
"It's something I really hoped for to happen one more time. I'm going for my 13th title tomorrow, which is one huge goal that I still have, against possibly the greatest player of all time."
Haas has twice lost to Federer in semifinals at Halle, in 2005 and 2006 as the Swiss won the title four years in a row.
"It's an honor in many ways, but at the same time, once the ball is in play, I really don't care who's on the other side. You just try to win those big points and try to win the match," said Haas, whose only other win over Federer came at the 2002 Australian Open as he reached the semifinals in Melbourne for the second of three times.
In the other men's Wimbledon warmup tournament at London's Queen's Club, Croatian sixth seed Marin Cilic will play veteran Argentine David Nalbandian in Sunday's final.
Cilic beat 2010 Queen's champion Sam Querrey of the U.S. 6-3 3-6 6-3 in Saturday's semifinals, while 2002 Wimbledon runner-up Nalbandian defeated young Bulgarian Grigor Dimitrov 6-4 6-4, as both matches were played in strong winds hitting the UK capital.
The women's tournament in England has been hit even harder by weather, with only one of four scheduled matches played by Saturday evening due to rain.
China's Jie Zheng, who was the first Asian player to reach at grand slam semifinal at Wimbledon in 2008, progressed to the semifinals in Birmingham after beating Italian fourth seed Roberta Vinci 6-3 5-7 6-4.
In Austria, Belgian second seed Yanina Wickmayer will play France's No. 2 Alize Cornet in Sunday's final of the Bad Gastein tournament.