Solo adventurer says she's relieved to be back on land
June 12, 2012 -- Updated 1104 GMT (1904 HKT)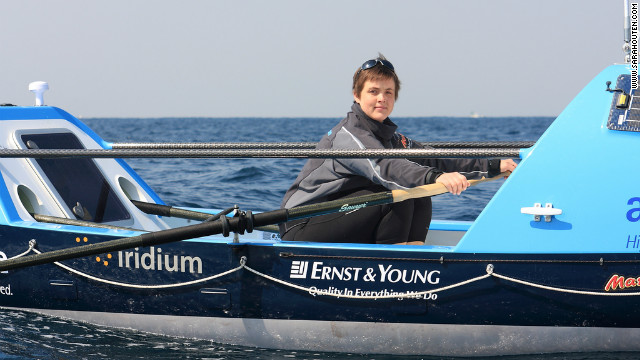 British adventurer Sarah Outen is seeking to become the first woman to row solo across the North Pacific.
Outen will cross the Pacific on a custom-made seven meter boat named Gulliver.
The Pacific crossing is part of a larger voyage that will see Outen circumnavigate the globe without the use of any mechanical engines.
She has travelled 11,000 miles so far, traversing Europe and Asia by bike and canoe.
If all goes to plan, the Pacific crossing will take roughly six months to complete.
Outen has prepared extensively for the physical and psychological challenges that face her, including boat capsizes and extreme weather.
Pacific rower
Traveling companion
London to London
On the road
Life at sea
Best preparations
STORY HIGHLIGHTS
Sarah Outen tweets a picture of herself from a Japanese hospital
Outen was attempting a round-the-world solo journey when her boat was damaged
She was rescued by the Japan Coast Guard, though her boat is still at sea
Another solo British rower is also rescued
(CNN) -- A British adventurer rescued after a failed attempt to sail solo around the globe says she is relieved to be back on land.
Sara Outen tweeted a photo of herself late Saturday from a Japanese hospital where she is undergoing evaluation after the nation's coast guard rescued her when her boat became disabled.
"Relieved to be back on land and with friends," Outen tweeted.
Outen began her solo circumnavigation April 1, 2011, in London with plans to cycle, row and kayak more than 20,000 miles. She hoped to finish in London in autumn 2013.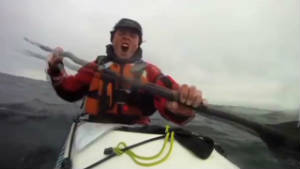 2011: British adventurer on 20,000-mile trek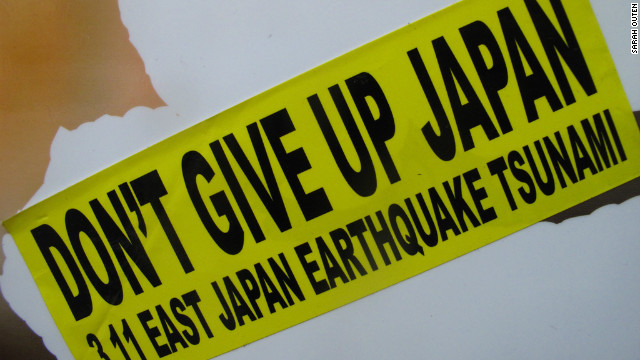 A poster encouraging people not to give up nearly one year after Japan was shattered by an earthquake and tsunami
One of the first tasks British adventurer Sarah Outen did was to help plant a memorial garden on the plot where a house once stood.
In Japan, people use this kind of breeze block altar with offerings to the dead
Two volunteers preparing to go in and bleach and scrub the wooden frames of a house.
Sarah Outen says that the tsunami has reduced part of the once crowded island to gaping holes.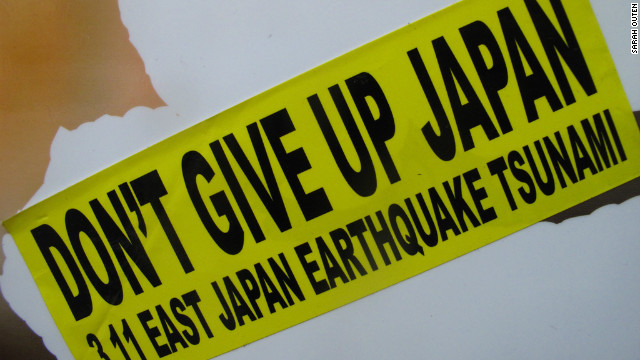 Volunteering in Ishinomaki, Tokyo
She was traveling alone when her boat was damaged during a tropical storm, rolling several times. A nearby merchant vessel and a coast guard plane kept watch on her until the rescue ship arrived.
Outen kept followers apprised of her ordeal in real time, tweeting from sea: "Focusing on calm trying2 block out wind and waves. Visualizing family and friends pulling us in."
More from Mainsail: The sailing world's hardest race
She was rescued Friday, though rough waters made it impossible for the Japan coast guard to tow her boat Gulliver back to port.
"As expected, due to adverse sea conditions, it was not possible to tow Gulliver back to land.," Outen's support team, London2London, said in a blog post Saturday. The team was "looking at options regarding Gulliver."
Outen was halfway to her goal when her boat was damaged. Her team says she has cycled and kayaked more than 11,000 miles, going through countries including Germany, Poland, Ukraine, Kazakhstan and China.
Meanwhile, a second solo British rower who was stranded about 280 miles northeast of where Outen was found has been rescued, according to his website.
Charlie Martell was attempting to row 6,000 miles across the Pacific when his boat was disabled by the same tropical storm that damaged Outen's Gulliver.
He was rescued late Friday by a Russian crew, his website said.
"Charlie spoke briefly to his support team to confirm that he is in good shape and uninjured, following a 36-hour wait since issuing the mayday signal," according to a posting on his website.
CNN's Kyung Lah in Tokyo contributed to this report.

Part of complete coverage on
MainSail
March 25, 2014 -- Updated 1238 GMT (2038 HKT)

Love the movie? Now you can charter the superyacht -- if you can stump up $125,000 a week.
March 18, 2014 -- Updated 1138 GMT (1938 HKT)

It's like a stunt from the latest James Bond movie, only this isn't a movie and there is no safety harness.
March 10, 2014 -- Updated 1305 GMT (2105 HKT)

The world's largest Viking warship is on display at the British Museum -- and it's enough to strike terror into your heart.
February 28, 2014 -- Updated 1247 GMT (2047 HKT)

It's an exclusive holiday home for the rich and famous -- and now Richard Branson has opened up his private island for a new photo book.
February 14, 2014 -- Updated 1833 GMT (0233 HKT)

In 1973, a dozen men set out on what would be the longest known raft voyage in human history, from Ecuador to Australia.
January 30, 2014 -- Updated 1409 GMT (2209 HKT)

After witnessing decades of incredible sailing innovations, renowned photographer Onne van der Wal now feels like he's an "astronaut of the sea."
January 24, 2014 -- Updated 1805 GMT (0205 HKT)

The tropical cruise was once the traditional getaway of the elderly retiree -- now it's a haven for metalheads.
January 13, 2014 -- Updated 1244 GMT (2044 HKT)

Having grown a big beard to ward off jellyfish during an epic swim, Sean Conway is now making his home on a rundown wartime vessel.
January 10, 2014 -- Updated 1147 GMT (1947 HKT)

Played by sailors in a brief window of opportunity once each year, this cricket match is never stopped by rain -- but the tide can be a problem.
December 12, 2013 -- Updated 1354 GMT (2154 HKT)

When you've spent 100 days alone on the high seas, battling sleep deprivation and monster waves, it can be difficult to adjust to life on land.
Today's five most popular stories