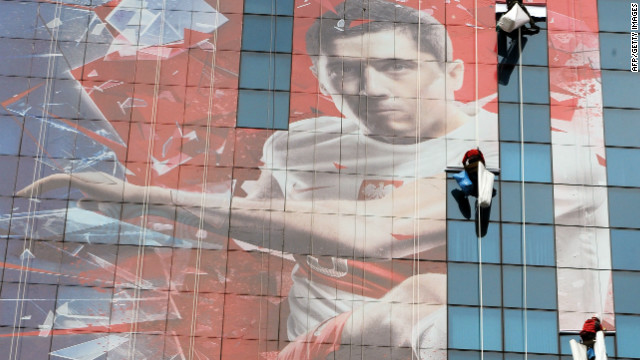 Poland will co-host the 2012 European Championship with Ukraine. Here, workers unfurl a banner of Poland's Germany-based striker Robert Lewandowski. The national team has had little to cheer about in recent years and slumped to 75th in FIFA's world rankings, their lowest ever position. But it hasn't always been that way.
In 1973 Poland traveled to Wembley to play England in a 1974 World Cup qualifier. Poland had not qualified for the finals since 1938; England had won it five years previously. England needed to win. No one gave Poland a chance. So much so that the legendary English coach Brian Clough, when asked about the Polish team, referred to goalkeeper Jan Tomaszewski as a "clown."
Tomaszewski went on to have the game of his life. England fired 30 shots on Poland's goal with Tomaszewski pulling off a string of fine saves.
The game finished 1-1. Poland qualified for the 1974 World Cup whilst England could only dream of what might have been. It was a huge shock, but the victory was just the beginning for Poland.
The team traveled to West Germany for the 1974 World Cup as underdogs but beat Argentina and Italy before losing to West Germany 1-0 in the semifinal. Poland finished third after beating Brazil in a playoff, and striker Grzegorz Lato won the golden boot.
Poland again qualified for the 1978 World Cup, this time in Argentina, and initially won their group containing West Germany. But South America wrought revenge for 1974. Brazil and Argentina beat Poland and they were sent home early.
But a new generation of players emerged as Poland qualified for their third World Cup in a row, this time in Spain in 1982.
After a goalless draw against Italy in their first game, the Poles set the tournament alight thanks to the scintillating forward play of Zbigniew Boniek. Boniek would score three goals against Belgium and his treble is considered one of the all-time greatest international hat-tricks.
Poland lost to eventual winners Italy in the semifinal but would beat France to clinch third place, the second time in three World Cups.
Back in Poland the political situation was changing too. Poland's communist government was being challenged for the first time by a new labor movement, Solidarity. Solidarity would play a crucial role in overthrowing communism seven years later.
By the time Poland reached Mexico '86, their fourth World Cup in a row, the team was a dying force. England destroyed the Poles, with striker Gary Lineker scoring a hat-trick in the group stage.
Boniek was reaching the end of his international career. And although they reached the second round, their 4-0 defeat to Brazil marked the end of the golden era of Polish football. It would be 16 years before Poland qualified for another World Cup.
Euro 2012 will see the spotlight fall on Poland. Many in the country see the tournament as an opportunity to show the world that it is now a leading European democracy.
Poland welcomes the world
The clown
One way traffic
Wembley heartbreak, Wembley joy
Worthy winners?
The trouble with South America
The second generation
Boniek emerges...
...but Italy win
In solidarity
The end of an era
The 16-year itch
The final countdown
STORY HIGHLIGHTS
Poland are co-hosting Euro 2012 and are keen to show they are a leading European democracy
Their current football team is at a low ebb but they enjoyed a golden spell during the 1970s and 80s
In 1974 their derided team gained a draw with England that sent them to the World Cup
Players like striker Zbigniew Boniek and goalkeeper Jan Tomaszewski were instrumental
(CNN) -- In the end it was the clown who had the last laugh.
In 1973, England prepared for a crucial World Cup qualifier against Poland, a team hidden behind the Iron Curtain of communism which had provided little footballing resistance in the recent past.
The East Europeans hadn't qualified for an international tournament since before the World War Two. Their players were unknowns, presumed inferior.
England, on the other hand, had won the World Cup on the very same Wembley pitch they were about to play on just seven years earlier. It was a team of stars coached by Sir Alf Ramsay. It was to be a cake walk.
Such was the mismatch that the iconic English coach Brian Clough dismissed Poland's goalkeeper Jan Tomaszewski as "a clown."
"Would you want him in your team every week?" asked the man who led Nottingham Forest to successive European Cup titles.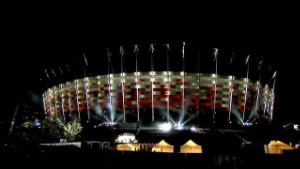 Long road to Euro 2012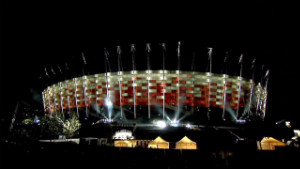 Euro 2012 preview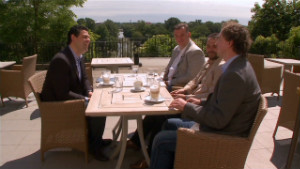 Who will win Euro 2012?
It was a phrase that followed Clough for the rest of his career. In front of 100,000 England fans, Poland held on to a 1-1 draw. "The Clown" had the game of his life and England failed to make it to West Germany 1974.
In fact, they wouldn't reach another World Cup for close to a decade.
But for the Poles, the draw was the beginning of a story that saw the national team strut on the international stage for another 13 years, taking them to two third-place World Cup finishes with a group of one of the most talented, and unheralded, groups of players Europe has ever produced.
"I remember everything of this match that opened for Poland the door to the world's football," recalls Zbigniew Boniek, the legendary Poland and Juventus forward who watched the match as a 17-year-old aspiring footballer back home.
"I remember every action of the goalkeeper, the anger of the England team that wasn't able to win and the spectacular counterattacks."
Poland's qualification for the 1974 World Cup seemed to come from nowhere.
"Poland hadn't qualified for a World Cup since 1938; they had no recent history," explains Jonathan Wilson, author of "Behind the Curtain," a book about football in Eastern Europe.
"They were just another bunch of Eastern Europeans to be beaten. England did have 30 chances, but the draw gave them (Poland) a boost of confidence. That momentum carried them on."
When Poland arrived at the 1974 World Cup, it was loaded with symbolism. It was hosted in West Germany just decades after Poland had been decimated by its Western neighbor during World War Two.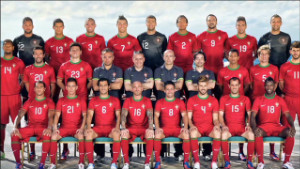 Can Ronaldo fire Portugal to Euro glory?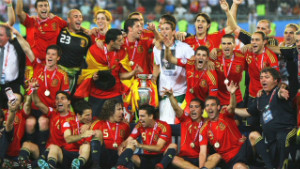 Can Spain win without Villa and Puyol?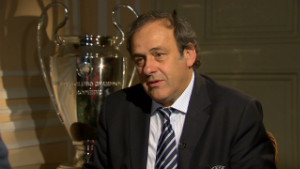 Platini: Officials to act against racism
While many consider the 1974 World Cup as the great coronation which announced the arrival of the Dutch and Rinus Michel's "Total Football," Poland excelled with equal creativity.
While Tomaszewski went from clown to being considered one of the best goalkeepers in Europe, up front the Poles had the legendary Gzegorz Lato. He would go on to score eight goals, winning the Golden Boot along the way.
They went all the way to the semifinals against West Germany. Poland lost that game 1-0 in treacherous conditions before winning the third-place playoff against the holders Brazil.
"I can remember one game where I've always maintained we beat a team which was fundamentally better than us. In fact, it was definitely the best team in the competition and still didn't win the World Cup. I mean Poland in 1974," the legendary Real Madrid and Germany defender Paul Breitner told FIFA's website.
"They had a better team at that World Cup than Germany, Holland, Brazil, or anyone else for that matter. The Poles had the best team in 1974."
"It's a way of kicking the Dutch!" laughs Wilson when asked about Breitner's comments, referencing the fierce footballing rivalry between the Germans and the Dutch.
"The Germans were still worthy winners. But could Poland have won the World Cup? Definitely. The game against West Germany could have gone either way."
Pulling the strings was legendary coach Kazimirez Gorski.
Heavily influenced by the tactical revolution taking place in the Netherlands and the Soviet Union, he took Poland to the 1972 Olympics and won gold there, nurturing a fast, counterattacking team and bringing through players like Lato, Kazimierz Deyna and Wlodzimierz Lubanski.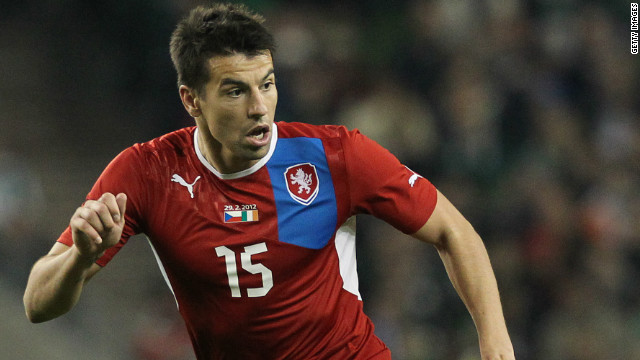 Czech Republic were solid in a kind qualifying group, finishing second to reigning champions Spain after conceding just eight goals in eight games. The Euro 1996 finalists' problems are in attack, where 30-year-old striker Milan Baros will be expected to provide a cutting edge.
Greece shocked the whole of Europe eight years ago, emerging from nowhere to be crowned Euro 2004 winners. One of the survivors of that team is midfielder Giorgos Karagounis, whose experience will be key if Greece are to reach the quarterfinals.
Co-hosts Poland boast one of Europe's most in-form strikers in the shape of Robert Lewandoski. The 23-year-old had a fine season with German champions Borussia Dortmund and he will be Poland's main goal threat in Group A.
The surprise inclusion in the Russia squad was uncapped CSKA Moscow defender Kirill Nababkin(left). Under Guus Hiddink in 2008, Russia enjoyed a run to the semifinals in Austria and Switzerland. Hiddink's compatriot Dick Advocaat will be hoping for a similar performance this year.
The star of the Denmark squad is young playmaker Christian Eriksen. The Ajax midfielder could earn a move to one of Europe's big clubs with an impressive showing in Poland and Ukraine.
Germany go into Euro 2012 with a squad full of proven international performers and as one of the favorites to lift the trophy. Coach Joachim Low's main concern will be midfielder Bastian Schweinsteiger, who is battling to be fit for Germany's first match against Portugal on June 9.
Netherland's Robin van Persie enters the four-yearly tournament off the back of a prolific season with Arsenal. In addition to Van Persie's firepower, the Euro 1988 winners also have Schalke hitman Klaas-Jan Huntelaar.
Portugal have exciting talents such as Real Madrid's Cristiano Ronaldo and Nani of Manchester United in wide positions, but Paulo Bento's team arguably lack a true goalscorer.
Croatia impressed many spectators with their performances at Euro 2008, before being eliminated in the quarterfinals by Turkey. Luka Modric was their stand-out performer four years ago, and the pressure will be on the midfelder once again in June.
Italy's preparations for Euro 2012 might have been hit by a recent match-fixing investigation, but in striker Mario Balotelli, who has been handed the No. 9 shirt, the Azzurri have a player who could, if he's in the right mood, be the star of the tournament.
Giovanni Trapattoni's Ireland qualified for Euro 2012 courtesy of a strong defence. In a group which includes multiple attacking threats, Richard Dunne will be key to Ireland's chances of reaching the quarterfinals.
An injury to David Villa has opened the door for Fernando Torres to spearhead reigning champions Spain's challenge. Can the Chelsea striker put a difficult couple of years behind him and produce another European Championship-winning goal?
England will be without striker Wayne Rooney for the first two matches of the tournament due to suspension. Can new coach Roy Hodgson adapt and navigate his team out of a tricky group?
Striker Olivier Giroud enjoyed an impressive campaign in the French Ligue 1, playing a key part of Montpellier's championship-winning team. Can the 25-year-old usurp Real Madrid's Karim Benzema as Laurent Blanc's first-choice striker?
Sweden's challenge will be led by the unpredictable talents of AC Milan's Zlatan Ibrahimovic. Despite world-class performances at club level, the striker has so far failed to convince on the international stage.
Ukraine legend Andriy Shevchenko (left) will be taking part in his final international tournament and the former AC Milan striker will be hoping to go out with a bang in front of his home fans.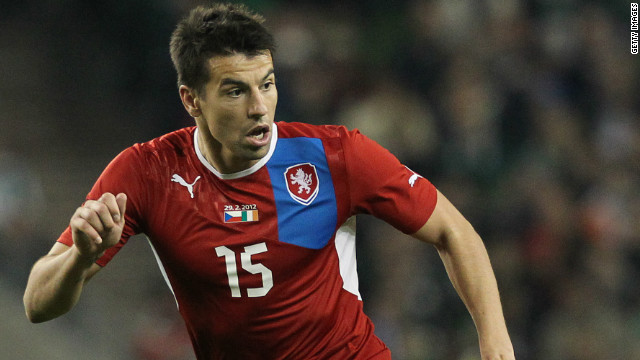 Euro 2012: Key players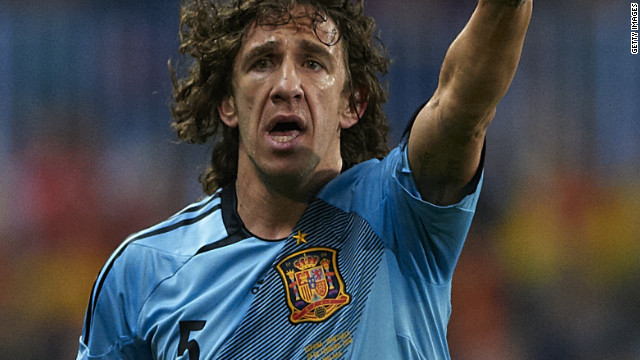 Defending champions Spain will be without injured defender Carles Puyol, pictured, and his Barcelona teammate David Villa -- La Roja's all-time leading scorer -- for the Euro 2012 finals.
Gareth Barry was the first England player to drop out of Roy Hodgson's England squad for Euro 2012 after injuring his groin in the friendly win over Norway.
England's Chelsea midfielder Frank Lampard was ruled out of Euro 2012 after picking up a thigh injury in training.
Everton's England international midfielder Jack Rodwell has suffered six hamstring injuries this season.
Ukraine's Shakhtar Donetsk defender Dmytro Chygrynskiy has been troubled by thigh injuries this season and will not be available for the Euro 2012 co-hosts.
Striker Ivica Olic was ruled out of Croatia's Euro 2012 squad after rupturing a thigh muscle in the 1-1 friendly draw with Norway.
Striker Loic Remy suffered a thigh injury playing for Marseille against Auxerre in May which has ruled him out of the finals. Remy had played a key role in qualifying, featuring in seven of France's 10 matches.
Sweden will be without Manchester City's John Guidetti after the striker suffered a muscle injury while on loan at Feyenoord. Guidetti scored 20 league goals for the Dutch side, including three hat-tricks in four matches.
Germany midfielder Bastian Schweinsteiger injured his thigh in Bayern Munich's Champions League final defeat to Chelsea on May 19 but is fit to play at Euro 2012.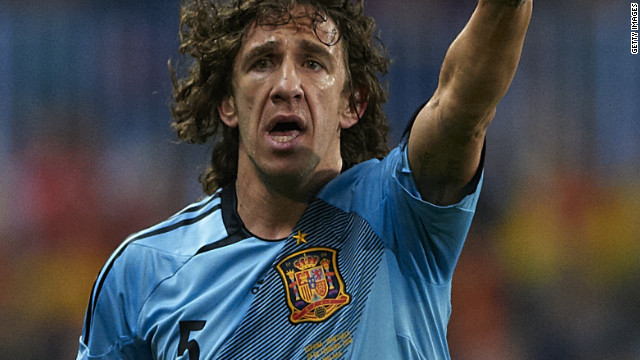 Injured stars to miss Euro 2012 finals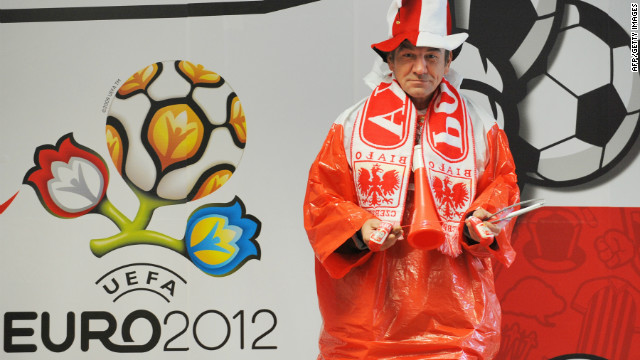 Euro 2012 kicks off on Friday in Warsaw with a match between co-hosts Poland and 2004 champions Greece.
Italy captain Gianluigi Buffon might have been playing at Euro 2012 in front of his home fans if not for the match-fixing scandal that erupted before the tournament hosts were named in 2007.
Instead the joint bid from Ukraine and Poland, which had been third favorite out of three candidates, was awarded the event. Here former Ukrainian President Victor Yushchenko (R) exchanges a signed trade agreement with his Polish counterpart Lech Kaczynski in Warsaw.
Yushchenko and Prime Minister Yulia Tymoshenko -- seen here with Polish counterpart Donald Tusk (R) -- had come to power on the back of Ukraine's Orange Revolution.
Yushchenko survived an alleged poisoning attempt during the uprising, but lost out to Victor Yanukovych in the 2010 elections.
Tymoshenko is currently in prison, having been found guilty of abuse of power when in office. Her treatment since then has led to several European political leaders saying they will boycott Euro 2012.
The tournament has long been a difficult issue for European football's ruling body UEFA. Its president Michel Platini warned as early as 2008 that the hosts had much work to complete.
Stadiums such as this one in the Ukrainian city of Lviv had to be built from scratch, and there were also major concerns about both countries' infrastructure.
However, the preparations have been completed and Kiev's Olympic stadium will host the final on July 1.
Fears have been raised about visiting supporters' safety after reports highlighting brutality by Ukrainian police and violence by racist fans in both host nations.
Spanish supporters hope the 2010 World Cup winners can make history by defending their 2008 European title and become the first to win three successive major championships.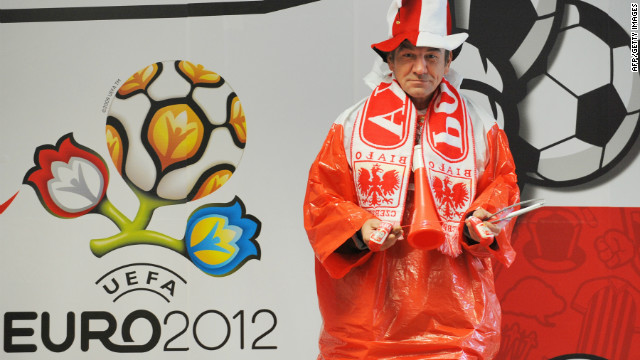 Euro 2012: A complicated adventure
"He seems to have been a very avuncular figure, a real father figure," explains Wilson. "He actually involved them in the decision-making process.
"Communism needed a vigorous hierarchy, you couldn't questions things or speak spontaneously. But Gorski encouraged that, the balance of authority and respecting views."
One player who was brought into the Poland team by Gorski was Boniek. It was one of his final acts as coach.
"He is the symbol of Poland," Boniek told CNN. "He was the first coach that made us believe (we coul)] rise to world levels. He was a hero and now that he's gone he has become a legend."
The 1978 World Cup in Argentina will always be tainted with the accusations of corruption leveled at the ruling Junta. Boniek too felt that Poland's cause wasn't helped by having to play the hosts.
"The Poland team of 1978 was the greatest Polish team of all time," he believes. "(But) we ended up politically in a very difficult ground. Argentina played at home and for that reason it was very protected."
After a strong start, topping a group ahead of West Germany, Poland headed into the second pool phase where Argentina thrashed Peru 6-0.
At the 1978 World Cup, the two top teams in each group contested the final and that controversial result, coupled with losses against the hosts and later Brazil, made it impossible for Poland to qualify.
Yet the team bounced back for the 1982 World Cup in Spain where Boniek made his name, scoring a hat-trick against Belgium. Poland again finished third at what is today regarded as one of the greatest World Cups of all time.
"Let's say that the match against Belgium is my business card," says Boniek. "We were compact, a great group. There weren't those champions of '74 and '78 but we played great football."
I remember everything of this match that opened for Poland the door to the world's football
Zbigniew Boniek on Poland's 1-1 draw with England in 1974
It was more than just football that was changing in Poland.
The late 1970s and early 1980s saw the emergence of Lech Walesa, a Polish dock worker whose Solidarity trade union movement would rise from the Gdansk shipyards on the Baltic Sea and strike the first nail into communism's coffin.
"Communism had a great impact on the football," explains Michal Zachodny, a Polish football journalist and prominent blogger.
"Look at each (local) club and every single one of them was supported by a factory, local branch (of the Communist Party), police, army. It was very influential. It (football) was almost a fight between the authorities."
"The communist regime always wanted to put its face on every sporting success," recalls Boniek. "But we wanted to play football and so we weren't interested in this."
As communism's grip loosened in Poland, the national football team began to fade. Boniek's Poland did qualify fora fourth consecutive World Cup at Mexico in 1986 but lost heavily to England before being beaten convincingly by Brazil 4-1.
They would not make another World Cup for 16 years.
Poland had a better team at that World Cup than Germany, Holland, Brazil, or anyone else for that matter. The Poles had the best team in 1974
Former Germany defender Paul Breitner
But their grace on the international stage during two golden generations of players will never be forgotten in Poland. In fact, for some like Zachodny it is not forgotten too often.
"The heroes of past years are remembered well," he says.
"Still the Polish media are matching the current squad, club teams and individuals to the ones that have graced the pitch 30, 40 years ago ... there is a spirit of the '70s and '80s that allows us to recall the glory and link to it at every occasion. Poles do that very often, believe me!"
But now Poland is preparing to host its first major international tournament since the fall of communism.
For the Poles, Euro 2012 is something of a coming of age party, a chance to show the world it has moved on from its communist past.
"Poland is not becoming a leading European nation," says Boniek. "Poland already is a (leading) European nation, 100%. For some aspects it could be a model for other nations."
All that has been missing has been a football team to match Poland's incredible political and economic growth of the past two decades. And maybe even the perpetually skeptical Poles have reason to hope.
Whereas some of the last crop of top players decided to play for Germany rather than Poland -- such as Miroslav Klose and Lukas Podolski -- in Borussia Dortmund's striker Robert Lewandowski and captain Jakub "Kuba" Blaszczykowski the country has two players that would grace any team at the Euros.
"In the past Poland's football team was stronger, maybe because life for children is different. And also because they don't have the same tenacity that we had in the past," says Boniek.
"But in the end (to) win against Poland at home will be always very difficult."
When the Poland national team walk out on to the pitch at their stunning new national stadium in Warsaw on Friday, they will walk with the ghosts of the past in more ways than one.