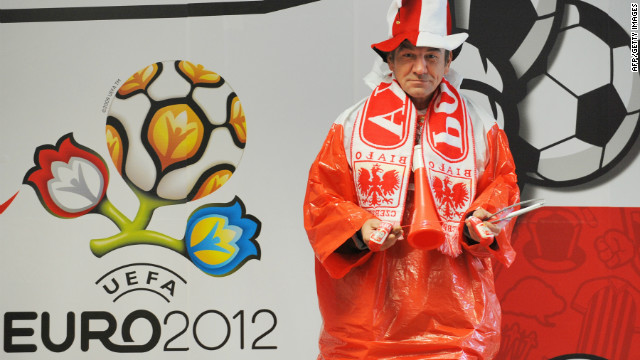 Euro 2012 kicks off on Friday in Warsaw with a match between co-hosts Poland and 2004 champions Greece.
Italy captain Gianluigi Buffon might have been playing at Euro 2012 in front of his home fans if not for the match-fixing scandal that erupted before the tournament hosts were named in 2007.
Instead the joint bid from Ukraine and Poland, which had been third favorite out of three candidates, was awarded the event. Here former Ukrainian President Victor Yushchenko (R) exchanges a signed trade agreement with his Polish counterpart Lech Kaczynski in Warsaw.
Yushchenko and Prime Minister Yulia Tymoshenko -- seen here with Polish counterpart Donald Tusk (R) -- had come to power on the back of Ukraine's Orange Revolution.
Yushchenko survived an alleged poisoning attempt during the uprising, but lost out to Victor Yanukovych in the 2010 elections.
Tymoshenko is currently in prison, having been found guilty of abuse of power when in office. Her treatment since then has led to several European political leaders saying they will boycott Euro 2012.
The tournament has long been a difficult issue for European football's ruling body UEFA. Its president Michel Platini warned as early as 2008 that the hosts had much work to complete.
Stadiums such as this one in the Ukrainian city of Lviv had to be built from scratch, and there were also major concerns about both countries' infrastructure.
However, the preparations have been completed and Kiev's Olympic stadium will host the final on July 1.
Fears have been raised about visiting supporters' safety after reports highlighting brutality by Ukrainian police and violence by racist fans in both host nations.
Spanish supporters hope the 2010 World Cup winners can make history by defending their 2008 European title and become the first to win three successive major championships.
STORY HIGHLIGHTS
Euro 2012 kicks off on June 8, with 16 nations taking part
Buildup to the four-yearly tournament has been difficult for the co-hosts
There have been fears that infrastructure in Ukraine will not be sufficient
Country has also been criticized over human rights and racist football fans
(CNN) -- If the pre-vote predictions had been accurate, football heavyweights Italy would be preparing to host the 2012 European Championship.
It wasn't a shock on the scale of Qatar's swoop for the 2022 World Cup, but the joint bid from Poland and Ukraine was at one stage considered third favorite to host Euro 2012 -- out of three candidates.
But taking advantage of the hooliganism and match-fixing allegations making ugly headlines in Italy back in 2007, Poland and Ukraine stole up on the outside to pip both the 1968 champions and another joint bid from Hungary and Croatia to the honor.
Racism, rather than Ronaldo and Ribery, dominates Euro 2012 storylines
Fulfilling UEFA chief Michel Platini's ambition of balancing the power in European football, this will be the first major football tournament in the former Iron Curtain.
But as early as 2008, Platini was telling Ukraine to "get going" as the building of new stadiums and improvements in the transport network slipped behind schedule. At one stage, there was even talk of Scotland stepping in as emergency host.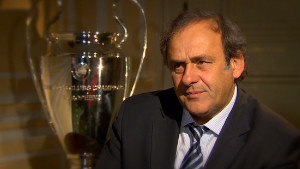 Platini: Bayern, Chelsea worthy of final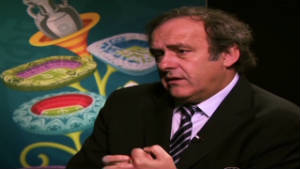 Platini: Blatter racism claims 'clumsy'
By the end of 2011, Platini was diplomatically describing the buildup as a "complicated adventure."
"Difficult births often lead to beautiful babies," the French football great concluded in March as Poland and Ukraine finally declared they would be ready for the June 8 kickoff when an estimated worldwide audience of at least 150 million is expected to be watching.
Only time will tell whether Platini will return to UEFA's headquarters in Switzerland a proud father.
Most major sporting tournaments experience a rocky buildup, Poland and Ukraine's has been at the turbulent end of the scale -- understandably so, given the countries' lack of major event experience coupled with ambitious improvement plans that are reported to have cost $38 billion combined.
The stadia are breathtaking. Five of the eight on show during the tournament are brand new, and the existing venues in Kiev, Donetsk and Kharkiv have undergone major developments.
The 50,000-capacity, newly-constructed National Stadium in Warsaw will host the opening game between Poland and Greece.
Kiev's 60,000-capacity Olympic Stadium, which began life in 1923 as the Red Stadium of Lev Trotsky and hosted games during the 1980 Moscow Olympics, has been completely renovated with a new transparent roof and will host the final on July 1.
While the venues have been tested, the transport network will come under scrutiny for the first time when an estimated one million fans descend on the two countries.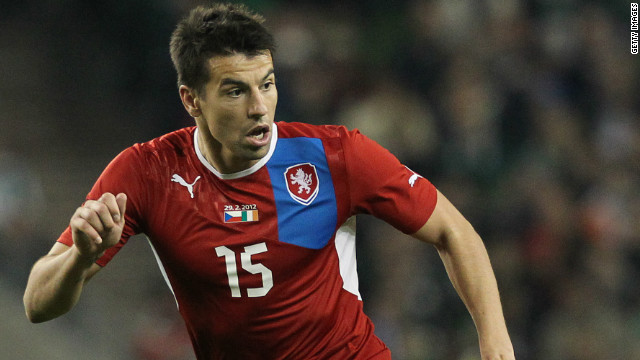 Czech Republic were solid in a kind qualifying group, finishing second to reigning champions Spain after conceding just eight goals in eight games. The Euro 1996 finalists' problems are in attack, where 30-year-old striker Milan Baros will be expected to provide a cutting edge.
Greece shocked the whole of Europe eight years ago, emerging from nowhere to be crowned Euro 2004 winners. One of the survivors of that team is midfielder Giorgos Karagounis, whose experience will be key if Greece are to reach the quarterfinals.
Co-hosts Poland boast one of Europe's most in-form strikers in the shape of Robert Lewandoski. The 23-year-old had a fine season with German champions Borussia Dortmund and he will be Poland's main goal threat in Group A.
The surprise inclusion in the Russia squad was uncapped CSKA Moscow defender Kirill Nababkin(left). Under Guus Hiddink in 2008, Russia enjoyed a run to the semifinals in Austria and Switzerland. Hiddink's compatriot Dick Advocaat will be hoping for a similar performance this year.
The star of the Denmark squad is young playmaker Christian Eriksen. The Ajax midfielder could earn a move to one of Europe's big clubs with an impressive showing in Poland and Ukraine.
Germany go into Euro 2012 with a squad full of proven international performers and as one of the favorites to lift the trophy. Coach Joachim Low's main concern will be midfielder Bastian Schweinsteiger, who is battling to be fit for Germany's first match against Portugal on June 9.
Netherland's Robin van Persie enters the four-yearly tournament off the back of a prolific season with Arsenal. In addition to Van Persie's firepower, the Euro 1988 winners also have Schalke hitman Klaas-Jan Huntelaar.
Portugal have exciting talents such as Real Madrid's Cristiano Ronaldo and Nani of Manchester United in wide positions, but Paulo Bento's team arguably lack a true goalscorer.
Croatia impressed many spectators with their performances at Euro 2008, before being eliminated in the quarterfinals by Turkey. Luka Modric was their stand-out performer four years ago, and the pressure will be on the midfelder once again in June.
Italy's preparations for Euro 2012 might have been hit by a recent match-fixing investigation, but in striker Mario Balotelli, who has been handed the No. 9 shirt, the Azzurri have a player who could, if he's in the right mood, be the star of the tournament.
Giovanni Trapattoni's Ireland qualified for Euro 2012 courtesy of a strong defence. In a group which includes multiple attacking threats, Richard Dunne will be key to Ireland's chances of reaching the quarterfinals.
An injury to David Villa has opened the door for Fernando Torres to spearhead reigning champions Spain's challenge. Can the Chelsea striker put a difficult couple of years behind him and produce another European Championship-winning goal?
England will be without striker Wayne Rooney for the first two matches of the tournament due to suspension. Can new coach Roy Hodgson adapt and navigate his team out of a tricky group?
Striker Olivier Giroud enjoyed an impressive campaign in the French Ligue 1, playing a key part of Montpellier's championship-winning team. Can the 25-year-old usurp Real Madrid's Karim Benzema as Laurent Blanc's first-choice striker?
Sweden's challenge will be led by the unpredictable talents of AC Milan's Zlatan Ibrahimovic. Despite world-class performances at club level, the striker has so far failed to convince on the international stage.
Ukraine legend Andriy Shevchenko (left) will be taking part in his final international tournament and the former AC Milan striker will be hoping to go out with a bang in front of his home fans.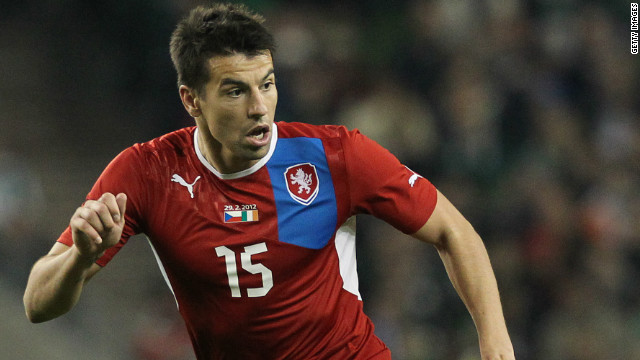 Euro 2012: Key players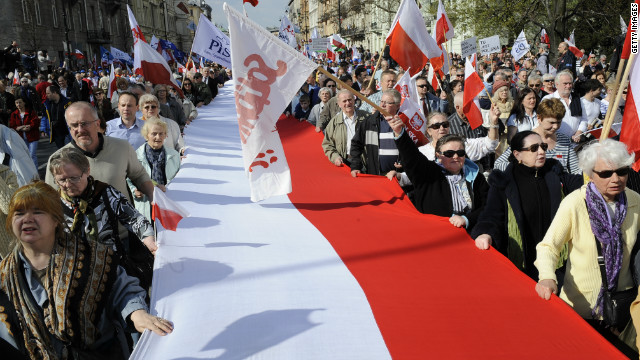 Poland declared independence in 1918 following more than 120 years when it came under Russian, Prussian, and Austrian rule. Nazi Germany's invasion of Poland in 1939 sparked the Second World War, during which six million Poles died, including the majority of its Jewish population. After the war Poland became a communist state and member of the Warsaw Pact. In 1989, it became the first member of the Soviet bloc to establish a non-communist government and joined the European Union in 2004.


A modern hub for locals and tourists the iconic square was often a site for demonstrations during Poland's tumultuous history. It was rebuilt after the Second World War.
Part of the capital's Old Town, Castle Square is home to the Royal Castle, the official residence of Polish monarchs, and the King Sigismund III Vasa column, the oldest monument in the city.
The Bialowieza forest in northeastern Poland preserves nature as it was a few centuries ago, with bison, ancient trees and rare plants. Aside from its beautiful architecture, Poland also has a wealth of lakes, mountains, and forests that are home to animal species otherwise extinct in Europe.
Located in the center of Krakow's Old Town, Market Square is one of the largest medieval squares in Europe, dating back to the 13th century. It hosts several of the city's historical landmarks, including the Renaissance Sukiennice (ancient cloth market), St. Mary's Basilica, and the Town Hall Tower. It is listed as a UNESCO World Heritage Site.
In Poland's first years of EU membership, over 800,000 Poles left every year to work in other -- mainly Western -- EU countries where wages were higher. But according to recent research by Poland's Central Statistics Office, this tide of emigres has stemmed and an increasing number of Polish nationals have remained in the country since 2008. Poland is the only economy in the European Union to avoid going into recession since the 2008 financial crisis.
Meet Slavek and Slavko, the 2012 European Cup twin mascots. Poland and Ukraine are co-hosting the football championships, which will kick off in Warsaw on June 8. Wearing the red and white colors of the Polish national team uniform, Slavek represents Poland.
In 2010, President Lech Kaczynski and 95 others, including many of the country's top leaders, died in a plane crash in Russia. They were on their way to commemorate the 70th anniversary of the Russian massacre of Polish prisoners of war in the village of Katyn. Following Kaczynski's death, Bronislaw Komorowski was elected as the country's president for a five year term.
The gates of Auschwitz-Birkenau, the largest and most notorious concentration and extermination camp of Germany's Nazi regime. Declared a UNESCO World Heritage Site in 1979, 1.5 million people, the majority of them Jewish, were starved, tortured and murdered within its walls.
More than 90% of Poland's population is Roman Catholic. The late John Paul II served as Pope from 1978 until his death in 2005. The only Polish pope to date and the third-longest serving pontiff, he was one of the most influential figures of the 20th century, credited with helping end communism in his native Poland and Europe. He traveled extensively during his pontificate, visiting over 120 countries and delivering more than 2,000 speeches.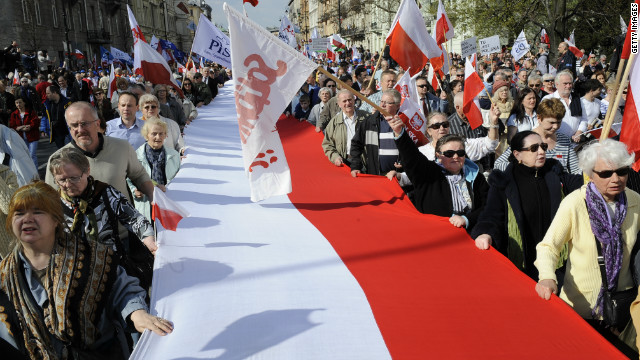 Eye on Poland
Ukraine faces a race against time to complete the planned 1,750 kilometers of new roads in time for the start of the tournament. It has also shipped in high-speed trains from South Korea to ease travel between the two host countries.
Poland has already accepted that some of its transport improvements -- including the construction of 750 km of new motorways -- may not be ready.
"We know not everything will be completed in time for Euro 2012," Poland 2012 communications director Mikolaj Piotrowski told CNN late last year.
"But today we can say that a lot of important investment projects will be completed three to five years sooner than without the Euros scenario, so I think it was worth it to see Michel Platini opening the envelope in Cardiff in 2007."
If getting around should be manageable for fans, finding somewhere affordable to stay once they get to their destination is an altogether trickier task.
England -- traditionally one of the best-supported European teams -- failed to sell out its original allocation of tickets for its group games in Kiev and Donetsk, with many fans opting to stay at home as Ukrainian hotel owners seek to make hay from the tournament by ramping up prices. In April the Football Supporters' Federation said fans were being quoted as much as $1,000 a night for a three-star room.
The England team avoided that problem by choosing a base in Krakow, Poland -- even though it will mean thousands of miles of travel between the two countries.
If it isn't financial concerns putting off fans, it is the fear of the kind of reception they'll get. The English Foreign Office warns that there has been a recent "increase in hostility" toward gay people in Ukraine and that "travelers of Asian or Afro-Caribbean descent and individuals belonging to religious minorities should take extra care."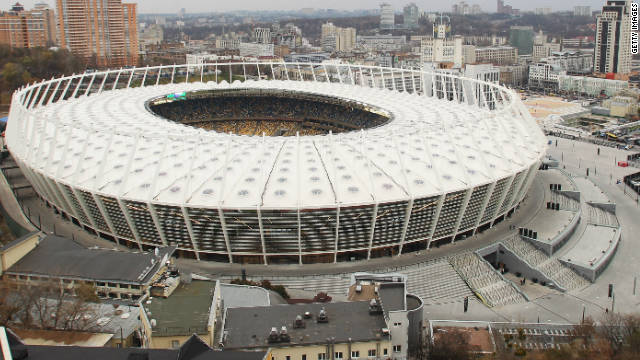 All 16 competing nations at Euro 2012 will head to Poland and Ukraine next year dreaming of reaching the final at Kiev's Olympic Stadium on July 1. The venue in the Ukrainian capital has been renovated ahead of the championship, having originally been constructed in the 1920's. In addtion to the final, the Olympic Stadium will also host a quarterfinal and some Group D matches.
The Donbass Arena in Donetsk is home to Ukrainian champions and 2009 UEFA Cup winners Shakhtar Donetsk. Opened in August 2009, the stadium will host a semifinal, quarterfinal and Group D matches.
The National Stadium in the Polish capital of Warsaw has a capacity of over 58,000 and will play host to a semifinal, a quarterfinal and Group A matches. Euro 2012 will kick-off at the newly-built arena on June 8.
Work began on the 43,000-seater Arena Gdansk in 2008, with the stadium now the home of Polish team Lechia Gdansk having opened in August 2011. The stadium will host a quarterfinal and three Group C matches.
The Ukrayina Stadium is home to Ukrainian outfit Karpaty Lviv and is pictured here during an explosive opening ceremony in October 2011. The arena holds just under 35,000 fans and will be the venue for three Group B ties.
The Kharkiv Stadium is the home ground of Ukrainian team Metalist Kharkiv and was renovated ahead of next year's tournament. The venue for three Group B matches, the ground can hold 38,000 fans.
The Miejski Stadium was originally built in 1980, but the arena in the Polish city of Poznan has been updated for Euro 2012. It is the home of Lech Poznan and will stage three Group C matches.
The Municipal Stadium in Wroclaw holds 42,000 fans and will be the venue for three Group A clashes. Home to Polish team Slask Wroclaw, the arena was opened in September.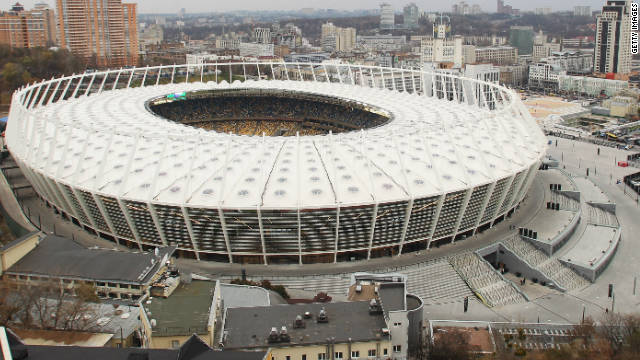 The stadiums of Euro 2012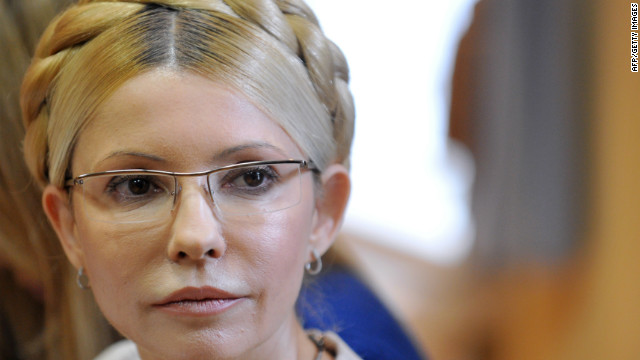 Next month sees the start of football's European Championships, arguably the toughest competition in world football. Ukraine will co-host the event with Poland, but it has been overshadowed by the treatment of former Prime Minister Yulia Tymoshenko, who has been in prison since last October on charges of abuse of power.
It is alleged by Tymoshenko's supporters that charges against the former prime minister, who came to the fore during the Orange Revolution that swept Ukraine in 2004 and 2005, are politically motivated, trumped up by current president Viktor Yanukovych. They also allege that Tymoshenko was beaten while in prison.
CNN spoke to Tymoshenko's daughter Eugenia about her mother's detention and alleged beating. The pictures caused a political firestorm, with many European leaders now boycotting the tournament.
Dozens of European political figures have boycotted the event in protest at Tymoshenko's treatment, including the EU president and head of the EU commission Jose Manuel Barroso. Barroso is pictured here receiving an official Euro 2012 match ball from President Yanukovych just 18 months ago.
The controversy is a far cry from the euphoria that followed the Orange Revolution in 2004 and 2005. The uprising was sparked when Viktor Yushchenko lost the presidential election to the then prime minister Viktor Yanukovych after alleged voter fraud.
Yushchenko was taken seriously ill during the uprising. His supporters alleged that he was deliberately poisoned to prevent him winning the election. But he survived and, after the allegations of vote fraud had provoked massive street protests, a new round of voting took place which Yushchenko won.
Although Yushchenko had won the election it was the blonde-haired figure of Tymoshenko that captured the public's attention. She was appointed prime minister in the new government.
Here Tymoshenko meets with Polish Prime Minister Donald Tusk. Although it was all smiles on the international stage, domestically Tymoshenko and President Yushchenko were locked in a bitter power struggle.
The Ukrainian people had had enough of the infighting, and made a decisive decision in the 2010 presidential elections. Yushchenko received just 5% of the vote while Tymoshenko narrowly lost to Yanukovych, who had lost the 2004 election. This time international observers judged the election to be free and fair.
Preparations for Euro 2012 did not run smoothly. The new president promised to allay UEFA's concerns over the slow building work. Here Ukrainian riot police practice ahead of the arrival of tens of thousands of football fans from across Europe. But there are still some worries. Amnesty International issued a warning to fans that Ukraine's police exhibited "criminal" behavior.
The preparations were completed and Ukraine now awaits the biggest sporting event to ever take place in the country's history. But how many European heads of state will actually turn up for the final at the $500 million Olympic Stadium in the capital Kiev on July 1?
That will largely depend on the fate of Tymoshenko, pictured here kissing her daughter Eugenia goodbye after being convicted last year. Germany's Chancellor Angela Merkel is one of several politicians watching and waiting before making a decision.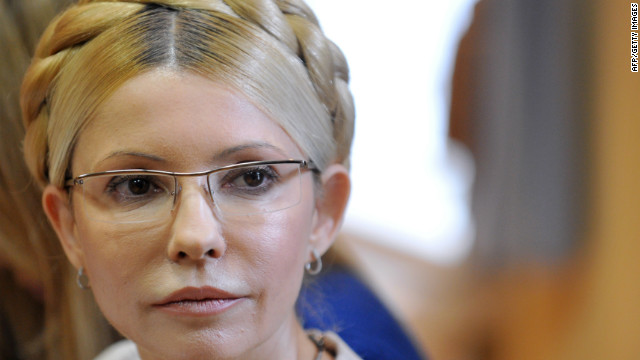 From Orange Revolution to Euro 2012
The families of black England players Theo Walcott and Alex Oxlade-Chamberlain have already decided against traveling to Ukraine -- and that was before a BBC documentary highlighting racism and violence in the host countries was screened
"It's a major concern," said Oxlade-Chamberlain's father Mark, himself a former England player. "I think your safety is more important than a game of football."
Poland, too, has suffered serious problems with racism.
"Monkey chanting, banana throwing, that has happened in Polish matches unfortunately," Rafal Pankowski from the campaign group Never Again told CNN.
"We want to use the Championships to highlight some of the issues and make a difference in a positive way in terms of anti-racism education."
A series of bomb blasts in Dnipropetrovsk, Ukraine's fourth largest city, in late April only added to the pervading nervousness over traveling to the country, while several EU leaders will boycott the tournament over Ukraine's treatment of imprisoned opposition leader Yulia Tymoshenko.
Amnesty International, meanwhile, has warned of "widespread police criminality" in Ukraine, leading to concerns that any crowd trouble could be met with a particularly brutal response.
UEFA has always accepted that giving Euro 2012 to Poland and Ukraine was a risk.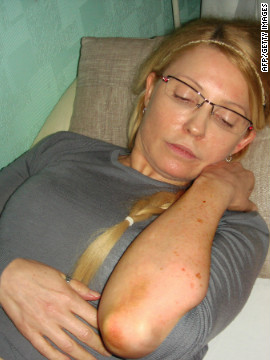 Former Ukraine prime minister Yulia Tymoshenko is serving a seven-year jail sentence for abuse of office and faces another trial on tax evasion charges. The 51-year-old displays bruises she claims were inflicted by prison guards. Government officials deny the claims.
Tymoshenko's husband Oleksander and daughter Yevgenia hold a news conference to rally support. Yevgenia claims her mother's life is in danger since starting a hunger strike more than a week ago.
A police guard stands outside Tymoshenko's cell at the Kachanivska prison in Kharkiv. Her supporters have called on president Victor Yanukovych to quit in the wake of allegations of abuse.
Thousands of supporters and opponents rallied outside Tymoshenko's latest court hearing in Kharkiv on April 28. The mixed turnout shows how divisive Tymoshenko still remains in Ukraine after a spell in government that began with hopes of pro-Western reforms and ended with allegations of corruption.
Police experts examine one of the explosion sites in Dnipropetrovsk, where four bombs were let off in rubbish bins on Friday. At least 30 people were injured, raising serious concerns over safety at next month's European Championships.
Pressure is mounting on president Viktor Yankovych to clean up the country's human rights record. Following last week's bomb blasts, UEFA took the unprecedented step of raising political concerns with the host country.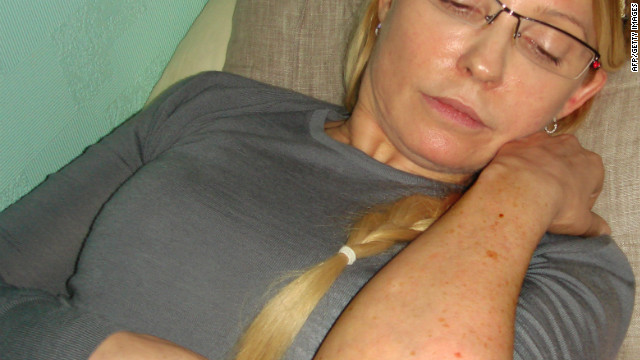 EU leaders snub Euro 2012 over Ukraine human rights row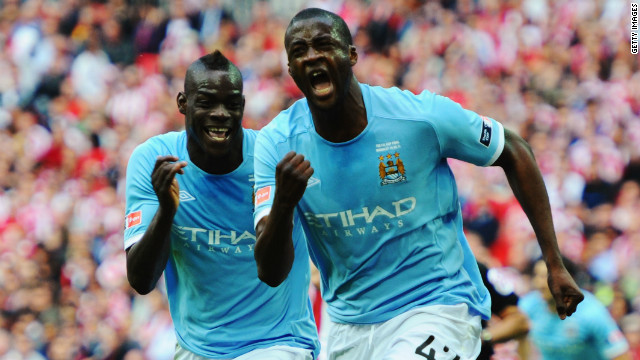 Porto's fine after its fans made monkey chants at Manchester City's Mario Balotelli and Yaya Toure was less than the English club's punishment for being late on the field in another match.
European football's ruling body UEFA has run a "Unite Against Racism" campaign in recent years.
Three-time world player of the year Lionel Messi with a mascot wearing an anti-racism shirt ahead of Barcelona's UEFA Champions League match against Czech team Viktoria Plzen in October 2011.
Manchester City took part in the campaign in 2009 when its players and mascots wore Unite Against Racism t-shirts for a home match against Polish club Lech Poznan.
UEFA has worked closely with the group Football Against Racism in Europe since 2001. FARE members will be patrolling matches at the Euro 2012 finals looking for evidence of racist behavior.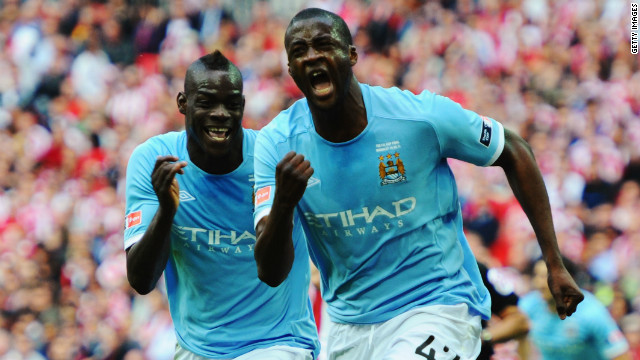 UEFA's fight against racism
"From the beginning, it was a big challenge to go to Poland and Ukraine," Platini told CNN last month. "Four years ago when all the signs were red, red, red -- stadium, roads, accommodation -- it was not easy.
"But I say it was a good risk."
And Kiev could witness a historic moment if Spain can follow up 2008's victory and become the first team to successfully defend the title since the tournament began 52 years ago.
On a lighter note, we await the predictions of Ukraine's "Psychic Pig" and Poland's "Citta" the elephant with interest. They follow in the footsteps of 2010 World Cup soothsayer Paul the Octopus in what seems to be becoming a curious tradition at major football tournaments.
For most pundits, the Spanish are favorites for the title, but they have their problems. Record scorer David Villa and veteran defender Carles Puyol have been ruled out of the tournament, while striker Fernando Torres -- who netted the only goal of the 2008 final -- has endured another torrid season for Chelsea.
Their competition looks set to come from Joachim Low's youthful Germany side, 2010 World Cup finalists Netherlands, and perhaps a France team that appears to be back on an even keel under the calming influence of Laurent Blanc.
Italy, six years on from the scandal that so seriously damaged the country's chances of hosting the tournament, is embroiled in another match-fixing crisis that led defender Domenico Criscito to be cut from the squad.
The English are even less fancied, particularly so among their own pessimistic supporters. Roy Hodgson took up his coaching job just 29 days before the first game against France and has to get the best out of a squad that must survive the first two games without the suspended Wayne Rooney, one of the team's few world-class players.
As for the hosts, Poland looks to have the easier group with Czech Republic, Greece and Russia.
Ukraine must contend with France, England and Sweden. For 35-year-old national icon Andriy Shevchenko, the tournament is a chance to put the perfect full stop on a 17-year international career.
"Ukrainians, our time has come!" declares the team's slogan.
UEFA might be hoping it also applies to the country as a whole.