STORY HIGHLIGHTS
68 killed in Sarajevo market bombing in 1994, followed mostly by NATO inaction
At least 7,000 men and boys killed at Srebrenica in July,1995
Only after second market bombing in August, 1995, did world action begin
Analysis: Agreement may be possible in Syria if Russia sees no other good option
(CNN) -- On February 5, 1994, shoppers were crowded into the main market square in the Bosnian capital Sarajevo. At the time, the city was under siege by Bosnian Serb forces. Just before noon, a single 120mm artillery shell landed in the square.
Sixty-eight people were killed; more than 200 wounded. Some victims were literally torn apart. For anyone watching the raw footage of that atrocity as it fed into television newsrooms around the world, the horror of the scene was not easily forgotten.
Nearly 20 years later, video from the Syrian town of Houla evokes a similar response -- and similar outrage around the world.
But as the people of Sarajevo will testify, outrage doesn't always translate into action. The war in Bosnia would continue nearly another two years after the market massacre. It would take another artillery barrage against the same market on August 28 1995 -- killing 37 -- to trigger NATO action. "Operation Deliberate Force" involving 400 planes in more than 3,000 strikes against Bosnian Serb forces, began two days later.
Once that happened, the Bosnian Serbs' puppet-master, Serbian leader Slobodan Milosevic, was quick to sue for peace. U.S. diplomat Richard Holbrooke, who brokered the peace deal that would end the Bosnian war, later wrote that the bombing's effectiveness and the invulnerability of NATO air power had rattled Milosevic and Radovan Karadic, president of the Bosnian Serb Republic. Syrians surround a U.N observer vehicle after placing the bodies of a girl and man on the car in Houla on Saturday, May 26, 2012. The photo is from the opposition Shaam News Network. Forty-nine children were among the 108 slaughtered in Houla on Friday, May 25, U.N. monitors say. The massacre in Houla, a suburb of the anti-government bastion of Homs, has reignited international fury against Bashar al-Assad's regime.
The body of a slain Syrian child lies next to other shrouded bodies at a hospital mortuary in Houla on Saturday in another photo from the opposition Shaam News Network. Al-Assad's regime insists it is not behind the massacre and blames terrorist groups. Syria has attributed violence on "armed terrorist groups" throughout the 14-month-old uprising.
Bodies of children lie in a Houla hospital morgue before their burial Saturday in another photo from Shaam News Network. Images from the town show a room crammed with mangled and bloody bodies of children -- some with their skulls torn open.
U.N. observers visit a hospital morgue in Houla on Saturday before the burial of massacre victims. Opposition activists and residents blame al-Assad's regime for the bloodbath.
A Houla resident shows a body to a U.N. observer at a mosque in the central Syrian town. Some U.N. Security Council members condemned the attacks "that involved a series of government artillery and tank shellings on a residential neighborhood" as well as killings of civilians by close-range gunshots.
Syrians gather at a mass burial Saturday in Houla. "Those responsible for these brutal crimes must be held accountable," Kofi Annan, the U.N.-Arab League special envoy, said in a statement. Photos: Massacre in Syria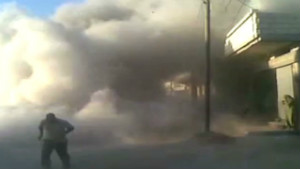 Bodies ripped apart in Houla massacre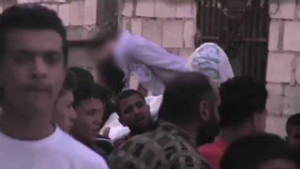 Syrian: Dead baby had pacifier in mouth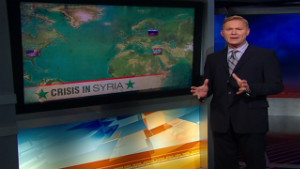 World reacts to Houla massacre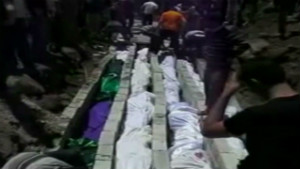 U.N. accuses Shabiha militia for massacre
Also contributing to that "tipping point" for NATO and the West: the massacre at the so-called "safe haven" in Srebrenica in July 1995, in which at least 7,000 and possibly more than 8,000 Muslim men and boys were rounded up and murdered by Bosnian Serb forces.
In some ways (if not in scale), the massacre near Houla last Friday resembles more what happened in Srebrenica than the Sarajevo market attack. It transpires that many of the victims in Syria were killed not by artillery shells but were summarily executed, and that many were children.
"At this point it looks like entire families were shot in their houses," said the spokesman for the U.N. Commissioner for Human Rights Tuesday.
Like the lightly-armed Dutch contingent of U.N. peacekeepers in Srebrenica, brushed aside by Bosnian Serb forces commanded by General Ratko Mladic, the 300 U.N. monitors in Syria have no power to influence events -- just to observe and report them.
Despite the anger over Houla and the diplomatic expulsions, most observers do not expect anything like "Operation Deliberate Force" to be applied to remove Syrian President Bashar al-Assad or change his behavior.
That's in part because the international "community" remains bitterly divided on the way forward. Russia still seethes over the way it was "hoodwinked" last year into agreeing at the U.N. on humanitarian intervention in Libya, only to see NATO's "Operation Unified Protector" morph into regime change.
Al-Assad is Moscow's last ally (and largest weapons client) in the Middle East. Slobodan Milosevic in Serbia was just about the Russians' last European ally in the 1990s. Then Sergei Lavrov was Russia's ambassador to the United Nations; now he is Russia's foreign minister. Then, as now, Moscow saw an international conspiracy (led by NATO) against its interests.
Bashar al-Assad: President defined by violence
One Russian defense official suggested after the second Sarajevo attack in 1995 that it was the work of NATO special forces. No surprise perhaps that a commentary in Pravda Tuesday concluded about the Houla attack: "The only question remains: Was this massacre committed by the so-called FSA (Free Syrian Army) or by the British and American special forces reportedly already inside the country?"
Back in 1995, then President Boris Yeltsin talked darkly about Bosnia being the first sign of what could happen with NATO's expansion. "When NATO comes right up to Russia's borders, one can count on there being two military blocs," he said.
That fear of loss of influence, of being encircled, still drives Russian foreign policy.
Over Bosnia, Lavrov used arguments that he and other Russian diplomats would repeat as the Libyan campaign evolved more than a decade later. He condemned the shelling of Sarajevo, but said the U.N. and NATO response "exceeds the bounds of the situation in which the Security Council has authorized the use of force: the defense of peace-keeping forces, the protection of humanitarian convoys and the containment of military threats to civilians."
In other words, NATO and the U.N. were not free to choose sides.
A similar view prevails in Moscow today. Lavrov -- using a strange dance analogy -- said Monday that "it takes two to tango, even though in the current situation in Syria isn't really a tango. It's a disco party where many players are dancing and they should all dance in the same way." In other words, the Free Syrian Army is just as culpable as the regime, just like in the '90s the Bosnian Muslims and Serbs were equal opportunity offenders in Russia's eyes.
This paralysis of international will leaves western governments with few tools.
Clutching at straws Tuesday, British Foreign Secretary William Hague said of Moscow: "They've had a different attitude to the Assad regime. But the Russian foreign minister did agree with me yesterday that it is necessary to increase the pressure on all concerned, including the Assad regime, to implement the Annan plan."
Plenty of Syria watchers believe that, at best, the Annan plan is in intensive care. Not one of its six planks has been implemented.
Annan: Syrian suffering 'must end and it must end now'
Ian Bremmer, president of the Eurasia group political consultancy, says: "Diplomatic efforts are going precisely nowhere. Kofi Annan's stint as special envoy led to a short-term reduction in violence but no serious efforts at negotiation. That's now clearly broken down."
The rebels of the Free Syrian Army have already declared the Annan mission dead.
The Canadian Foreign Ministry, as it expelled Syrian diplomats Tuesday, could only issue this almost helpless appeal: "The ongoing violence must stop immediately, and the Syrian people must be free to realize for themselves a better, brighter future."
Post Houla, that brighter future seems a long way over the horizon. If anything, Syria-watchers see the weekend's atrocities as a turning point in a much more sinister way -- one that will also be familiar to Bosnians who lived through three years of sectarian warfare.
Speaking with CNN's Anderson Cooper Monday, Fouad Ajami -- senior fellow at Stanford University's Hoover Institution -- said of Houla: "It wasn't just the army. It wasn't the forces. It was the surrounding villages that did most of the killing face-to-face. I think we're in the midst of the fight."
If Syria is on the verge of a sectarian abyss, the incentive to intervene militarily would likely be even weaker. The Financial Times' Gideon Rachman agues that trying to force al-Assad out of power "at the point of a gun would also heighten the risk that the transfer of power in Syria would be accompanied by sectarian killings."
So "a negotiated transition in Syria would clearly be preferable to the huge risks involved in outside military intervention."
On that at least, Russia might be induced to agree -- if it seemed that otherwise its client, Bashar al-Assad, would drown in a deluge of sectarian bloodshed.