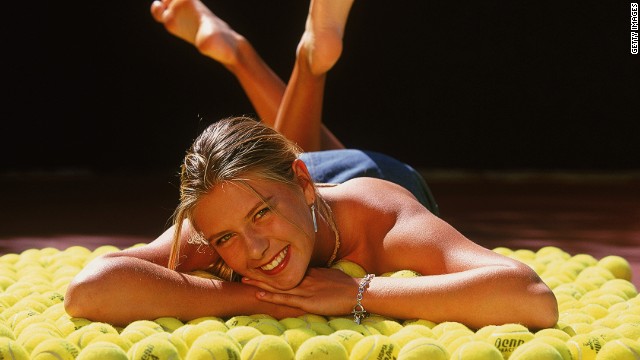 Maria Sharapova has come a long way since turning professional on her 14th birthday in April 2001, having played the game since she was four years old.
Sharapova's fame has brought endrosements that saw Forbes magazine rate her as the highest-paid female athlete in the world, with annual earnings of over $18 million. She has her own clothing line and is also working on a candy line called Sugarpova.
The one thing separating Sharapova from a career grand slam is the French Open title. She has twice made the semifinals, most recently in 2011, when she was beaten by eventual winner Li Na of China.
Despite never having won at Roland Garros, Sharapova is in good form in 2012, losing just once on clay this season. Most recently, she successfully defended her Italian Open title to offer hope she can finally win the French Open and complete a career slam.
Sharapova was spotted at an early age by former great Martina Navratilova and after moving to the United States she was enrolled into the famous Nick Bollettieri Tennis Academy in Florida at the age of nine.
The Russian became the third youngest female to win Wimbledon in 2004 aged just 17. She beat Serena Williams in the final to spark huge interest the papers labelled "Maria Mania."
Sharapova's second major success came at the U.S. Open in 2006 when she beat Justine Henin at Flushing Meadows. By this stage she had already become the first Russian woman ever to hold the world No. 1 ranking.
The 25-year-old made it a hat-trick of grand slam victories at the 2008 Australian Open and in some style. She didn't drop a set in the entire tournament on her way to defeating Serbia's Ana Ivanovic in the final.
The Sharapova story
Sharapova style
Paris pain
At home in Rome
Early years
Wimbledon breakthrough
Flushed with success
A major hat-trick
STORY HIGHLIGHTS
Maria Sharapova plans to branch out with another business venture this year
Russian is working on a new line of confectionery to be called "Sugarpova"
On the court, the 25-year-old is determined to win the French Open
She can complete a career grand slam on clay at Roland Garros
(CNN) -- The taste of success is sweet for Maria Sharapova -- in more ways than one.
The Russian tennis star is focused on completing a coveted career grand slam of titles at the French Open starting next week, but she already has plans for her next off-court project.
The 25-year-old is the world's highest-paid female athlete due to her top-end endorsement deals, according to Forbes magazine, and she has another lucrative sideline in the works.
Having already designed clothes for Nike and luxury label Cole Haan among her projects, Sharapova is planning to release a line of confectionery called "Sugarpova."
"I'm doing everything. The branding and all the shapes of the candy and the gummy-bears," she told CNN's Open Court. "And it is going to launch before the U.S. Open (in September), fingers crossed, so that is my next project."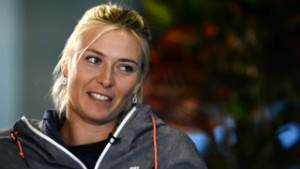 Sharapova ready for tough clay challenge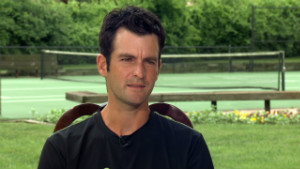 Brian Baker's Grand Slam comeback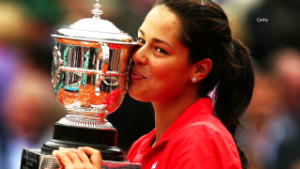 Ana Ivanovic 'hungry' for more success
Sharapova is big business, and she takes it seriously.
"It's such a different type of work to being a tennis player, working with consumers and understanding what people buy, trend reports, what's in and what's out, whether it's something that is going to last for years," she said.
"I look at it as something that is fun for me, that is creative for me, the thought process of seeing something that is on paper or just an idea. You're traveling and you see somebody wear a cross-body bag and you're like, 'Wow I love the handle on that,' and something clicks and you put it on paper and a year later you see it in the stores for people to buy.
"I am just fascinated by that, I think it is an amazing process and I've been so fortunate to work with so many great people that teach me so much about different things. I am not a designer, I never went to school for it, but I love being creative and I love learning and understanding what works and what doesn't work."
That attention to detail has also helped put Sharapova in a position to join an exclusive club of nine tennis players who have won all four grand slam titles, known as a "career slam," having resurrected her fortunes in recent years after a serious shoulder injury.
Despite having once described herself as "a cow on ice" on clay, Sharapova has improved her game on the surface to the point where the world No. 2 is now a top contender to win the French Open and add to her Wimbledon, U.S. Open and Australian Open crowns.
Last year she reached the semifinals at Roland Garros for the second time, and she already has two tournament wins on red dirt under her belt this season after retaining the Italian Open title last weekend.
"The French Open is always a big goal of mine because I have always said it is going to be the most challenging grand slam for me to win," she said.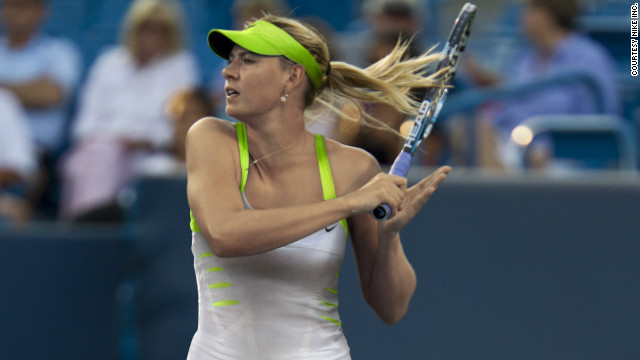 Maria Sharapova strikes the perfect pose as she puts away a forehand during this year's Australian Open.
Her dress for the tennis season's opening grand slam was designed to embrace fashion and high performance.
Sharapova's collection is being sported by a number of players including Indy De Vroome of the Netherlands.
Sharapova's tennis shoes are color co-ordinated with the dress range and are among the lightest and most flexible in the market.
America's 13-time grand slam champion Serena Williams also unveiled a collection of dresses for the 2012 Australian Open.
In 2006, Sharapova made heads turn with her "Little Black Dress" -- an outfit encrusted with beaded crystals which she wore as she claimed the U.S. Open crown.
Sharapova's intensity and desire to win have kept her at the top of the women's game since her first grand slam title in 2004.
Sharapova at the launch of a Cole Haan collection of clothing and accessories bearing her name.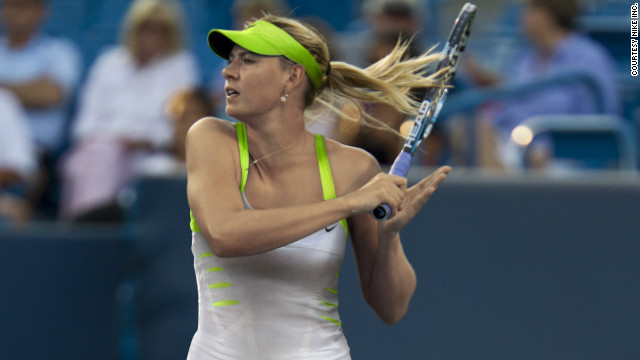 Sharapova's winning design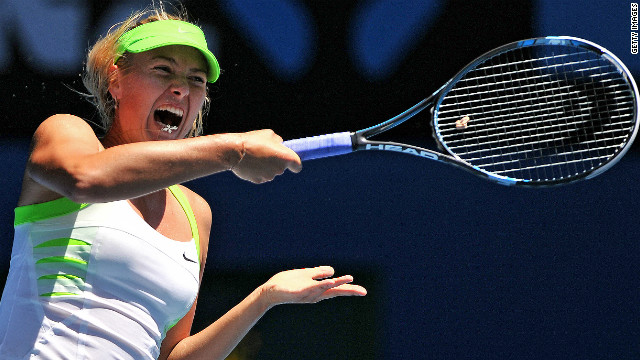 World No. 4 Maria Sharapova has long been known for her on-court shrieks and the Russian has recently attracted criticism as a result. The three-time grand slam champion claimed she will continue to make the noises until they are outlawed.
Third seed Victoria Azarenka was the subject of taunts from fans at the Australian Open who began to mimic her unique screams during a second round win over home-crowd favorite Casey Dellacqua.
American Serena Williams has long been a leading light in women's tennis, in terms of winning tournaments and booming grunts. Whether the grunts benefit a player is the subject of some debate, but they certainly haven't hindered Williams. The 30-year-old has registered 13 grand slam triumphs.
It would appear that grunting runs in the family, with Venus Williams matching her sister Serena in terms of noise and top-level success. Venus, one year older than her sibling, has collected seven major titles.
Monica Seles was screaming her way to success long before any of today's professionals. The Yugoslavia-born American won nine grand slam titles during her 19-year ear-splitting career.
American Jimmy Connors has played more ATP Tour matches than anyone else, winning eight grand slams during a glittering 24-year career. Connors is also widely credited with introducing grunting to top-level tennis.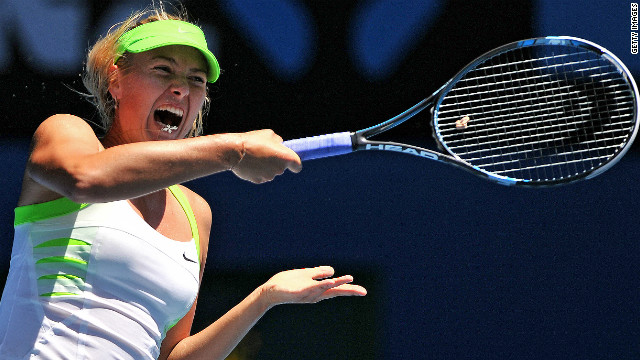 The noisiest players in tennis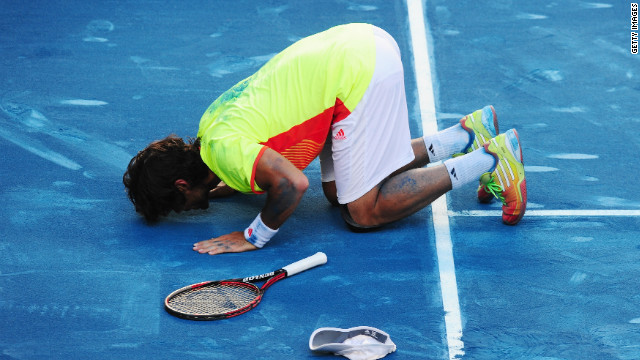 Fernando Verdasco kisses the blue clay in Madrid after beating world No. 2 Rafael Nadal in a huge upset. "I never was in control of the match, I didn't know how to win a point," said Nadal, who is the modern era's "King of Clay."
Nadal's shock exit only added fire to complaints the blue clay is too slippery. Even before his defeat, the Spaniard tweeted: "The history of clay court was on red. It wasn't on blue. Only one person wins -- the owner of the tournament."
Novak Djokovic, who beat Nadal in last year's final on red clay, has been an outspoken critic of the surface, saying: "I played my first official match on blue clay and I have to admit I was not very happy. Next time I have to bring skates instead of shoes, it was sooo slippery."
Not all the feedback has been negative. "I think it's the same, it's just you don't get as dirty," Serena Williams tweeted.
Behind the blue revolution is Romanian billionaire, Ion Tiriac. The former French Open doubles winner and manager to Boris Becker pioneered the first blue hard courts at his indoor event in Stuttgart -- a lead followed by the Australian and U.S. Opens.
Nadal throws his towel -- emblazoned with the logo of sponsor Mutua Madrilena -- into the crowd. Tiriac says improving the experience for television viewers watching his $10.6 million tournament was a major factor in the switch to blue.
Performance specialist Alistair McCaw says the slippery surface isn't due to the color but the implementation. "The amount of clay covering the surface is lesser than normal. If you dig your foot into the surface and remove some of the clay, you will notice that the underlying surface is a hard rubber-like mat," he said.
Recently-retired tennis star Ivan Ljubicic says the biggest challenge at Madrid isn't the clay -- it's the altitude. Balls fly faster through thinner air, and Madrid is 650 meters above sea level.
The blue clay court is made the same way as the red, with bricks ground into tiny fragments and spread over the ground in two different layers. However, in Madrid these bricks are stripped of their iron oxide (the chemical that provides the original color) and then treated with dye.
The tournament is seen as an important buildup to the real clay court crown -- the French Open. Players have argued it's difficult enough adjusting to the conditions in Madrid, without then having to change their game at Roland Garros at the end of the month.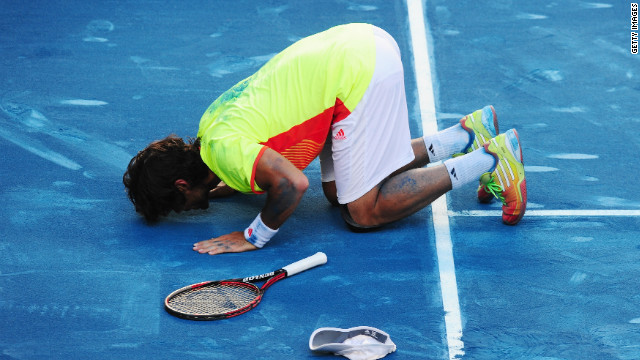 Madrid's clay controversy: Why so blue?
"Whether it was when I called myself that cow on ice or whatever it was, but if I go there and play well and physically, I feel healthy and I feel great. There is no reason I can't win it.
"I've been in a couple of semifinals, I believe, last year as well. So, it's really about (whether) I put myself in that position and win it. I believe in that definitely."
Sharapova has suffered just one defeat on clay all season -- to Serena Williams in the final of the Madrid Open -- and is coming into form at the right time.
But despite her fluency on court in the past few weeks she revealed just how taxing the transition from hard courts to the much slower clay surface is every year.
"The first few days on clay are brutal, especially with the practices; you're just getting your footwork down and the movement," she said.
"It's so frustrating. I never crack rackets but those first few days I crack rackets all the time. I'm like 'Get me extra rackets!'
"Over the years I think the key for me is being physically stronger, where I have been able to play a match whether it's three sets or two tough sets and recover for the next day.
"In Europe one of the challenges you have is in one week you could be playing five, six matches a week then you have the next tournament coming up then a week off, then you have a grand slam.
"The physical aspect of all that and mentally understanding that your body has to be ready for all those matches in a short period of time on clay has always been tough for me.
"I have always recovered so much better and I move a lot better on it, so yeah it's nicer, less rackets cracked!"
The women often suffer from comparisons to the men, with the exploits of Novak Djokovic, Rafael Nadal and Roger Federer cementing this as a golden age of competition in the male arena.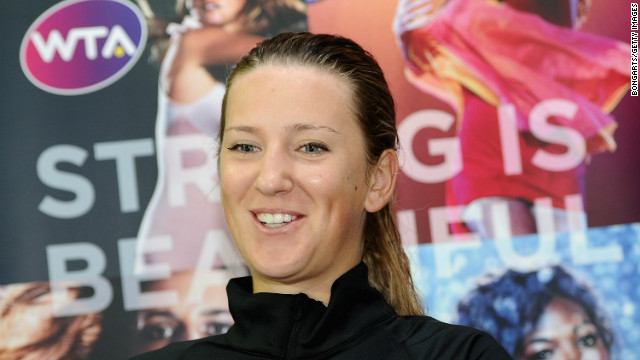 World No. 1 Victoria Azarenka has come a long way since first picking up a tennis racket in her native Belarus.
However, she still considers the Eastern European nation to be her home. Azarenka is pictured with former No. 1 Caroline Wozniacki (right) at a children's cancer center in Minsk in 2010.
Azarenka (far left) first became involved in the sport when her mother started working in a tennis center in her native Belarus. Her first coach was Valentina Rzhanih (also pictured).
Azarenka eventually had to leave Minsk to fulfil her ambitions, moving first to Marbella in Spain for a brief spell before settling in Arizona.
Azarenka was a Wimbledon champion at the age of 14, winning the girls' doubles title in 2004 with compatriot Volha Havartsova.
Azarenka won the junior titles at the Australian Open and U.S. Open in 2005, finishing the season as junior world number one. She burst onto the senior scene the year after.
Less than a year after she briefly considered quitting, Azarenka became the first player from Belarus to win a grand slam singles title when she beat Maria Sharapova in the 2012 Australian Open final.
Azarenka cemented her number one status by winning 14 straight matches after the Australian Open, collecting two more trophies.
Azarenka is still seeking to improve, and has added two-time grand slam champion and former world No. 1 Amelie Mauresmo to her coaching team.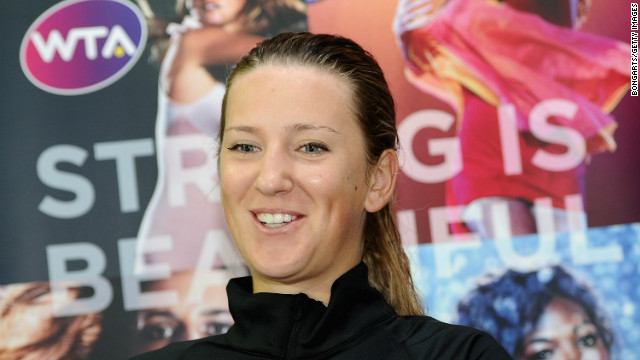 The tennis journey of Victoria Azarenka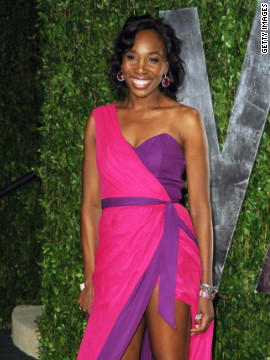 Venus Williams has remained in the public eye despite her health problems, appearing at Vanity Fair's Oscars party in West Hollywood in February.
She began her glittering professional tennis career in 1994, at the tender age of 14.
In 1997, Williams became the first woman since Pam Shriver in 1978 to reach the final of her debut U.S. Open. She lost the showpiece match at Flushing Meadows 6-0 6-4 to Switzerland's Martina Hingis.
Williams won her first grand slam women's doubles title alongside younger sister Serena at the 1999 French Open. Venus claimed two mixed doubles titles in 1998, winning at the Australian Open and Roland Garros with compatriot Justin Gimelstob.
Williams' first grand slam singles title arrived in 2000, when she defeated Hingis after beating Serena in the semifinals. She claimed that year's doubles crown at the All England Club alongside Serena.
It proved to be a landmark year for Williams. She won gold in the women's singles at the 2000 Sydney Olympics, as well as the doubles title with Serena. She then secured her first U.S. Open title by beating compatriot Lindsay Davenport.
Williams retained her U.S. title in 2001 by beating Serena in the first grand slam final to be played between two sisters in the post-1968 Open era.
The Williams sisters met again in the Wimbeldon final of 2008, with Venus trumping her younger sibling once more. It remains the last grand singles won by Venus. The sisters have faced off on 23 occasions, with Serena leading 13-10. She also holds the edge in their grand slam final meetings by 6-2.
Williams has not played on the WTA Tour since pulling out of the U.S. Open in late August 2011, having been diagnosed with Sjogren's syndrome. She did manage to beat Vesna Dolonts in the first round at Flushing Meadows, but withdrew ahead of her second-round clash with Sabine Lisicki.
As part of her bid to return to the WTA Tour, WIlliams played an exhibition match against Serena -- who has overcome health problems of her own -- in Colombia in November. Venus won 6-4 7-6 (7-4).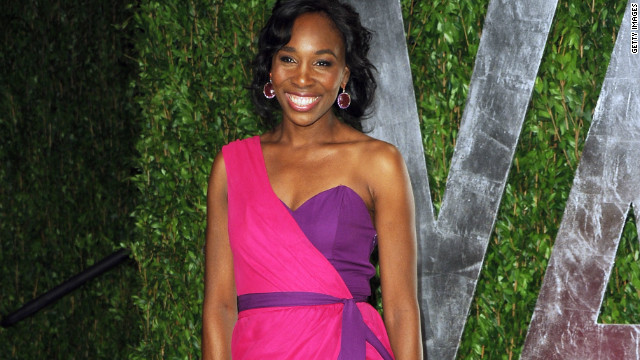 Venus Williams' career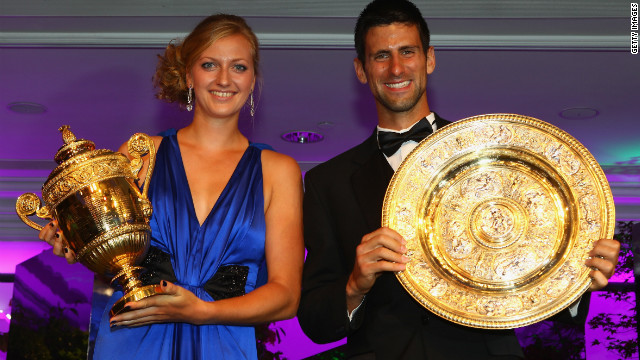 Petra Kvitova of the Czech Republic and Novak Djokovic of Serbia will be hoping to defend their Wimbledon titles in July -- earning a 4.5% increase in prize money if they do. Singles champions will now receive £1.15 millon ($1.85 million).
Rafael Nadal ruined Britain's hopes of a home finalist after defeating Andy Murray in the 2011 semis. Both were part of the "Big Four" who helped secure pay increases. Semifinalists will now take home £287,500 ($463,336) -- up 4.5%.
Jo-Wilifried Tsonga of France delivered one of the biggest upsets of the 2011 tournament, knocking out six-time champion Roger Federer in the quarterfinals. Quarterfinalists will now earn £145,000 ($233,720) -- an increase of 5.5%.
World No. 2 Nadal beat Juan Martin Del Potro of Argentina in the last 16 before losing in the final. Fourth-round losers will this year earn £75,000 ($120,825) -- an increase of 9.1%.
Russian third seed Vera Zvonareva suffered a shock third-round exit in last year's against Bulgaria's Tsvetana Pironkova. A similar achievement this year would earn her £33,875 ($54,630) -- an increase of 13.1%.
Germany's Sabine Lisicki drops to her knees after defeating French Open champ Li Na in the second round of last year's tournament. Under this year's schedule, the Chinese player would have made £23,125 ($37,302) -- a 14.9% rise.
Italy's Francesca Schiavone, a first-round loser in 2010, redeemed herself last year by beating Australia's Jelena Dokic. Those who drop out at the first hurdle this year will take home £14,500 ($23,389) -- the biggest increase of all rounds at 26.1%.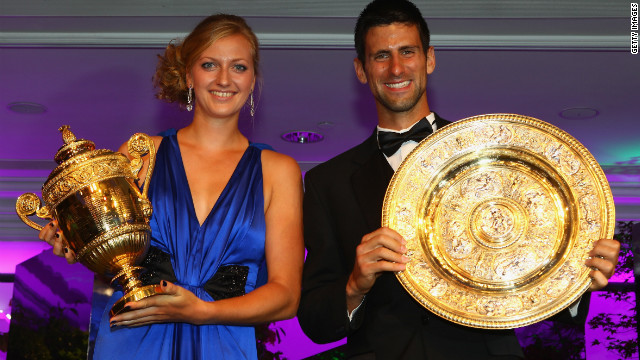 Wimbledon stars' pay increase
But Sharapova insists the women's game is on an upward curve, with players like Victoria Azarenka, Petra Kvitova and Serena Williams battling it out for major honors, and a new generation of talented youngsters snapping at their heels.
"The level of the game from the first round that you play at a women's event is so much higher than you would see five, 10 years ago," she explained.
"I kind of felt that I'd come to a tournament, take the first few matches and see it as a warmup, in a way. Everyone in the press was saying why is it always 6-1 6-0 6-2? But now you don't see that very often.
"You could be facing someone in the first round that is maybe not as consistent but they are experienced, they have beaten top players before and it's difficult.
"I think that is why you see so much more attendances from the beginning of the week higher than you saw years ago."
Despite perching on the shoulder of history, Sharapova insists such landmarks do not dominate her every thought, though a newfound dedication to her profession was brought into sharp focus due to a serious injury.
"I've played tennis since I was four years old and when you're in a match situation -- you could be losing or you're winning -- there are so many emotions that go into that," she said.
"Even when I was away from the game for nine months with shoulder surgery and trying to get back, I never, never ever felt that.
"There were so many things I did off the court, just great experiences, wonderful people, I got to work on amazing projects but nothing gave me that feeling of being in those positions where I had to pull out of a match when I was losing.
"(When I) had to close it out when I didn't expect myself to win, it was such an adrenaline rush that you don't get in many things in life.
"Whether it's playing some small tournament in a small city in front of 2,000 people or whether it's the finals of Wimbledon where you have an amazing crowd and all that history behind it, it is really at the end of the day trying to make yourself better."