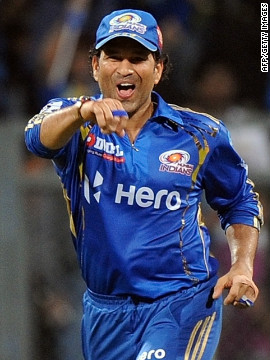 Cricket legend Sachin Tendulkar's nomination to the Indian parliament has drawn mixed reactions across the country. The Times of India said it makes "little sense," while many lawmakers welcomed the celebrated batsman to their ranks.
Tendulkar cemented his place in history when in March he became the first cricketer to score 100 international centuries. The 39-year-old insists cricket will remain his priority, adding: "I have been nominated because I am a sportsman and not a politician."
Tendulkar's supporters held a hunger strike on April 24, demanding the government award him India's highest civilian award. Chairperson Justice Markandey Katju hit back, arguing that giving the Bharat Ratna to cricketers and film stars who have "no social relevance" makes a mockery of the prize.
Tendulkar, pictured with his wife Anjali, was honored at the "Real Heroes Awards" ceremony in Mumbai in March, run by the Reliance Foundation and CNN affiliate broadcaster CNN-IBN.
Cricket hero turned politician
New test for Tendulkar
Fans back nomination
A real hero
STORY HIGHLIGHTS
Cricket legend Sachin Tendulkar has been nominated to join India's parliament
The selection has drawn mixed reactions, with the Times of India saying it "makes little sense"
At the same time, many lawmakers welcomed the celebrated batsman
Tendulkar, the first cricketer to score 100 international centuries, insists sport is priority
New Delhi, India (CNN) -- From the boisterous crowds of stadia to a noisy assembly of mostly politicians, India's cricket legend Sachin Tendulkar faces a new test.
On the website of the Rajya Sabha, the upper house of the Indian parliament, the 39-year-old is now listed as one of its nominated members.
"When you get nominated because of your contribution in your field, it's an honor," Tendulkar said at an event in Pune, western India on Tuesday.
The sporting icon's surprise selection to the house of elders has drawn a mixed reaction in India, where cricket and politics are often seen as the opium of the masses.
"Nominating Sachin Tendulkar to the Rajya Sabha may be a populist move, but it makes little sense," wrote the Times of India newspaper in a comment last week.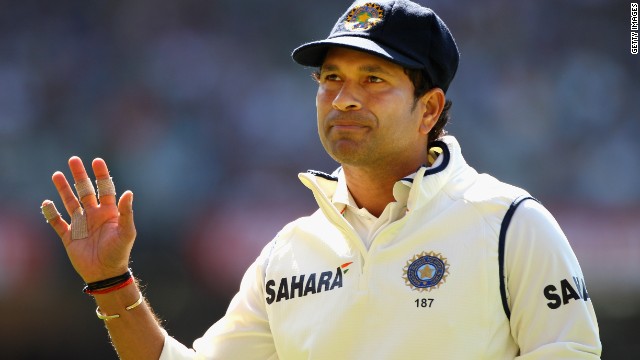 Sachin Tendulkar will end his record-breaking cricket career following his 200th Test match, against the West Indies in his home city of Mumbai.
A face-painter with a queue of spectators outside Mumbai's Wankhede Stadium. The match is not being covered by the world's leading photo agencies due to a dispute with Indian cricket's ruling body, which dates back to 2012.
Security was tight around the ground, which could have been sold out 10 times according to local reports.
Tendulkar helped his Indian Premier League side Mumbai Indians to win the Twenty20 limited-overs tournament earlier this year.
Indian painter Jagjot Singh Rubal touches up his painting commemorating Tendulkar's famous cricketing milestone.
Tendulkar became the first man in cricket history to score 100 international hundreds when he made 114 in a limited-overs match against Bangladesh on March 16, 2012.
Tendulkar visited the residence of Bangladesh's Prime Minister Sheikh Hasina Wazed, right, to mark his achievement.
He had been stuck on 99 since the 2011 World Cup, when he closed to within one of the milestone with a ton against South Africa. Tendulkar helped India win the final against co-hosts Sri Lanka in his home city of Mumbai on April 2. He scored only 18 in that match, but was India's top runscorer as his country won the 50-over tournament for the first time.
Cricket fans had been waiting for the milestone, which came 33 innings after the South Africa game. Tendulkar went close during India's disappointing tour of Australia -- against whom he has scored 20 tons, more than any other nation.
Tendulkar is the first and only player in cricket history to score 15,000 Test match runs, achieving the feat in November 2011.
Having scored a triple century as a schoolboy, and then passing 100 on his first-class debut in 1988, Tendulkar made his international debut the following year at the age of 16 against Pakistan.
Tendulkar scored his first international century in the five-day format the following year on India's tour of England, hitting 119 not out in the second Test at Old Trafford.
Debate still rages as to whether Tendulkar can be considered greater than Australian legend Donald Bradman, whose Test career ended in 1948 with an incredible average of 99.94, scoring 6,996 runs in 52 matches.
England's players applaud after Tendulkar scores 193 in Leeds in 2002, passing Bradman's record of 29 Test centuries. He has now played 188 Tests, notching 51 hundreds.
Tendulkar, left, became Test cricket's highst runscorer in October 2008 when he passed Brian Lara's previous record of 11,953 during a home series against Australia.
Tendulkar became the first batsman to score 17,000 runs in one-day internationals with a knock of 175 against Australia in Hyderabad on November 5, 2009.
Tendulkar's next foray into three figures saw him become the first batsman to score 200 in a 50-over international -- against South Africa on February 25, 2010. Indian schoolchildren in Amritsar celebrated their national hero's landmark feat.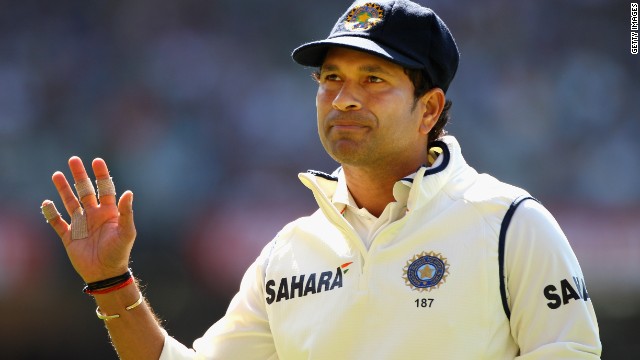 Sachin Tendulkar retires from cricket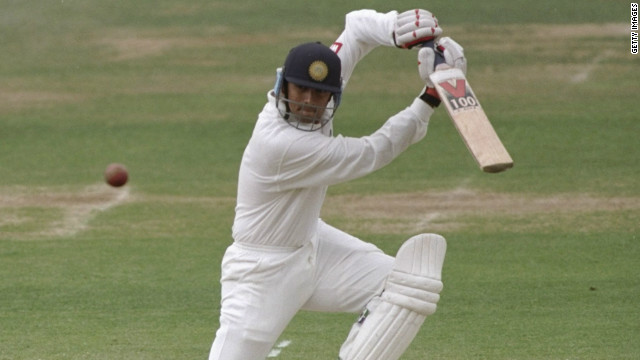 Rahul Dravid made his Test debut for India in 1996 against England at Lord's. He made a fantastic start, scoring an impressive 95.
Dravid smashed 145 in a 318-run partnership with Sourav Ganguly during a match with Sri Lanka at the 1999 World Cup, a record in the one-day form of the game.
Against Australia in Kolkata in 2001, Dravid destroyed one of the greatest bowlers to have played the game -- Shane Warne. Dravid came to the crease with India needing 45 runs to avoid an innings defeat. He eventually led them to a thrilling victory with a knock of 180, hitting Warne for 41 off 51 balls in the process.
Dravid hit four centuries in four consecutive Tests in 2002, recording three against England before grabbing another in India's first match of a series against the West Indies.
Dravid's first Test as India captain came against New Zealand in Mohali in 2003, standing in for Ganguly. He endured a frustrating match as the team's leader, with India eventually rescuing a draw.
Dravid became the first player to score centuries in every Test-playing nation with a ton against Bangladesh in December 2004.
India, led by Dravid, earned a 1-0 win in England in 2007's four-Test series. Dravid is pictured here with fellow cricket legend Sachin Tendulkar, who is currently stuck on 99 international centuries in his bid to become the first man to reach 100 hundreds.
Dravid endured an unsatisfactory 2008, but he did end the year on a high with a century against England in Mohali in December.
India were blown away by England in a 4-0 Test series defeat in 2011, a result which saw them usurped at the top of the world rankings by their opponents. But Dravid was in fine form despite the loss, scoring 461 runs in the series, including three centuries.
Dravid is contracted to play in the forthcoming Indian Premier League Twenty20 series, where he will represent the Rajsthan Royals. The franchise is partly owned by Bollywood star Shilpa Shetty.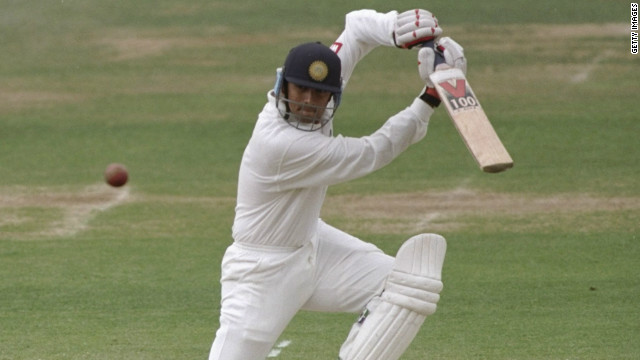 Rahul Dravid: One of cricket's greatest batsmen
The editorial was posted under a page-one headline "God has a new House" that announced the naming of the revered cricketer to the national assembly.
"A nomination to the Rajya Sabha, however, should not be treated as a means of honoring eminent people but as a way to enrich parliamentary debate by having people with expertise in different fields. Nominating an active sportsperson defeats that purpose," the paper wrote Friday.
Some of India's sports personalities were also skeptical whether an active player would be able to do justice to legislative proceedings.
"I don't know whether he (Tendulkar) has time to do that because I think he is playing international cricket; he is playing in all formats of the game," former cricketer Dilip Vengsarkar told reporters. "Whether he will have time to do that? Whether he will have time to attend parliament? I really cannot say anything on this."
At the same time, many lawmakers welcomed the celebrated batsman -- who has scored more runs in international cricket than any other player in the history of the game -- to their ranks.
"I am happy for Sachin. Last time, when I spoke to the media on his birthday, I had said that I hope that government nominates him for the Rajya Sabha. There is no-one better than Sachin. I am happy," said Najma Heptullah, a leader from the opposition Bharatiya Janata Party.
I am a sportsman and will always remain one. I am not going to enter politics giving up cricket, which is my life
Sachin Tendulkar
In March, Tendulkar became the first cricketer to score 100 international centuries.
And last week, he and his wife visited the residence of Sonia Gandhi, the Italy-born head of India's ruling Congress party whose popularity has plummeted because of a raft of corruption scandals in the government.
Critics of Congress, which denies any wrongdoing, issued words of caution to the cricket star.
"Sachin will perhaps have to guard against being used by political interests. He belongs to all. He is a silent lone worker, not an activist," tweeted Kiran Bedi, a former police officer who is now part of an anti-corruption campaign against the federal government.
Tendulkar's selection to parliament comes under a constitutional provision that empowers the Indian president to name 12 people to the 250-member Rajya Sabha.
The nomination, according to the constitution, is extended to people with "special knowledge or practical experience in respect of such matters as literature, science, art and social service."
"Unless Sachin becomes a national voice for clean, organized sports, he would be a disappointment," Bedi wrote on her Twitter website page.
Confronted with subtle hints of political loyalty, Tendulkar has attempted to steer clear of controversies over his new role.
Cricket, he insists, will remain his priority.
"I have been nominated because I am a sportsman and not a politician. I am a sportsman and will always remain one. I am not going to enter politics giving up cricket, which is my life. I will continue to play cricket," he said Tuesday.