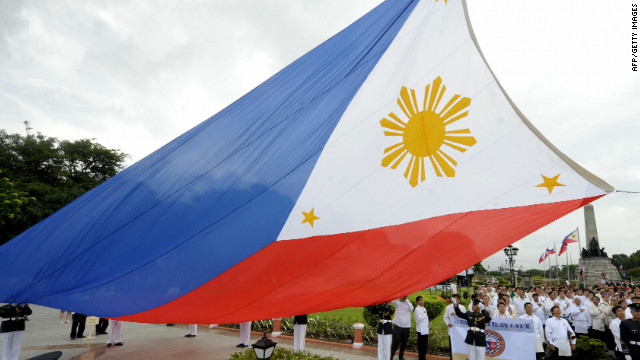 A former Spanish colony for three centuries, the Philippines was ceded to the United States in 1898 following the Spanish-American war. It achieved full independence in 1946 following World War II and has since been a constitutional republic overseen by a president as both the head of state and head of government.
President Benigno S. Aquino III is a fourth-generation politician. His mother, Corazon Aquino, was the country's 11th president and led the 1986 People Power Revolution that ousted dictator Ferdinand Marcos. His father, Senator Benigno Aquino Jr., a staunch critic of the Marcos regime, was assassinated in 1983.
The Philippines is a mountainous archipelago of 7,107 islands with a total area of 300,000 square kilometers. It has five UNESCO World Heritage cultural and natural sites, including ancient rice terraces in the Cordilleras mountain range on the northern island of Luzon.
The Philippines' many islands attract holiday makers seeking a beach getaway. Boracay's white sandy beaches remain one of the most popular destinations for sunning and scuba diving.
Lechon (roasted suckling pig), a holdover from Spanish colonial times, is an iconic national dish enjoyed during festivities, including weddings and Christmas celebrations.
The Philippines is a predominantly Catholic country, a faith held by an estimated 83% of the population. The pictured Black Nazarene annual procession, one of the country's most spectacular religious events, attracted between two to three million people in the capital of Manila this year.
Filipino professional boxer Manny Pacquiao is one of the hottest tickets in the boxing world. Named "Fighter of the Decade" for the 2000s by the Boxing Writers Association of America, Pacquiao is an eight-time world champion.
The Philippines has been transitioning from an agricultural economy to an industrial and service economy. Still, the agricultural sector comprises 12.3% of GDP and employs a third of the population. Some of its major agricultural exports are tropical fruits, such as pineapples. mangoes, bananas, and coconuts. In Bukidnon province, Del Monte operates one of the world's largest pineapple plantations.
With an estimated 400,000 call center staff, the Philippines has overtaken India as the Asian hub of call centers. U.S. companies prefer to outsource customer calls to Filipino agents speaking lightly-accented fluent American English.
From colony to republic
Presidential power
Islands and mountains
Vacation destination
Feasts and festivities
A Catholic country
Pride of the Phillipines
Economy in transition
Calling on the Philippines