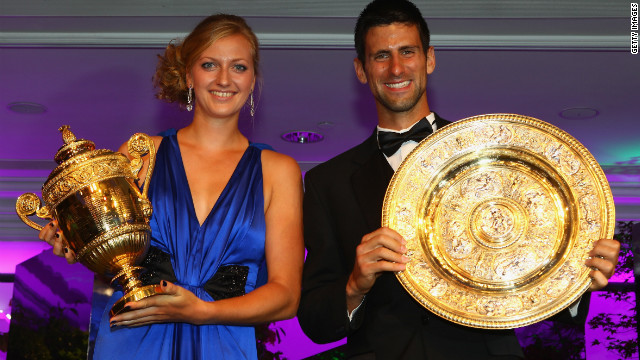 Petra Kvitova of the Czech Republic and Novak Djokovic of Serbia will be hoping to defend their Wimbledon titles in July -- earning a 4.5% increase in prize money if they do. Singles champions will now receive £1.15 millon ($1.85 million).
Rafael Nadal ruined Britain's hopes of a home finalist after defeating Andy Murray in the 2011 semis. Both were part of the "Big Four" who helped secure pay increases. Semifinalists will now take home £287,500 ($463,336) -- up 4.5%.
Jo-Wilifried Tsonga of France delivered one of the biggest upsets of the 2011 tournament, knocking out six-time champion Roger Federer in the quarterfinals. Quarterfinalists will now earn £145,000 ($233,720) -- an increase of 5.5%.
World No. 2 Nadal beat Juan Martin Del Potro of Argentina in the last 16 before losing in the final. Fourth-round losers will this year earn £75,000 ($120,825) -- an increase of 9.1%.
Russian third seed Vera Zvonareva suffered a shock third-round exit in last year's against Bulgaria's Tsvetana Pironkova. A similar achievement this year would earn her £33,875 ($54,630) -- an increase of 13.1%.
Germany's Sabine Lisicki drops to her knees after defeating French Open champ Li Na in the second round of last year's tournament. Under this year's schedule, the Chinese player would have made £23,125 ($37,302) -- a 14.9% rise.
Italy's Francesca Schiavone, a first-round loser in 2010, redeemed herself last year by beating Australia's Jelena Dokic. Those who drop out at the first hurdle this year will take home £14,500 ($23,389) -- the biggest increase of all rounds at 26.1%.
Wimbledon champions - £1.15 million
Semifinal - £287,500
Quarterfinal - £145,000
Fourth round - £75,000
Third round - £38,875
Second round - £23,125
First round - £14,500
STORY HIGHLIGHTS
'Big Four - Roger Federer, Rafael Nadal, Novak Djokovic, Andy Murray - secure prize rise
Wimbledon prize money rises by 10% to £16.1m - the biggest increase in 19 years
Largest increase will go to players knocked out early - up 26.1% for first-round exits
Follows French Open's lead which gave first-round losers a 20% boost and prize of $23,670
(CNN) -- They've earned admiration around the world for their on-court prowess, not to mention the enviable sum of more than $160 million in prize money between them.
Now the "Big Four" of the men's tennis world have helped negotiate a pay rise for their lower-ranked colleagues.
Roger Federer, Rafael Nadal, Novak Djokovic and Andy Murray have joined forces to convince Wimbledon chiefs to increase the prize money for this year's tournament to £16.1 million ($25.9 million).
It's a 10% increase on last year's £14.6 million ($23.5 million) total, representing the biggest rise in 19 years.
The largest slice of the cash will go to players making an early exit in late June, with first-round singles losers to each scoop £14,500 ($23,400) -- up 26.1% on last year.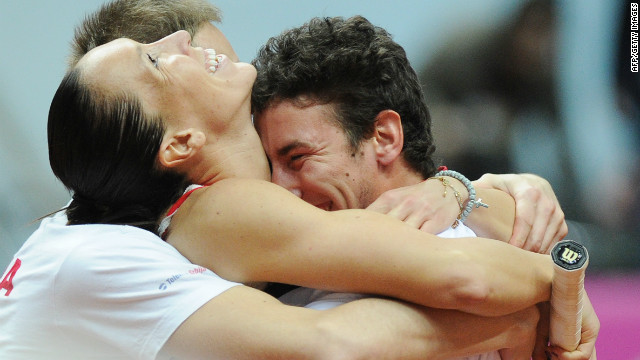 World No. 17 Jelena Jankovic, left, celebrates with her teammates after beating Russia's Svetlana Kuznetsova to put Serbia in to the Fed Cup final for the first time.
A frustrated Kuznetsova lashes out during Sunday's match as four-time champions Russia failed to repeat last year's feat of reaching the final.
Ana Ivanovic helped deliver the historic Serbian win, defeating Russia's Anastasia Pavlyuchenkova 3-6 6-0 6-3 in Sunday's opening reverse singles tie.
The Czech Republic's Petra Kvitova high-fives her teammates after defeating Italy's Francesca Schiavone as the defending champions won 4-1 in the other semifinal.
The Serbian women's team will be hoping to follow in the footsteps of their male compatriots, who reached the Davis Cup final for the first time in 2010 and won the title after defeating France 3-2.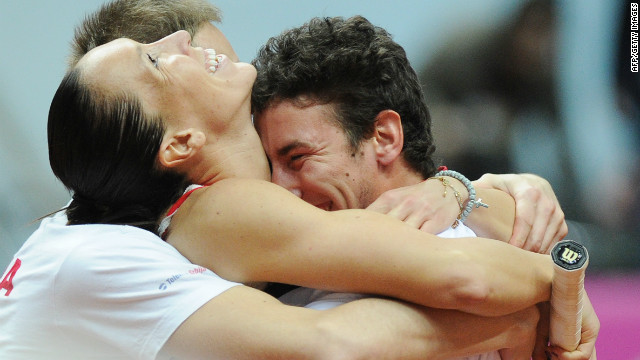 Serbia's Fed Cup semifinal win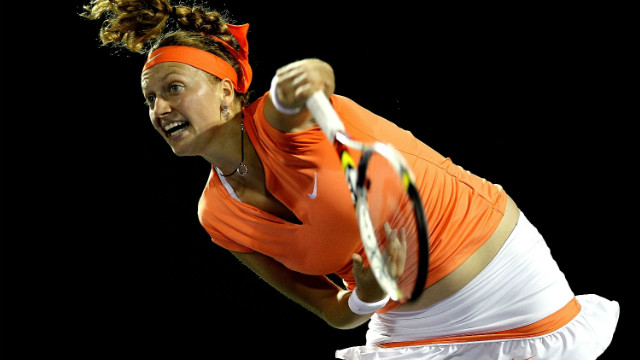 World No. 3 Petra Kvitova is hoping a tough fitness regime will deliver her to the top spot.
The Wimbledon champion began 2012 in fine style as she teamed up with compatriot Tomas Berdych to win the Hopman Cup teams exhibition tournament in Perth.
Kvitova was beaten by China's French Open champion Li Na in the semifinals of her next event, the Sydney International.
The left-hander also reached the last four at the season's opening grand slam, the Australian Open, but lost to Maria Sharapova to end her hopes of becoming the new world No. 1 as the Russian avenged her Wimbledon final thrashing.
Kvitova bounced back with two wins as the Czech Republic reached the semifinals of the Fed Cup with victory over Germany in Stuttgart in early February.
She is a big hit in her home nation, having helped the East European country win the Fed Cup final last year.
After injury and illness forced her out of tournaments in Qatar and Dubai, Kvitova was beaten by American teenager Christina McHale in the third round at California's Indian Wells event in March.
Worse was to come in Key Biscayne, Florida, when Kvitova lost her opening match to Venus Williams, who was playing her first tournament after a long absence due to an incurable illness.
Kvitova came to the fore when she won her first grand slam title at the prestigious English grass-court event last July.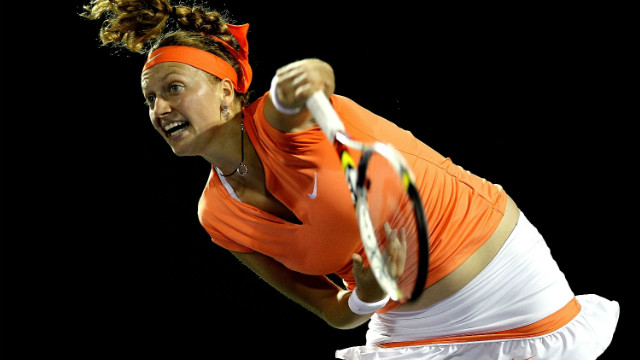 Petra Kvitova's 2012 struggles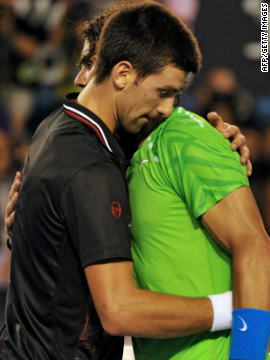 Rivals Novak Djokovic and Rafael Nadal embrace during the final of the Australian Open in Melbourne on January 30 this year. The match was the longest in grand slam history at five hours and 53 minutes. Djokovic won 5-7 6-4 6-2 6-7 7-5.
The tennis stars' first grand slam final battle came at the 2010 U.S. Open. Nadal took the title 6-4 5-7 6-4 6-2.
The pair first met at the 2006 French Open quarterfinals. Nadal won when Djokovic retired with an injury. The Spaniard won the tournament for the second of six times overall.
Djokovic plays up to the cameras after winning his first Wimbledon in 2011, beating Nadal 6-4 6-1 1-6 6-3 in a final lasting two hours, 28 minutes.
The pitch at Real Madrid's Santiago Bernabeu Stadium will be transformed into a tennis court for the Nadal and Djokovic match on July 14. It is hoped more than 80,000 fans will attend, making it the biggest one-off tennis match in history.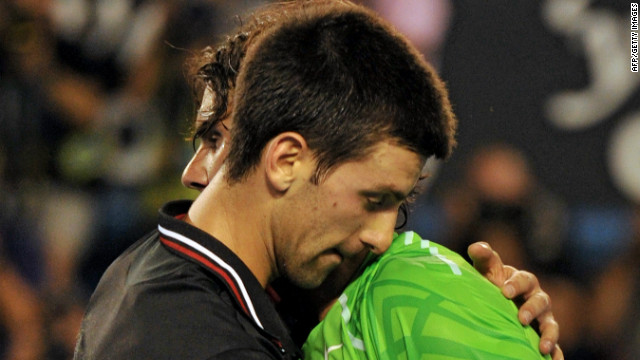 The Nadal and Djokovic rivalry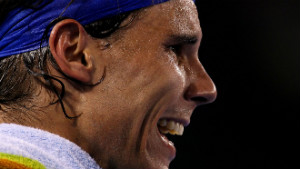 Rafael Nadal answers iReporter questions
The singles champions, meanwhile, will see their prize money rise by just 4.5%, though this will still leave them with a tidy sum of £1.15 million ($1.85 million) each. Djokovic won the men's title last year to become the new world No. 1, while Petra Kvitova will also be defending her title in London.
Every round of the grass-court tournament will see increases, with those in the quarterfinals enjoying a rise of 5.5% to £145,000 ($233,720).
The decision aims to quell growing grumblings within the sport over the amount of money being offered to lesser players who are failing to meet rising costs.
Those knocked out in the earlier rounds are increasingly struggling to cover travel costs or employ a regular coach, and there had been rumors of players preparing a strike in protest. However this was denied by chairman of the host All England Club, Phillip Brook.
The Wimbledon chief said the decision followed a meeting with the Big Four at Indian Wells last month. He insisted the issue of strikes was never discussed.
"Wimbledon continues to be successful and we are delighted to share that success with the players by increasing total prize money by 10%, the largest increase since 1993," he said.
"At the same time, we appreciate the need to help players meet the rising costs associated with professional tennis, so the majority of the record £1.5 million increase will be distributed to those who are knocked out in the early rounds of the championships."
Wimbledon follows the lead of the French Open, which last month increased its overall prize purse by 7% to $24.6 million. Similarly, the biggest rise went to first-round losers, who picked up a 20% boost -- a prize of $23,670.
In comparison, singles champions at Roland Garos scored an increase of 4.17%, giving them total prizes of $1.64 million each.
The pressure will now be on the two other grand slams to follow suit.
Growing unrest started at last year's U.S. Open, where Murray and Nadal were particularly vocal about the uneven distribution of prize money. The New York event's singles champions earn $1.8 million and first-round knockouts get $19,000.
At January's Australian Open, title winners earned $2.37 million each, compared with $21,500 for players who lost at the first hurdle.