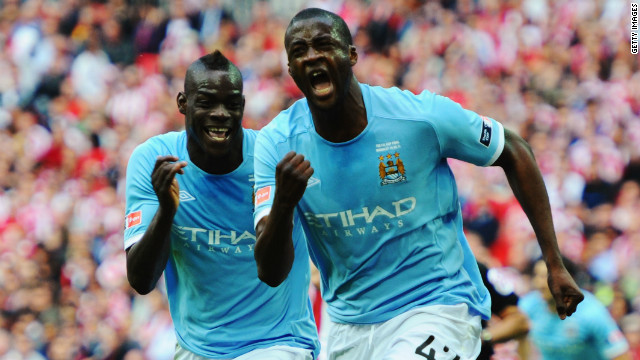 Porto's fine after its fans made monkey chants at Manchester City's Mario Balotelli and Yaya Toure was less than the English club's punishment for being late on the field in another match.
European football's ruling body UEFA has run a "Unite Against Racism" campaign in recent years.
Three-time world player of the year Lionel Messi with a mascot wearing an anti-racism shirt ahead of Barcelona's UEFA Champions League match against Czech team Viktoria Plzen in October 2011.
Manchester City took part in the campaign in 2009 when its players and mascots wore Unite Against Racism t-shirts for a home match against Polish club Lech Poznan.
UEFA has worked closely with the group Football Against Racism in Europe since 2001. FARE members will be patrolling matches at the Euro 2012 finals looking for evidence of racist behavior.
Proper punishment?
Taking a stand
Messi's message
Manchester City united
Stadium presence
STORY HIGHLIGHTS
UEFA under fire for fining Man City more for being late, than Porto for fans' racist chants
Pressure on UEFA to crackdown on racism ahead of European Championships
Ugly cloud of racism continues to hang over eastern Europe, campaign groups claim
Fourth offense for Man City and first offense for Porto major factor amount fined
(CNN) -- What's worse: racist monkey chants or being one minute late? The answer appears to be 60 seconds of tardiness, if the fines dished out by UEFA this week are anything to go by.
European football's governing body caused outrage by fining Manchester City €30,000 ($40,000) for running onto the pitch "less than 60 seconds late" -- which was €10,000 ($13,000) more than Porto's punishment for fans' racist abuse during a match against the English club.
Now, with just weeks until the European Championships in Poland and Ukraine -- countries with a reputation for neo-Nazi groups in the stands -- pressure is mounting on UEFA to prove it is serious about tackling racism.
The world will be watching the best teams in Europe go head-to-head, but they'll also be closely monitoring the one million fans expected to fill stadiums across the countries.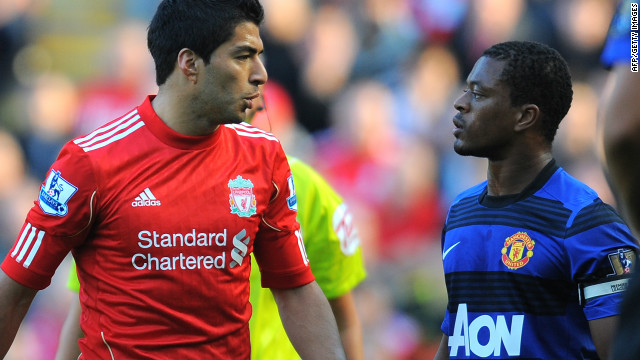 Liverpool striker Luis Suarez was handed an eight-match ban by the English Football Association for racially abusing Manchester United's Patrice Evra in a match in October 2011. Suarez refused to shake Evra's hand during the customary pre-match ritual ahead of the teams' clash on February 12 this year. The Uruguayan has since apologized for his snub of the France defender.
Chelsea captain John Terry will face trial in July for alleged racist abuse of Queens Park Rangers defender Anton Ferdinand during a Premier League match on October 23. Terry, who was stripped of the England captaincy, denies the charges.
A fan was banned from attending all football matches for three years after directing racist abuse at Liverpool defender Glen Johnson during a match on January 3. Andrew Dale, 36, was also fined £400 ($628).
Police are investigating alleged racist abuse by a fan of third division Oldham Athletic's Tom Adeyemi during a FA Cup tie with Liverpool on January 6.
In January, a university law student was reported to police after former Liverpool player Stan Collymore, now a pundit, complained of being racially abused on the micro-blogging site Twitter.
Manchester City defender Micah Richards closed his Twitter account in February after receiving sustained abuse from other users. "I did enjoy Twitter and the banter with the fans, but I didn't like the abuse you get on it," he said. "I thought it was just for the best for myself because it can affect your confidence if people are saying things about you. I just thought it was best to come off and concentrate fully on football."
Manchester City lodged an official complaint with European football's governing body UEFA last week after Italy striker Mario Balotelli complained of racist chanting during a Europa League match against Porto.
Bugaria's football association was fined €40,000 ($53,000) in November 2011 after England complained about racist abuse of winger Ashley Young during an international match in Sofia.
Brazilian World Cup winner Roberto Carlos walked off the pitch while playing for Russian team Anzhi Makhachkala against Krylya Sovetov in June 2011, after having a banana thrown towards him in the closing stages of the match.
Samuel Eto'o, one of Africa's greatest players, tried to walk off the pitch in protest after being racially abused while playing for Barcelona against Real Zaragoza in Spain in 2006. His teammates and the referee persuaded him to stay on.
The Malaysian FA apologized to Chelsea in Julyn 2011, when Israeli midfielder Yossi Benayoun was subject to racial slurs during a pre-season game in the country.
In 2008, German midfielder Torsten Ziegner was banned five matches for racially abusing Nigerian opponent Kingsley Onuegbu during a lower league match.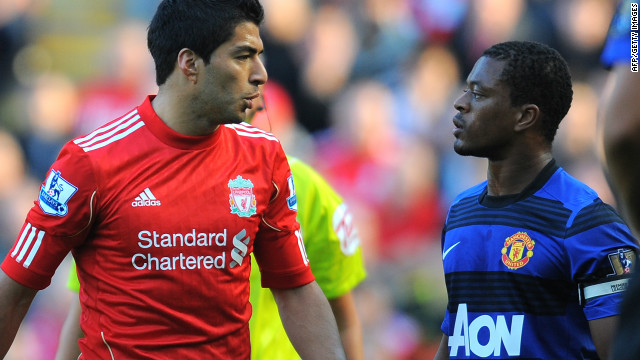 Racism incidents in football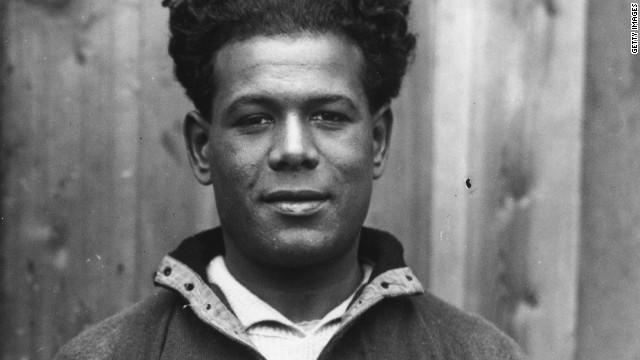 In the 1920s, Jack Leslie was denied the chance to represent England, the country of his birth, due to his Jamaican parentage. A forward at Plymouth Argyle, he was the only black player in England at the time.
Bermuda-born Clyde Best, pictured here in 1972, became the first black player to establish himself in the English top flight with London club West Ham United.
Best is seen here alongside West Ham legend Bobby Moore (center right) in the 1970s. Moore captained his country to World Cup glory when the competition was held in England in 1966.
Laurie Cunningham achieved fame as one of the "Three Degrees" at West Bromwich Albion, being part of a trio of black players also including Brendon Batson and Cyrille Regis. Cunningham became the first black player to represent England at any level when he played for the under-21 team in a friendly against Scotland in 1977. His talent earned him a big-money move to Spanish giants Real Madrid in 1979.
Viv Anderson won the English First Division and played a part in Nottingham Forest's two European Cup triumphs durng a glittering playing career. He is arguably most famous for becoming the first black player to represent the senior England team against Czechoslovakia at Wembley in 1978.
Anderson was one of just two black players in England's 1986 World Cup squad, alongside Jamaica-born winger John Barnes. In contrast, the 23-man England squad which traveled to the 2010 World Cup in South Africa contained eight black players.
Cunningham and Anderson were brought into the England fold by Best's former West Ham boss Ron Greenwood, who managed the national team between 1977 and 1982. Cunningham tragically died in a car crash in Madrid at the age of 33, while Anderson ended his playing career in 1995.
After spending seven years at West Bromwich Albion, England international Regis played for several other clubs in the midlands area of England. In 1984, he joined Coventry City before spending two years with Aston Villa. The powerful striker had a season with Wolverhampton Wanderers and eventually retired in 1996.
After spells at Arsenal and Cambridge United, Batson spent the majority of his career at West Brom. The Grenada-born defender was there between 1978 and 1982 before injury cut short his career. He later became an administrator with England's Professional Footballers' Association.
Midfielder Paul Ince built on the legacy of players like Cunningham and Anderson in 1993, when he became the first black player to captain England in a 2-0 friendly defeat against the U.S. In a career where he played for Manchester United, Liverpool and Inter Milan, he collected two league titles and a European Cup Winners' Cup medal.
The battle for black players to gain international recognition in England may have been a long one, but further north in Scotland a black footballer was paving the way over 100 years ago. Andrew Watson became the first black international footballer when he made his debut for Scotland in 1881, captaining his country to a thumping 6-1 victory against England.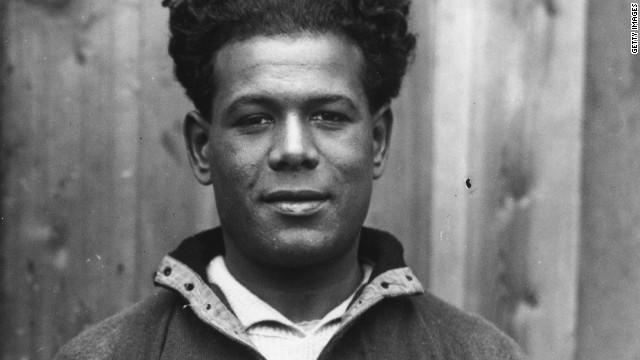 Black football pioneers in England
"This fine does nothing to help UEFA's reputation in relation to how it tackles discrimination in football," says Herman Ouseley, head of anti-racism group Kick It Out.
"We've seen significant punishments meted out in the past but, as an organization, the line it takes on such matters has lacked consistency.
"With the European Championships looming, and the potential flashpoints which may occur during the tournament with right-wing groups in eastern Europe, this seems to conflict with the strong anti-racism message UEFA should be promoting."
UEFA has been accused of double-standards after fining Manchester City 50% more than Porto for returning to the field late after the halftime break in a Europa League match against Sporting Lisbon last month.
The Portuguese club, in comparison, was charged €20,000 after its fans made monkey chants towards black City players Mario Balotelli and Yaya Toure during the previous round at Estadio do Dragao.
The decision raises serious questions over UEFA's commitment to tackling racism in a part of the world still struggling against extremism.
The ugly cloud of racism hanging over football in Poland and Ukraine was highlighted earlier this year in an investigation by campaign group Never Again. Its report, called "Hateful," detailed 195 individual incidents of racist and discriminatory behavior in an 18-month period from September 2009 to March 2011, a figure that underlines the amount of work that still needs to be done.
This fine does nothing to help UEFA's reputation in relation to how it tackles discrimination in football
Herman Ousesley, chair of Kick It Out
"Unfortunately it seems racism is deeply rooted in the culture of soccer, especially in Eastern Europe," Rafal Pankowski, head of the Poland-based organization, told CNN last year.
"Of course it's a broader problem, affecting countries such as Spain and Italy, but it is a real issue in Eastern Europe.
"There is goodwill at the top of UEFA to deal with the issue, but their genuine commitment does not translate to national football federation level and this is where more awareness raising needs to be done," Pankowski said.
Keeping an eye on the crowd in Poland and Ukraine will be members from Football Against Racism in Europe (FARE), who'll be reporting discriminatory behavior back to UEFA.
FARE has called for greater charges for racist fans. But executive director Piara Powar was also quick to point out the strict rationale behind UEFA's fines this week -- and the need to better communicate this to the public.
"UEFA has a very clear system of sanctions. I think the reason for the disparity in fines is this is the fourth time in two seasons that Man City have been late to play," he said.
"Whereas Porto haven't been in front of UEFA in three or four years. It's an important point that hasn't come across in the media."
CNN contacted UEFA to ask for clarification of the fines, but did not receive an official response. The ruling body, however, does have a strong stance against racism, and has worked closely with FARE since 2001.
Powar said extremist fans -- known as "ultras" -- are still a major issue in eastern Europe and his team will be looking for neo-Nazi paraphernalia throughout the tournament, which runs from June 8 to July 1.
However, Powar admitted that Poland's inclusion in the European Union in 2004 had significantly helped it reduce extremism.
"This is new territory for a major competition to go to a place like Poland or Ukraine. It's fantastic it's going to a new place, but it also means there are bigger challenges we face," he said.
"Our ongoing challenge is to get the message out to countries where African players, who aren't common, are being abused."