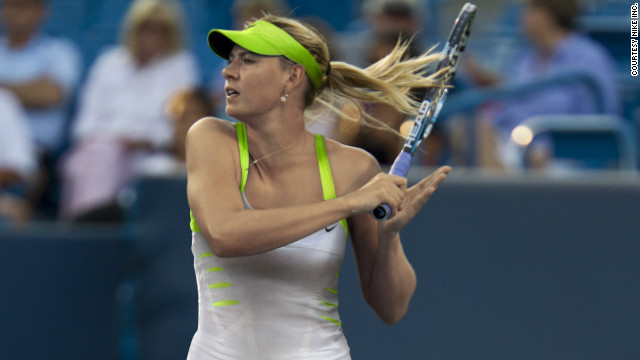 Maria Sharapova strikes the perfect pose as she puts away a forehand during this year's Australian Open.
Her dress for the tennis season's opening grand slam was designed to embrace fashion and high performance.
Sharapova's collection is being sported by a number of players including Indy De Vroome of the Netherlands.
Sharapova's tennis shoes are color co-ordinated with the dress range and are among the lightest and most flexible in the market.
America's 13-time grand slam champion Serena Williams also unveiled a collection of dresses for the 2012 Australian Open.
In 2006, Sharapova made heads turn with her "Little Black Dress" -- an outfit encrusted with beaded crystals which she wore as she claimed the U.S. Open crown.
Sharapova's intensity and desire to win have kept her at the top of the women's game since her first grand slam title in 2004.
Sharapova at the launch of a Cole Haan collection of clothing and accessories bearing her name.
The epitome of style
Suitably sporty
Fashion followers
Fleetness of foot
Serena's rival collection
The Little Black Dress
Winning mentality
Fashion icon
STORY HIGHLIGHTS
Maria Sharapova has designed her own clothing for grand slams since 2010
The collection has proved a popular item in the tennis retail world
The Russian superstar collaborates with fashion house Cole Haan
She plays Victoria Azarenka in the women's singles final at the Australian Open
(CNN) -- Maria Sharapova certainly means business when she steps onto a tennis court.
Whatever the situation, winning or losing, there is no let-up. A big serve, blistering ground strokes, winning points often greeted with a clenched fist and shrieks of exultation.
Opponents are not so much beaten as bludgeoned into submission -- although at the handshake Sharapova is never less than courteous and sporting, the intensity replaced by a smile.
It's a winning formula that has brought the 24-year-old Russian three grand slam titles and made her the highest-paid sportswoman in the world, with an eight-year Nike deal worth a reported $70 million.
Sharapova: Serving social media or backhanded marketing?
She can return to the top of the world rankings by winning Saturday's Australian Open final, capping a remarkable comeback after injuries almost ended her career.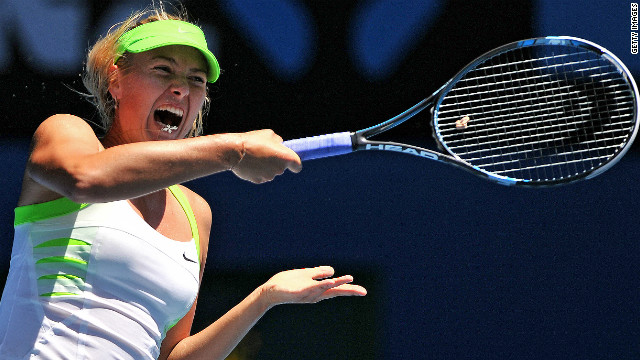 World No. 4 Maria Sharapova has long been known for her on-court shrieks and the Russian has recently attracted criticism as a result. The three-time grand slam champion claimed she will continue to make the noises until they are outlawed.
Third seed Victoria Azarenka was the subject of taunts from fans at the Australian Open who began to mimic her unique screams during a second round win over home-crowd favorite Casey Dellacqua.
American Serena Williams has long been a leading light in women's tennis, in terms of winning tournaments and booming grunts. Whether the grunts benefit a player is the subject of some debate, but they certainly haven't hindered Williams. The 30-year-old has registered 13 grand slam triumphs.
It would appear that grunting runs in the family, with Venus Williams matching her sister Serena in terms of noise and top-level success. Venus, one year older than her sibling, has collected seven major titles.
Monica Seles was screaming her way to success long before any of today's professionals. The Yugoslavia-born American won nine grand slam titles during her 19-year ear-splitting career.
American Jimmy Connors has played more ATP Tour matches than anyone else, winning eight grand slams during a glittering 24-year career. Connors is also widely credited with introducing grunting to top-level tennis.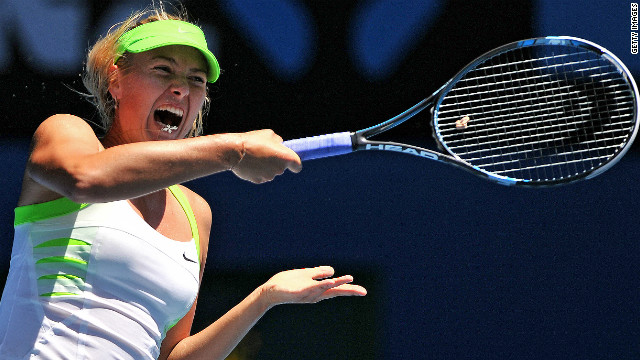 The noisiest players in tennis
With such a hunger for success, it's no surprise that Sharapova pays great attention to every aspect of her performance -- and that extends to her on-court appearance and apparel.
"When you look good, you feel good," she told CNN.
"Confidence with what you're wearing is very important. If you feel good, you will always perform your best without worrying about anything."
A shrewd businesswoman off the court, Sharapova took matters into her own hands with her own range of clothing and footwear, which has developed into a successful commercial venture.
The Maria Sharapova Collection is made in collaboration with her sportswear sponsors and leading fashion house Cole Haan.
Confidence with what you're wearing is very important. If you feel good, you will always perform your best without worrying about anything
Maria Sharapova
First launched at the Australian Open two years ago, the design brief is to come up with a separate outfit for each grand slam. This year's offering in Melbourne is called "The Statement Slam."
Sharapova has already made a big statement by beating Petra Kvitova, her conqueror in last year's Wimbledon final, to set up a title clash with Victoria Azarenka.
Maybe, just maybe, the outfit played its part.
The PR handout from Nike would certainly have us believe it.
"The carefully-constructed vents with mesh inlays along the bodice reflect the breathable gills of a powerful shark or super-charged race car and help keep Sharapova cool and ready to attack. Contrast color in the mesh becomes a stealth weapon to distract the opponent."
Whatever the hype, a great deal of work goes into the final product, with the process starting up to 18 months before it is unveiled and made available to the general public.
Sharapova is intimately involved in the design process of the outfit to which she lends her name, coming up with sketches and design ideas.
"It's exciting to see my collections in the store," she said. "What's even more thrilling is to see women wearing and loving the product. If I can create something that allows a woman to feel better -- that is the true reward."
Several young female players on the WTA Tour sport her collection in tournament play, including Sofia Arvidsson, Kai-Chen Chang, Indy De Vroome, Andrea Hlavackova, Madison Keys and Anastasia Pivovarova.
Maria's dress has become consistently more marketable over the last few years
Don Hightower, president Tennis Warehouse
In fact, her reputation for fashion sense is already legendary among the game's elite.
When Rafael Nadal was questioned at the Australian Open about the design of his training top, the world No. 2 owned up.
"I'm not Sharapova," the Spaniard told reporters. "Maria is doing it. I just say, 'I like, I don't like!' "
Don Hightower, the president of major U.S. retailer Tennis Warehouse, told CNN that the clothing range was well thought out.
"It's the perfect combination of fashion and function. Maria's dress has become consistently more marketable over the last few years," he said.
But she faces as much competition off the court as on it. Especially among the women, the leading tennis players are battling for world domination in the fashion stakes.
The Williams sisters Serena and Venus have their own ranges, while recently-deposed No. 1 Caroline Wozniacki has paired with British designer Stella McCartney to produce eye-catching outfits.
Hightower said his outlets see a spike during the grand slams as customers want to purchase the latest ranges, but noted that the Sharapova-led Nike offering is "the clear leader in women's tennis apparel."
Sharapova has history in setting fashion trends -- the diamond-encrusted 'Little Black Dress" she wore on the way to winning the 2006 U.S. Open was widely acclaimed.
Since I was young, the artistic expression that fashion embodies has inspired me
Maria Sharapova
At the time, Nike did not market the outfit for wider distribution, but the company is determined to avoid a repeat and capitalize on Sharapova's global appeal.
Her collaboration with Cole Haan has extended to an exclusive range of women's fashion clothing and a series of glitzy publicity launches.
It undoubtedly helps that Sharapova -- at 1.88 meters (six foot two inches) -- has the natural height of a supermodel and is the perfect showcase for her creations.
"Since I was young, the artistic expression that fashion embodies has inspired me," Sharapova said. "It's a way to communicate oneself."
When Sharapova does decide to hang up her rackets, it is fair to assume that she will utilize her flair for design and business savvy to extend her fashion empire.
She would follow legendary style names such as 1930s tennis icons Henri Lacoste and Fred Perry, while of the more recently retired stars Martina Hingis has a new collection set to hit the stores.
For now, tennis takes precedence, and success in the 2012 season is a priority.
"I'm focused on going out every day and doing my best," Sharapova said.
Of that there is no doubt.